Burgundy 2012 Climbs as Vineyard Yields Reduced by Frost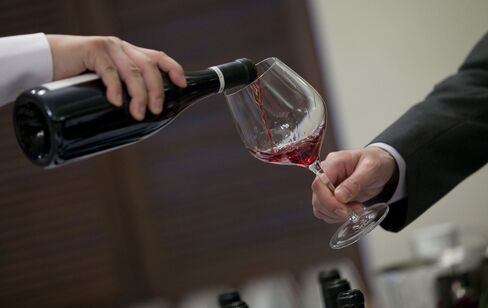 Feb. 24 (Bloomberg) -- Burgundy 2012 wines are being priced 10 percent to 30 percent or more above comparable 2011 vintages because of lower yields after spring frosts and summer hailstorms, according to winemakers and U.K. importers.
Frost in Chablis, Chassagne-Montrachet and Santenay in April and May, followed by cold, wet weather during the June flowering season and hailstorms in the Cote de Beaune in June, July and early August led to a small high-quality crop, according to Jasper Morris, Burgundy director for London merchant Berry Bros. & Rudd.
The 2012 Burgundy vintage has been brought to market at a time when collector and investor appetite for wines from the region has grown as declines in rival Bordeaux prices have discouraged investors. The Liv-ex Fine Wine 50 Index of Bordeaux first growths has fallen for nine of the past 10 months and has retreated for three straight years.
"Against the backdrop of Bordeaux's decline, the gains for other regions are striking," Liv-ex said in its Cellar Watch Market Report this month. While Liv-ex's Bordeaux 500 Index dropped 1.4 percent year-on-year in January, its Burgundy 150 Index climbed 5.3 percent over the same period.
The Burgundy 150 Index forms part of Liv-ex's Fine Wine 1000 Index and comprises the 10 most recent physically available vintages from 15 Burgundy red and white wines, including six from Domaine de la Romanee-Conti.
Price Increases
"Prices have gone up, and on average they've gone up by about 25 or 30 percent" for the 2012 Burgundy vintage, James Snoxell, head of buying for London-based Armit Wines, said in an interview during tastings last month. "Some people have maintained prices, other people haven't."
Rain during the flowering season led to disease including coulure and millerandage, according to Berry's Morris. Coulure causes small berries to fall off the vine while millerandage results in large and small berries on the same bunch, and both diseases reduce output.
"There were some parts of Burgundy in 2012 where the yield was reduced by 50 percent or more, and I know the same thing's happened in 2013," Snoxell said. "There is no doubt that the massive reduction in yield in some cases is putting a severe financial pressure on some growers."
Reduced quantities of 2012 Burgundy wines are pushing demand onto previous vintages.
Empty Cellars
"Most cellars in Burgundy are absolutely empty," Erwan Faiveley, head of Domaine Faiveley, said in an interview during a visit to London in January. "In order to limit demand, people increase prices."
Faiveley, based in Nuits Saint Georges, was founded in 1825 and the family has been producing Burgundy wine for the past seven generations. Its Chambertin Clos de Beze red from the 2012 vintage was priced at 2,563 pounds ($4,275) a case in the past week at London merchant Fine+Rare, compared with 1,695 pounds for the 2011 and close to the 2,693 pound level for the 2008, according to its website.
Faiveley's Echezeaux 2012 was priced at 1,151 pounds a case at the same merchant, compared with 989 pounds for the 2011, 970 pounds for the 2010 and 665 pounds for 2008. The 2007 was selling for 1,016 pounds.
Faiveley has more than 10 hectares (25 acres) of grand crus vineyards, according to its website, and almost 25 hectares of premiers crus.
Weather Influence
While wet conditions early in the growing season reduced the quantity of the harvest, it didn't prevent quality wines from being made, according to Berry Bros.' Morris.
"The bad weather earlier in the year is what damaged the volume, but it's not a key player in quality," he said in an interview during a presentation of the region's wines last month. "Later on is what defines the quality and that's when the weather turned much better."
The result is that 2012 wines are "clearly more expensive," both relative to the 2011 wines and also the more comparable 2010 vintage, Morris said.
To contact the reporter on this story: Guy Collins in London at guycollins@bloomberg.net