Baseball Experimenting With Rule to Reduce Home Plate Collisions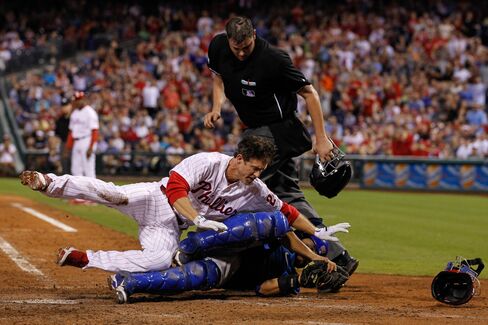 Major League Baseball and its players' union agreed on an experimental rule for the 2014 season in an effort to reduce collisions at home plate.
Catchers are prohibited from blocking a runner's path to home plate unless in possession of the ball, while a player attempting to score can't deviate from his direct path to the plate to initiate contact with a catcher. Umpires can use instant replay to determine if a violation was committed.
If a catcher blocks home plate before being in possession of a thrown ball, umpires will rule the runner safe. Should a runner change his path to home plate and initiate contact with a catcher without sliding, umpires will signal that player out.
"We believe the new experimental rule allows for the play at the plate to retain its place as one of the most exciting plays in the game, while providing an increased level of protection to both the runner and the catcher," MLB Players Association executive director Tony Clark said in a statement.
The rule will be reviewed during the season by players and managers to discuss whether it should be applied during the 2015 season.
MLB said in a statement that players who slide and catchers who provide runners with a lane to reach home plate will never be found in violation of the new rule. Baseball also said that clubs are required, effective immediately, to train runners to slide and catchers to provide players a pathway to reach the plate at all levels in their organizations, and that training materials will be distributed during spring training.
San Francisco Giants catcher Buster Posey, the 2012 National League Most Valuable Player, missed 117 games in 2011 after breaking his leg in a home plate collision when an opposing player barreled into him headfirst as Posey tried to protect the plate in the 12th inning of a tie game.
Before it's here, it's on the Bloomberg Terminal.
LEARN MORE