UBS Said to Seek Immunity in FX-Rigging Probes by EU, US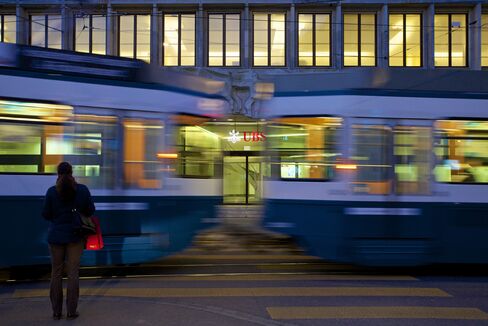 Feb. 24 (Bloomberg) -- UBS AG, trying to reprise its success in limiting fines in a probe of interest-rate rigging, is seeking immunity in the U.S. and European Union as part of the global investigation of currency markets, two people with knowledge of the case said.
UBS saved itself billions of euros in fines in December by disclosing to the EU its role in manipulating the London Interbank offered rate. Now, the bank aims to be the first to report its own conduct in currency markets to European and American regulators, said the people, who requested anonymity because the matter isn't public.
The Zurich-based bank is making its bid for leniency as at least a dozen regulators probe allegations that traders colluded to rig benchmarks in the $5.3 trillion-a-day currency market. The world's biggest banks are under scrutiny, and at least 21 people have been fired or suspended as a result.
"They've been through the drill and understand the benefits of cooperation," said Douglas Tween, a lawyer at Baker & McKenzie LLP and a former Justice Department attorney. "You want to limit your exposure as much as you possibly can."
UBS said in a filing last year that it began a review of its currency operations in June after media reports, first by Bloomberg News, on potential manipulation of the WM/Reuters rates used by companies and investors around the world.
Top Four
UBS, Switzerland's biggest lender, is among the top four currency-trading banks, according to a May survey by Euromoney.
Gregg Rosenberg, a spokesman for UBS, declined to comment on any contacts with regulators involving the probes. The firm said in a regulatory filing it's cooperating with all investigations connected to currency trading. Shares of the bank were little changed at 18.48 Swiss francs ($20.84) in Zurich trading at 10:57 a.m.
Antoine Colombani, a spokesman for the EU in Brussels, declined to comment on whether UBS would be offered immunity in the foreign exchange probe.
Lenders have an incentive to self-report to the EU, where penalties are forgiven for the first company to disclose its own misconduct and reveal that of competitors. The second company to report could see discounts of as much as 50 percent, the third as much as 30 percent while subsequent confessions might bring a 20 percent cut in penalties.
UBS dodged a 2.5 billion-euro ($3.4 billion) fine by the EU in December by revealing the existence of cartels in yen interest-rate derivatives. The fine would have been the largest-ever antitrust penalty imposed by the commission.
U.S. Cases
In the U.S., a company can also obtain immunity from convictions and fines if it's first to report antitrust violations and cooperate with a government investigation. Companies that self-report later and expose a conspiracy or cartel involving another product can win amnesty in the new case and a discount on penalties in the original one. That has led companies facing charges to help develop "cascading cartel cases" across an industry, Tween said.
Immunity from antitrust violations doesn't protect the bank from other potential charges from the Justice Department's fraud division, which have to be negotiated separately.
Companies seeking leniency in the U.S. don't have an "indefinite" amount of time to hold their place as the first to report wrongdoing without providing details of the conduct, Bill Baer, the head of the Justice Department's antitrust division, said during a panel discussion at a conference in Italy last week.
'Timely Fashion'
In an interview today, Baer said the evidence must be turned over "in a timely fashion or it's of less use to us."
The company "has to give us the evidence that establishes there's a problem, and in some cases that cooperation has been less prompt than it needs to be," he said.
Reuters reported UBS's approach to the Justice Department earlier this month. Peter Carr, a spokesman for the department, declined to comment on the probe.
UBS won a grant of conditional immunity from the department's antitrust division in its probe of manipulation of yen Libor and euroyen Tibor, the bank said in a regulatory filing in 2011. The lender still paid a total of $1.5 billion in fines to regulators in the U.S as well as the U.K. and Switzerland. The bank's Japanese unit, UBS Securities Japan, agreed to plead guilty to wire fraud.
Internal Probe
UBS said in October it has been conducting an internal probe on currency manipulation and taking measures against some employees. It suspended Niall O'Riordan, its chief dealer, who was present at a 2012 meeting with Bank of England officials where the trading practices now at the center of the probe were discussed.
The lender has also banned employees from taking part in chat rooms involving other banks, putting an end to the multi-dealer conversations used by traders to agree on transactions, share gossip and exchange tips on business flows.
Traders at some of the world's largest banks sought to manipulate the WM/Reuters currency rates in their favor by pushing through trades before and during the 60-second windows when the benchmarks are set, five current and former dealers with knowledge of the practice said in June. Some dealers colluded with counterparts to boost their chances of moving the rates, said two of the people, who worked in the industry for a total of more than 20 years.
The WM/Reuters rates are used by fund managers to determine what they pay for currencies and to compute the day-to-day value of their holdings, and by index providers such as FTSE Group and MSCI Inc. who track stocks and bonds in multiple countries. While the rates aren't followed by most investors, even small movements can affect the value of what Morningstar Inc. estimates is $3.6 trillion in funds including pension and savings accounts that track global indexes.
To contact the reporters on this story: Lindsay Fortado in London at lfortado@bloomberg.net; Keri Geiger in New York at kgeiger4@bloomberg.net; David McLaughlin in Washington at dmclaughlin9@bloomberg.net
To contact the editors responsible for this story: Anthony Aarons at aaarons@bloomberg.net; Sara Forden at sforden@bloomberg.net