Bangkok Blast Kills Three at Protest Zone in Retail District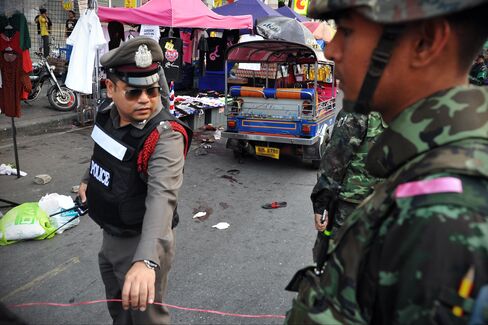 Three people were killed, including a six-year-old girl and her four-year-old brother, after an explosion ripped through an anti-government protest site in Bangkok's main shopping district yesterday.
At least 21 people were injured in the blast near the CentralWorld shopping mall in Rajdamri Road about 5 p.m. local time, the Bangkok Emergency Medical Service said on its website. The death toll from four months of political unrest rose to 21 today, after a policeman who was shot in the head during a clash with protesters on Feb. 18 died in the hospital.
Demonstrators led by former opposition party powerbroker Suthep Thaugsuban have refused to negotiate with the government, saying protests that began Oct. 31 won't end until an unelected council is put in place to reform what they say is a corrupt political system. Thailand's military has resisted calls to intervene, and Army Chief Prayuth Chan-Ocha said today that differences should be resolved peacefully.
"If there are more losses, the country will collapse and no one will win," Prayuth said in a televised address, adding that the military "doesn't want to use force or weapons to fight with other Thai people who have different views."
The benchmark SET Index of stocks fell 0.1 percent to 1,303.51 as of 4:07 p.m. in Bangkok, and the baht fell 0.1 percent to 32.550 per dollar. Global investors have pulled $1.2 billion from Thai equities and bonds so far this year, according to data compiled by Bloomberg.
Caretaker Government
Thailand has been without a fully functioning government since December, when Prime Minister Yingluck Shinawatra called an election in a bid to end the protests. The government has said the demonstrators should go home and allow elections to determine the nation's political future.
Suthep's former party, the Democrats, boycotted the Feb. 2 poll and protesters kept voting from taking place in some areas, meaning the ballot is incomplete and Yingluck remains in a caretaker role. The past five elections have been won by parties linked to Yingluck's brother, Thaksin Shinawatra, who was ousted as premier in a 2006 coup.
Yingluck's ability to combat the protests has been limited by a court ruling last week that removed her power to enforce a state of emergency imposed Jan. 21. The police didn't intervene today when demonstrators entered the compounds of the Ministry of Foreign Affairs and a pro-government television station controlled by Thaksin's family.
"Since the court decision, protesters have begun to close down state agencies again," Tharit Pengdit, the director-general of the Department of Special Investigation, told reporters. "We couldn't do anything."
Trading Blame
Suthep blamed Yingluck and Thaksin's "minions" for yesterday's explosion in Bangkok, while Chalerm Yoobamrung, the government minister overseeing the response to the protests, said the attacks aim to "bring down the government."
"These are the actions of people who are cornered," Suthep told supporters in a speech. "They can't use officials against us, so they use bad guys to kill us. I can't believe an elected government would do something so cruel and inhuman."
A dwindling number of demonstrators have blockaded key intersections in central Bangkok since early January. Some sites have been largely peaceful, with nightly entertainment and speeches attracting families and tourists, while violent clashes have broken out at protest zones near Government House and a complex of government offices in Bangkok's north.
Children Killed
Yesterday's blast outside a Big C Supercenter Pcl branch killed a 40-year-old woman in addition to the two children, according to the Bangkok EMS. A five-year-old girl was killed a day earlier in a blast near a protest site in eastern Trat province.
The United Nations Children's Fund said the demonstration sites sites should become "child-free zones."
The fund "condemns the violence that resulted in these tragic and senseless deaths and injuries to children," it said in a statement on its website today. "These incidents underscore the urgent need to keep children out of harm's way."
The Civil Court ruled Feb. 19 that the government couldn't use measures allowed under a state of emergency to combat the protests, saying the demonstrations had been peaceful. The ruling came a day after five people were killed at a protest site in Bangkok's historic district near Government House.
Yingluck said the court's decision compromised the government's ability to maintain law and order.
"No one respects the rules," she told reporters today. "How can we make it peaceful? It's time for us to talk and face each other."
Before it's here, it's on the Bloomberg Terminal.
LEARN MORE