Canadians Crowd Bars as Men's Team Defends Hockey Gold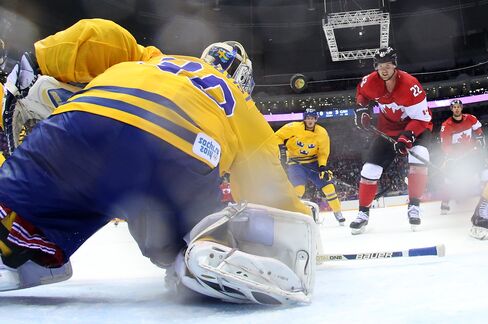 Canadians around the world crowded into bars yesterday, many before the crack of dawn, as Sidney Crosby and the men's ice hockey team defeated Sweden 3-0 and became the first team in 22 years to defend their Olympic title.
At the Banknote Bar in Toronto, a full house of more than 200 people stood and sang the Canadian national anthem as officials on television presented the players with their gold medals after the game at the Sochi Winter Games.
"I don't get up at 5 a.m. for other things, but I'm Canadian, so it's an obligation," said Adam Paterson, 28, shortly after the end of the game.
Toronto's city council approved a change to liquor laws for the game, allowing bars to serve alcohol earlier than usual because of the nine-hour time difference with Sochi.
The men's hockey final started at 7 a.m. local time in Toronto, 4 a.m. in San Francisco and 11 p.m. in Sydney.
Paterson, who has just returned to Canada after traveling to 23 countries in the past year, said everywhere he went Canadians were known for two things: maple syrup and hockey.
"It's part of being Canadian," he said with a smile.
Record Title
Canada, which won its record ninth Olympic hockey title, is the first nation to retain its gold medal since the Soviet Union won three straight in 1984, 1988 and 1992. In the last of those Olympics, it was playing as the Unified Team. Canada's women's ice hockey team won a fourth straight Olympic title on Feb. 20, defeating the U.S. 3-2 in overtime.
Overall, Canada won 25 medals at Sochi, including 10 gold, to finish third in the standings behind Russia and Norway.
Canada's Prime Minister Stephen Harper tweeted his pleasure with the team's victory, declaring "This is our game" and complimented Canada head coach Mike Babcock.
"Just spoke with coach Mike Babcock and told him Canada versus Sweden was the most perfectly executed game I have ever witnessed," Harper posted on his official Twitter account.
Harper also won a bet with U.S. President Barack Obama over who would prevail in matches between the men's and women's teams of the two countries, ending up with two custom cases of Samuel Adams beer delivered by U.S. Secretary of State John Kerry, according to a tweet from Kerry's Twitter account.
Audience in Sydney
In Sydney, a crowd of about 100 Canadians, including Finance Minister Jim Flaherty, Bank of Canada Governor Stephen Poloz, and Bank of England Governor Mark Carney, gathered to watch the game at Cheers Pub on George Street. Flaherty, Poloz and Carney were in Australia for the Group of 20 nations meeting of finance ministers and central bank governors over the weekend.
"They're working hard, they've just got to keep it up," Flaherty said early in the third period as the Canadians nursed a 2-0 lead. The tension eased once Chris Kunitz scored to make the score 3-0, and the crowd broke into "O Canada" as the final minute ticked down.
Mike Ley, 31, a Vancouver native and financial auditor for software company Oracle Corp. who works in San Francisco, woke up at 3:30 a.m. local time to watch the match at Kezar Pub with about 100 people, including some Swedish supporters.
"I invited about 200 American friends to come this morning and they said, are you crazy?" Ley said.
Morning Beer
Fans streamed onto the streets of Canada's largest cities to celebrate the victory, with drivers seen stopping at intersections to honk and wave large Canadian flags and an impromptu pick-up street hockey game breaking out at Dundas Square, a busy spot in downtown Toronto.
Ryan Baker, 34, who works for Canada Post, said he showed up at the Banknote bar at 5:50 a.m. and was 20th in line.
"I've absolutely never had to line up anywhere at 6 a.m. before in Toronto, that's for sure," he said. "It's an interesting experience and it's a good reason to get people out and supporting Canada."
Neda M. Namvar, a hostess guarding the front door of the Banknote, had to turn patrons away from the bar throughout the morning.
"I haven't had a lick of sleep," the 27-year-old said with a chuckle.