Canada Gets Back-to-Back Olympic Hockey Golds by Beating Sweden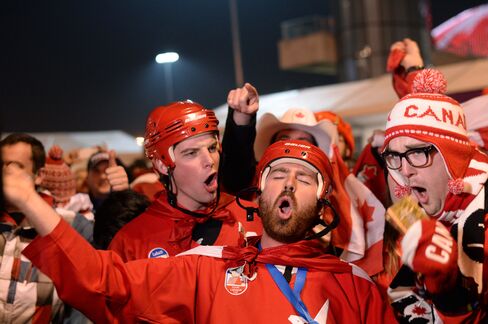 Canada became the first team to win back-to-back gold medals in Olympic men's ice hockey in 22 years by beating Sweden 3-0 at the Sochi Games, completing a national sweep of the hockey titles.
The men now are halfway toward the accomplishment of the Canadian women, who won their fourth straight Olympic hockey gold medal Feb. 20.
Canada, which won its record ninth Olympic men's title yesterday, is the first nation to retain its gold medal since the Soviet Union won three straight in 1984, 1988 and 1992. In the last of those Olympics, it was playing as the Unified Team.
"We came into one of the most hostile environments for a Canadian, into Russia, and to win a gold medal in Russia is pretty special for Canadians," said forward Rick Nash, who plays for the National Hockey League's New York Rangers.
Sweden played without one of its top offensive players, forward Nicklas Backstrom, due to a failed drug test. Backstrom and team officials said it was for an allergy pill he has been taking daily for seven years without any problems.
Backstrom, who plays for the NHL's Washington Capitals, was pulled out of pregame practice for a disciplinary hearing before an International Olympic Committee anti-doping committee and prevented from playing in the game. Instead, he watched it in the athletes' village, he told reporters.
The "IOC has destroyed one of the greatest hockey days in Swedish history," team General Manager Tommy Boustedt said at a news conference at the Bolshoy Ice Dome after the game.
Consecutive Shutouts
Canadian goalie Carey Price stopped 24 shots for his second straight shutout. Price, who is with the NHL's Montreal Canadiens, held the U.S. scoreless in a 1-0 semifinal victory.
"I'm just ecstatic, I'm tired," Price told reporters. "This could be a once-in-a-lifetime experience and I'm honored to be a part of this."
Jonathan Toews, Sidney Crosby and Chris Kunitz scored for Canada. Toews, of the NHL's Chicago Blackhawks, scored on a deflection with just more than seven minutes left in the first period. Crosby, of the NHL's Pittsburgh Penguins, added his goal on a breakaway with four minutes, 17 seconds left in the second period.
In the third, Kunitz stole possession just outside the Swedish blue line, moved into the zone and sent a wrist shot above the shoulder of goalie Henrik Lundqvist of the Rangers. Kunitz is on the Penguins.
"We were just deeper than every team in the tournament," said Canada forward Matt Duchene, who plays for the NHL's Colorado Avalanche. "We dominated the whole tournament."
'Better Team'
Sweden, which won the gold medal in 2006, was trying to become the first reigning world champion to also win an Olympic crown in 30 years.
"It's a big disappointment," Lundqvist said. "I think Canada definitely deserved to win today, they were the better team."
Finland won the bronze medal a day earlier, defeating the U.S. 5-0. The Finns, who now have won a men's hockey medal in five of the last six Winter Games, got two goals from 43-year-old Teemu Selanne -- who was playing in his sixth Olympics.
Canada went 6-0 in Sochi, becoming the first undefeated Olympic men's hockey champion since the Soviets took gold at the 1984 Sarajevo Games.
The victory extended Canada's domination of the Swedes at the Olympics. The Canadians have 13 victories in 17 games, with three Swedish wins and a tie, though one of those Swedish victories came in their previous gold-medal encounter.
Early Morning
At the 1994 Lillehammer Games, Sweden's Magnus Svensson tied the game in the final two minutes of the third period and it went to a penalty shootout in which 20-year-old Peter Forsberg scored the winner -- a goal that was commemorated on a Swedish postage stamp.
Yesterday's win gave Canada its first gold medal in a Winter Games outside North America in 62 years, since it triumphed in the 1952 Oslo Olympics.
The game, played at 4 p.m. in Sochi, led to an early Sunday morning for fans throughout Canada -- where the contest was shown live at 7 a.m. in eastern cities such as Toronto and Montreal and at 4 a.m. in the west, including Vancouver.
Toronto's city council approved a change to liquor laws for the game, allowing bars and cafes in most of the city to serve alcohol at 6 a.m. -- one hour before the first puck was dropped.
Celebrations
At the Banknote Bar in Toronto, a full house of more than 200 people stood and sang the Canadian national anthem as officials on television presented the players with their gold medals after the game.
"I don't get up at 5 a.m. for other things, but I'm Canadian, so it's an obligation," said Adam Paterson, 28.
Many of the Canadian and Swedish players headed back to their NHL clubs, with play resuming in the next two days. Duchene, who like the rest of his Canadian teammates had a gold medal around his neck, said he doesn't plan any wardrobe changes until Colorado hosts the Los Angeles Kings then.
"I'm not taking it off until we play on Wednesday," he said.