U.S.-Canada Semifinal Scoreless After Olympic Hockey 1st Period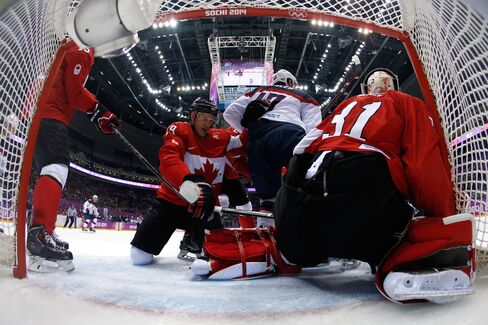 Feb. 21 (Bloomberg) -- Canada and the U.S. are scoreless after the first period of their men's semifinal hockey game tonight at the Sochi Olympics.
It is the 18th time the U.S. and Canada have met in men's ice hockey at the Winter Games, the most of any two nations.
Canada holds the advantage in the series, with 11 wins to three for the U.S. and three ties. Since the world's top players from the National Hockey League have been allowed to participate in the Olympics in 1998, Canada is 3-1 against the U.S.
Canadian flags outnumbered those of the U.S. about 2-1 in the Bolshoy Ice Dome, where earlier in the day Sweden had defeated Finland to advance to the gold-medal game.
Henrik Lundqvist of the NHL's New York Rangers stopped 25 shots in the Swedes' 2-1 victory. Lundqvist led Sweden to the Olympic gold medal at the 2006 Turin Games.
To contact the editor responsible for this story: Rob Gloster at rgloster@bloomberg.net