Wisconsin's Walker Now Shares with Christie Unwelcome Attention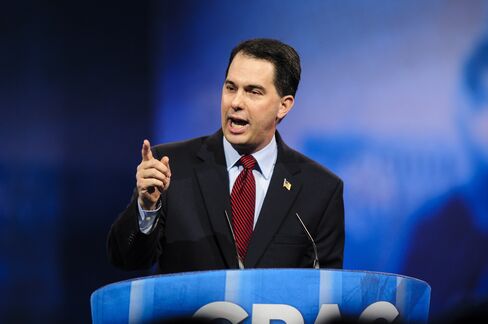 Scott Walker's status as a potential 2016 Republican presidential candidate was growing as New Jersey Governor Chris Christie's was sinking amid the furor raised by politically motivated lane closings and traffic jams.
Now Walker, the governor of Wisconsin, is bedeviled by home-grown trouble that could complicate a 2016 White House bid, as well as his own November re-election race. The turmoil buffeting him includes the release yesterday of e-mails from a corruption investigation involving his former elected post.
The probe that looked into conduct by employees of the Milwaukee County executive office, the job Walker held before he won the governorship in 2010, also has grown into a second investigation of possible campaign-law violations during his successful 2012 defense against a recall.
Walker faced no charges in the first investigation, even as six former aides and allies were convicted last year for illegal campaign activity and theft. Still, the release of tens of thousands of e-mails from that probe may cause embarrassment for him -- or worse.
"The irony is that as Walker has benefited from Chris Christie's problems" linked to the New Jersey traffic snarl allies set in motion, "now he's in a position that e-mails from his staff make them look pretty insensitive," said Charles Franklin, director of the Marquette Law School Poll in Milwaukee.
"In terms of the impact it has on public opinion, as long as the messages are at least somewhat ambiguous, people will look at this through the prism of their own partisan predisposition," Franklin said.
Conference Calls
Walker previously has characterized the activity that spurred the first investigation as behavior by low-level aides that he wasn't aware of. Yet the new documents show he knew county officials were working closely with his gubernatorial campaign staff and had orchestrated daily conference calls between those groups at his request.
The newly released e-mails show frequent communications between members of Walker's county executive staff and his gubernatorial campaign, and the use of personal computers and private accounts as a way of concealing the blending of government business and campaign activity. The technique was used to hide the politicking from public scrutiny, prosecutors have said.
Some of the e-mails reveal awkward moments as well. In one exchange that used private or campaign messaging accounts, a Walker aide tells the then-county executive that a medical doctor had been hired at the local government's Behavioral Health Division without a full background check.
'Quite Suggestive'
"It was recently discovered that she has a checkered past and has done some modeling work," Walker's then-chief of staff, Thomas Nardelli, wrote in an April 2010 e-mail. "It isn't pornographic, but is quite suggestive."
Nardelli, who wasn't charged in the probe of the office, went on to say that the woman "apparently models thongs and wasn't forthright in sharing that with staff prior to her hire."
Less than an hour later, Walker responds: "Get rid of the MD asap," using abbreviations for medical doctor and as soon as possible.
The e-mails don't concern the ongoing probe related to the recall campaign. According to court records released by the 4th District Court of Appeals in Madison, Wisconsin, the second investigation is looking into possible campaign-law violations, specifically "coordination between a campaign committee and certain special interest groups." Those groups weren't named.
2016 Race
As the battle for the 2016 Republican presidential nomination takes shape, Walker, 46, and Christie, 51, have been viewed as able to position themselves as Washington outsiders who would offer a resume stressing executive experience.
The party's other prominently mentioned presidential contenders include several serving in Congress, such as Senators Rand Paul of Kentucky, Marco Rubio of Florida and Ted Cruz of Texas, and Representative Paul Ryan of Wisconsin.
One of e-mails that surfaced yesterday showed that Walker's allies were aware of comparisons that could be made between him and Christie. In the correspondence, Timothy Russell, who served in various positions under Walker in the county executive's office, sent a link to a video of Christie defending his combative nature.
"SKW should talk like this," Russell wrote, referring Walker's initials. Russell was later convicted of embezzlement and jailed.
As it has throughout the Christie saga, the Democratic National Committee was quick to pounce yesterday, saying the e-mails "raise serious questions about the level of illegal coordination between Scott Walker's office and his campaign."
'Taxpayer Resources'
"Just like in New Jersey, top aides used taxpayer resources to push a political agenda," said Michael Czin, a DNC spokesman, in an e-mailed statement. "And just like Chris Christie, Scott Walker has a lot of questions to answer."
An e-mailed statement from the Walker re-election campaign discounted the significance of the e-mails released yesterday, saying they are "part of a legal process that was completed early last year."
"Governor Walker is confident that during that legal process, these communications were thoroughly reviewed by the authorities," spokesman Jonathan Wetzel said.
Kevin Madden, a Republican strategist who was a senior adviser for Mitt Romney's 2012 presidential campaign, also downplayed the risk associated with the e-mails.
"I have a hard time seeing anything in there that would make an opposition research staffer's eyes pop," he said. "There are even a few instances where the disclosed communications indicate changes being made in order to comply with regulations, or be mindful of them."
Bargaining Issue
Shortly after taking office in January 2011, Walker sparked a firestorm by taking steps to revoke collective bargaining for most public employees in Wisconsin. That move led to weeks of protests at the state capitol, recall efforts against state senators and, ultimately, the ouster move against Walker.
Conservative groups rallied to Walker's defense and he survived the recall in June 2012, becoming the first governor in U.S. history to withstand such a vote. His victory quickly led to talk of a presidential bid in 2016.
Walker released an autobiography last year, co-written with political columnist Marc Thiessen, entitled "Unintimidated: A Governor's Story and a Nation's Challenge." In it, Walker offers himself as a common-sense executive, untainted by Washington experience.
"If you are like me, the view from Washington, D.C., these days is pretty grim," Walker wrote in the book's opening line.
The image of the crusading outsider untainted by Washington could endure, Franklin said, as long as nothing surfaces in the fresh batch of e-mails or the continuing investigation that taints Walker in the same way Christie has been hurt by lane closings on the George Washington Bridge that his aides orchestrated.
"Right now it's hard for the public to put a grip on this," Franklin said of the questions Walker confronts. "It could blow up or it could blow over."