VIX Swings Widen Versus S&P 500 as Barclays Sees ETN Link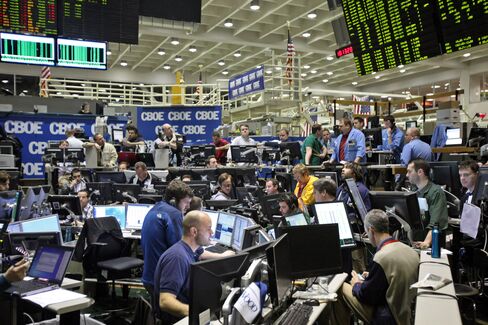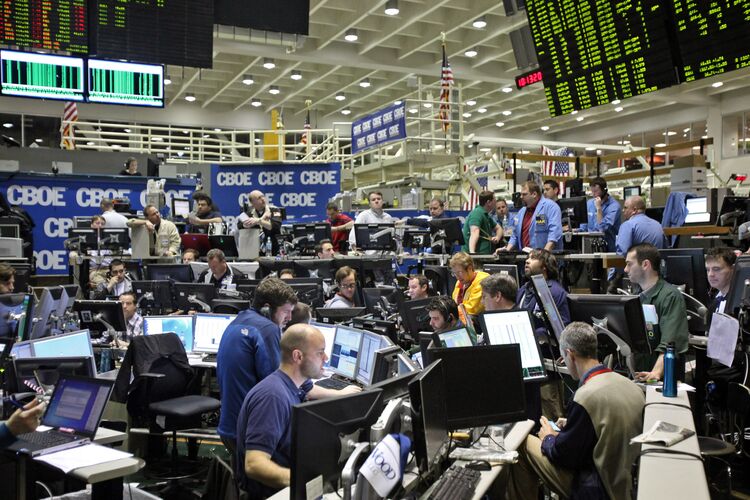 The Chicago Board Options Exchange Volatility Index is posting bigger swings relative to the equity gauge it's derived from, amplifying the sense of panic when stocks lurch like they did three weeks ago.
The VIX, used for two decades to measure investor fear, has jumped an average of 30 percent on days when the Standard & Poor's 500 Index lost 1.75 percent or more since the start of 2013, according to data compiled by Bloomberg. The ratio is wider than in any year since 1990, when data for the volatility benchmark began. The VIX rose 32 percent on Jan. 24, the biggest increase in nine months as concern about emerging-market growth sent the S&P 500 down 2.1 percent.
Bank of America Corp., Barclays Plc and Societe Generale SA say moves in the VIX are being exacerbated by links to volatility futures, a market populated by hedge funds, and exchange-traded notes that have had record volume this year. Shifts in its sensitivity to equities mean investors should wait before reacting to its signals, said Donald Selkin, who helps manage $3 billion as chief market strategist at National Securities Corp.
"Some of these moves are really not logical," Selkin, a 38-year Wall Street veteran, said yesterday in a phone interview from New York. "It gives the perception of exaggerated volatility because when people see the VIX go up, they think we're going to have larger intraday swings."
Protecting Gains
The volatility index, based on the price of S&P 500 options expiring in the next 30 days, was created by Chicago-based CBOE Holdings Inc. It works as a hedge for investors because it moves in the opposite direction of shares about 80 percent of the time.
Investors have used options and VIX securities to protect gains after the S&P 500 posted its best annual return since 1997 last year. That's spurred record trading in the VelocityShares Daily 2x VIX Short Term ETN and made the iPath S&P 500 VIX Short-Term Futures ETN the fifth most-traded U.S. fund. At the same time, in the past 13 months the VIX has hovered at an average level not seen since 2006.
"There are legitimate macro factors impacting the heightened sensitivity of the VIX," said Bill Speth, vice president of research at CBOE, in a Feb. 14 phone interview. "The trading flow that results from VIX-linked ETFs may occasionally have a brief impact on market prices, but I'm comfortable saying that the tail is not wagging the dog."
VIX Moves
There have been five times since 2012 when the VIX has surged more than 16 percent and the S&P 500 has fallen at least 1.75 percent, according to data compiled by Bloomberg. The jumps in the VIX in those instances exceed the index's moves under the same circumstances in 2006. Back then, the VIX added 2.5 points on those selloff days versus an average increase of 4.3 points since 2012.
The volatility gauge has seen three of its 15 largest one-day gains in the past 13 months, the data show. In that time, no loss in the S&P 500 ranks among its top 100.
Wider moves are most evident when shares are posting the biggest retreats, an effect that may reflect purchases of volatility futures by traders who had previously sold them short, according to Maneesh S. Deshpande, Barclays's head of equity derivatives strategy. While the VIX climbed the most since April on Jan. 24, the increase had been erased three weeks later.
Short Sellers
"We've seen more speculators become short VIX futures, which is adding to the volatility of the VIX," Deshpande said in a Feb. 14 interview. "When VIX spikes, the speculators who provided liquidity will cover their shorts."
Last year's 24 percent drop in the VIX created profitable trades against volatility, prompting speculators to short VIX futures and buy the VelocityShares Daily Inverse VIX Short-Term ETN that rises in value as stock swings narrow. Investors exiting those bets on days when equities retreat are helping push the CBOE gauge to more extreme moves than in the past, according to Deshpande and Benjamin Bowler of Bank of America.
The amount of short sales, or stocks borrowed and sold in a bet they will decline, rose to a record 24 million shares in the iPath S&P 500 VIX Short-Term Futures ETN on Feb. 13, according to Markit, a London-based provider of financial information. That's up from about 10 million shares at the end of 2013.
Hedge funds and other large speculators also increased bearish wagers against VIX futures in the past two years. Net short positions amounted to 41,108 contracts on Feb. 11 and reached as much 116,000 in August, up from about zero at the end of 2011, according to data compiled by the U.S. Commodity Futures Trading Commission.
Ongoing Debate
Observations about bigger VIX moves don't prove they are being driven by new forces, said Dave Lutz, the head of ETF trading and strategy at Stifel Nicolaus & Co. in Baltimore. The effect of ETFs on the prices of underlying equity and commodity prices has been examined for years without resolution, he said.
"There's an ongoing debate about how ETFs are impacting correlation in the market," Lutz said via phone yesterday. "It's been going around for a while and it's an ongoing, open argument as ETFs get bigger and bigger in size."
The moves in the VIX are justified as investors seek to protect their stock-market profits during the five-year bull market, according to William Lloyd, managing director at Darien, Connecticut-based VelocityShares LLC.
"Significant returns in the S&P 500 over the past several years has made many investors more cautious," Lloyd wrote in an e-mail last week. "It makes sense that traders will rush to hedge those gains at the first sign of a potential risk."
Smaller Swings
Betting on smaller stock swings has been a profitable strategy for investors and lured increasing amounts of cash to funds such as the VelocityShares inverse VIX ETN. The fund is up 55 percent since June and seen assets rise by 30 percent from the end of 2013 to $531.5 million, according to data compiled by Bloomberg.
The popularity of the new volatility products such as the inverse VIX note is affecting the way the VIX trades, Ramon Verastegui of Societe Generale said.
"The short VIX ETNs are changing the landscape of the VIX market," Verastegui, head of engineering and strategy at the French bank, said in an interview from New York. "Hedge funds used to be the main source of speculative short positions in VIX futures, but now we also have significant increases in the short positions coming from the volatility ETNs."
Record Trading
An all-time high of 4.4 million VIX futures changed hands in January, according to the CBOE Futures Exchange LLC. Options on the gauge also reached a record with average daily volume of 791,978 contracts last month.
Total trading for the five biggest VIX funds over the past 20 days has reached a record 82 million this year, according to data compiled by Bloomberg. In October 2011, when the S&P 500 reached a one-year low amid concern about Greece's debt crisis, the average daily volume in the VIX funds was about 11 million.
By comparison, about 141 million shares of the SPDR S&P 500 ETF Trust, the world's biggest ETF, have changed hands in the past 20 days. That's about 47 percent less than in October 2011.
The jumps in the VIX are happening during one of the calmest periods of the stock market. The VIX has averaged about 14.3 a day since the start of 2013, the lowest reading since 2006. The mean during 2005 and 2006 was 12.8. It fell 4.6 percent to 14.79 today.
The VIX is not only reacting more to stock declines, it is also faster to retreat, Bank of America's Bowler said. Increases in the VIX lasted on average about 10 weeks in 2005 and 2006, compared to a little longer than four in 2013, according to data compiled by the San Francisco-based strategist.
"We've seen the VIX react much more aggressively to drops in equity prices," Bowler, the bank's co-head of global equity derivatives research, said in a Feb. 14 phone interview. "The big difference between the low VIX years in 2005 and 2006 and today is the massive growth in listed volatility trading that's occurred due to the success of VIX products, including ETNs."