Ukraine Faces EU Sanctions After Deadly Day of Protests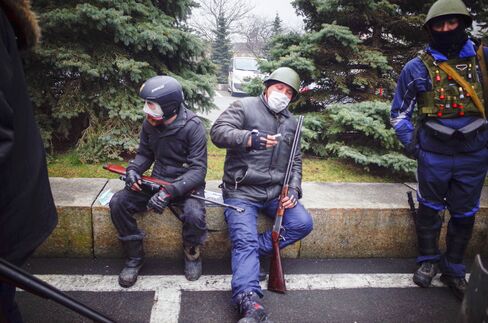 Feb. 21 (Bloomberg) -- European Union governments imposed sanctions on Ukrainian officials, and the country's parliament rejected President Viktor Yanukovych's crackdown following the deadliest day of protests in the capital Kiev.
Ukrainian authorities reported 75 protesters were killed and 363 hospitalized in the violence that began Feb. 18 as diplomatic efforts in Kiev and Brussels to end three months of anti-government demonstrations left Yanukovych to consider mounting calls to step aside. Ukrainian markets rebounded as investors anticipated an endgame was at hand.
"There is widespread horror in the European Union as well as in the United Kingdom at the scale of the loss of innocent life and the events of the last 48 hours," U.K. Foreign Secretary William Hague said yesterday after meeting his EU counterparts in Brussels. Sanctions will be targeted on those responsible for the violence, he said.
With the death toll climbing, the foreign ministers of Germany, France and Poland met through the night with Yanukovych and opposition leaders in Kiev, presenting an EU plan calling for Ukraine's constitution to be amended by mid-year and for parliamentary and presidential elections to be held by the end of 2014. Russian President Vladimir Putin will send an envoy to Ukraine for talks with the opposition at Yanukovych's request, Interfax reported.
Truce Crumbles
EU foreign ministers decided to freeze assets belonging to Ukrainian officials, deny them travel visas and suspend export licenses for equipment such as riot gear used to quash the protests. The U.S. also is considering targeted sanctions, after President Barack Obama threatened to penalize Ukrainian leaders if the violence escalated.
A truce agreed to Feb. 19 crumbled yesterday as skirmishes erupted at the protest camp on Independence Square in Kiev. Security forces were given the green light to fire live rounds, as sniper fire felled protesters and police officers, with each side accusing the other of shooting. As the clashes escalated, parliament was evacuated and the meeting between Yanukovych and the foreign ministers was switched to the presidential palace.
Violence in the country of 45 million, a key east-west energy route, has snowballed this week amid frustration among protesters that demands for snap elections and governance changes were being ignored. Russian-backed Yanukovych ordered a nationwide anti-terrorism sweep to end the uprising, with Russia and Western nations blaming one another for the escalation.
Stop 'Bloodshed'
"The main task today is to stop the bloodshed, shooting at people on the streets, which the authorities are responsible for," opposition leader Vitali Klitschko, the ex-world boxing champion, said yesterday in parliament. "First of all, the army must be pulled back so brothers aren't attacking brothers."
German Chancellor Angela Merkel called Yanukovych to urge all sides to end the violence and implement a truce. She and French President Francois Hollande are backing the threat of sanctions.
The "main responsibility for this lies with the leadership of the state," Merkel told Yanukovych yesterday, according to a statement e-mailed by her spokesman, Steffen Seibert. Only talks on forming a new government and pursuing constitutional reform with "swift, substantial results" can yield a lasting solution, she said. "Any playing for time will further intensify the conflict and bears unpredictable risks."
Biden Warning
U.S. Vice President Joe Biden warned Yanukovych in a phone call yesterday that the Obama administration is prepared to impose sanctions on officials responsible for the violence, the White House said in a statement that didn't detail what the penalties would be or when they might be announced.
Biden "strongly condemned the violence against civilians" in Kiev and urged Yanukovych to immediately pull back all security forces and take "tangible" steps to negotiate with the opposition, the White House said.
Russia is blaming the EU and the U.S. for emboldening protesters to take up arms against the government. The threat of sanctions is encouraging the opposition to take an intractable position and is similar to "blackmail," Russian Foreign Minister Sergei Lavrov told reporters in Baghdad yesterday. Ukrainian extremists are trying to provoke a civil war, he said.
Putin will send Russia's human rights ombudsman, Vladimir Lukin, to Kiev for talks with the opposition, Interfax reported, citing Putin's spokesman Dmitry Peskov.
Market Reaction
Ukrainian bonds rebounded from a record low yesterday as EU sanctions added to pressure on Yanukovych to find an end to the crisis. The yield on the government's $1 billion of notes due in June tumbled 12 percentage points from a record to 30 percent in Kiev. The notes fell the most on record on Feb. 19 as the deadliest clashes in the standoff overshadowed Russia's decision to resume a $15 billion bailout plan.
Ukraine's equity gauge climbed 3.9 percent yesterday, reversing a drop of as much as 3.4 percent. The hryvnia, which is managed by the central bank, was unchanged versus the dollar after weakening earlier.
The unrest isn't limited to Ukraine's capital. Lawmakers in Lviv on the Polish border on Feb. 19 ousted their Yanukovych-appointed governor, set up an autonomous government and declared allegiance to the opposition. Protesters have seized government and security headquarters in at least four other regions.
Opposition Skeptical
Polish Prime Minister Donald Tusk, outlining the EU plan to reporters in Warsaw, said that German Foreign Minister Frank-Walter Steinmeier, French Foreign Minister Laurent Fabius and Polish Foreign Minister Radoslaw Sikorski had also presented the proposal to the Ukrainian opposition. He acknowledged that some in the opposition viewed the EU plan "with skepticism" since Ukraine's government "hasn't honored agreements in the past."
"Our worst-case scenario, a civil war, has become very real," Tusk said.
Fabius was leaving Kiev for China, according to an EU delegation official who asked not to be identified.
The EU's immediate aim is an end to the bloodshed in Ukraine, not Yanukovych's removal, European Parliament President Martin Schulz said on Germany's ZDF television. "The president won't resign and the people who are demanding his resignation don't have any way to force him," said Schulz.
The EU decided "as a matter of urgency" to introduce targeted sanctions including asset freezes and visa bans against "those responsible for human rights violations, violence and use of excessive force," the foreign ministers said in a joint statement after their meeting in Brussels.
The 28-nation EU also stepped up calls for Ukrainian constitutional changes that would pave the way for fair elections. Irish Foreign Minister Eamon Gilmore, speaking in Brussels, said that he expected those who are to be targeted by the sanctions to be named by the end of the week.
To contact the reporters on this story: Ian Wishart in Brussels at iwishart@bloomberg.net; Jonathan Stearns in Brussels at jstearns2@bloomberg.net.
To contact the editor responsible for this story: James Hertling at jhertling@bloomberg.net