Tencent, JD.com Said in Talks to Combine E-Commerce Business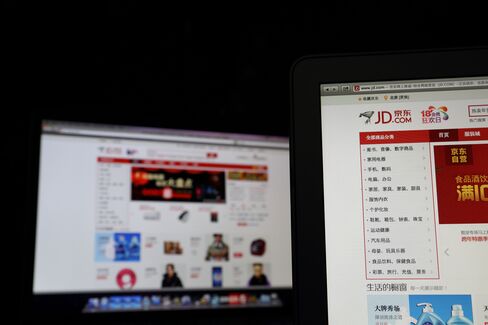 Tencent Holdings Ltd., Asia's largest Internet company, is in talks to combine its e-commerce operations with Chinese online retailer JD.com Inc., according to two people familiar with the matter.
The companies are considering options that may involve Tencent injecting its online shopping operations in return for a 6 percent stake in Beijing-based JD.com, one person said, asking not to be identified because the discussions are confidential.
A combination would marry JD.com's established market selling everything from electronics to fashion with Tencent's less-popular e-commerce platform. For JD.com, which is planning a U.S. initial public offering, the 272 million active users on Tencent's WeChat messaging service could bring increased traffic to its online store.
JD.com, backed by Russian billionaire Yuri Milner's DST Global, filed last month to raise $1.5 billion in what would be the largest initial public offering of a Chinese Internet company in the U.S. JD.com aims to to announce a deal with Tencent before the share sale, one person said.
Tencent shares fell 2.3 percent in Hong Kong as of 1:04 p.m. today in Hong Kong after Facebook Inc. agreed to acquire mobile-messaging startup WhatsApp Inc. for as much as $19 billion. WhatsApp competes with Tencent's WeChat. Spokesmen for Tencent and JD.com declined to comment.
Alibaba Listing
Shenzhen-based Tencent has sought to build out its e-commerce business to compete better with Alibaba Group Holding Ltd. by combining messaging with services including shopping and gaming. It owns the retail website Yixun.com and agreed last month to invest HK$1.5 billion ($193 million) in China South City Holdings Ltd., owner of a logistics and warehouse network.
JD.com wants to avoid listing at the same time as a potential IPO of Alibaba, China's largest e-commerce company, people familiar with the matter said last month. Alibaba, which has been valued at as much as $190 billion by analysts, plans to go public in 2014, people with knowledge of the matter said in October.
Online retailing in China more than doubled each year from 2003 to 2011 and is projected to more than triple to $395 billion in 2015 from 2011, according to a McKinsey & Co. report in March.
JD.com cited Tencent's Yixun.com retail business as an emerging competitor in its IPO filing. The company said it also faces competition from Amazon.com Inc.'s China unit as well as Alibaba's Taobao and Tmall sites.
Yixun.com, started in 2006 in Shanghai, sells products ranging from electronics to diapers. It owns a logistics network in the Shanghai region that gives it the ability to deliver orders in the city within half a day, according to its website.
The 21st Century Business Herald newspaper reported yesterday that Tencent may buy a stake in JD.com, citing an unidentified person from an investment bank.
Before it's here, it's on the Bloomberg Terminal.
LEARN MORE