Snow Days More Tolerable With $63,495 Range Rover Sport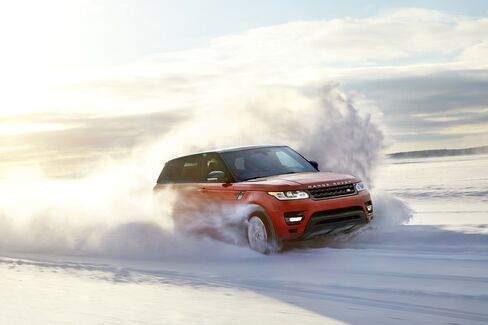 Feb. 20 (Bloomberg) -- This winter may leave you reconsidering a few life choices. Perhaps you've parked on the side of a street in the U.S. Northeast in the past few months (or, heck, even Atlanta), and a plow has come by and left your sedan or sports car under a blanket of brown snow.
If so, a four-wheel-drive or all-wheel-drive sport-utility vehicle has potentially never looked so good. You might just be able to drive out of the mess, never mind all the shoveling.
If this dreadful winter hasn't helped many businesses, it has left Land Rover sitting pretty, with its highest January sales ever in North America, due largely to strong demand for the new Range Rover Sport.
The second-generation Sport, which starts at $63,495, was released in August on the heels of its bigger brother, the $84,195 (also all-new) Range Rover.
If the Range Rover is Land Rover's top-of-the-line SUV, both rugged and luxurious, the Range Rover Sport is more perplexing. Unlike most vehicles with the word "sport" slapped on the posterior, the Range Rover Sport isn't a zippier version of the regular Range Rover. It is a different model entirely.
Executives of the Tata Motors Ltd. unit say that some 75 percent of the parts in the Sport are totally different or altered from the Range. This includes the bodywork, which has shorter overhangs -- and actually makes the entire vehicle 6 inches (15 centimeters) shorter -- and a lower ride height.
Aluminum Platform
The first-generation Sport wasn't even built on the same base as the Range Rover. It used the frame from the burly LR3 and LR4 models, a hybrid steel unibody mounted on a full frame chassis. The result didn't ride as smoothly as the steel unibody employed on the Range Rover since 2003.
Both models now share the same advanced new aluminum platform, which trims almost 800 pounds (363 kilograms) on the Sport. Those savings go a long way to improving handling and efficiency. It is the single most transformative element on the new SUVs.
Engine choices are the same across the larger and littler Range Rovers. The SE and HSE models have a supercharged V-6, while the $80,000 Supercharged and $93,300 Autobiography models get a V-8.
That's a significant step up in price between engine choices, though the power gap is commensurate. The 3-liter V-6 gets 340 horsepower and 332 pound-feet of torque. The supercharged 5-liter V-8 has much better thrust, with 510 horsepower and 461 pound-feet.
Low Mileage
Gas mileage has always been a Land Rover issue, and the smaller engine averages 19 miles per gallon and the larger only 16 mpg. Maybe we'll see a diesel version in the U.S. eventually.
Though the Sport is shorter than the Range Rover, this generation has grown 2.5 inches. You now have the option of a third row of seats. Put those upright and it kills all storage room, and the bench is most practical for very small children. In terms of practicality I much prefer the regular Range Rover, which has more total storage room.
The Range Rover Sport is the glamour-puss of the Land Rover line, the vehicle most likely to be found at the country club rather than the countryside. In base form it doesn't come with the two-speed transfer case for both low- and high-range gearing, a staple of hard-core 4X4 use. (The equipment is standard on the Supercharged.)
Still, with the right tires -- and this is an important point -- the Sport makes winter less toilsome.
Tire Choice
Some of the Sport's tire choices are less "all-season" than others. The available Michelin Latitude Sport XL LRs, for instance, skew more toward a performance tire. While they are quieter and provide better performance in dry and warmer conditions, they have a less aggressive tread pattern than tires designed take a bite out of snow.
Wayne Kung, a Land Rover spokesman, said tires sold on Sports in the U.S. are likely to include Pirelli Scorpion Verde all-season models sized for 19- and 20-inch wheels. These are more apt for light snow.
I couldn't find a mention of tire types anywhere on Land Rover's website, and since the brand advertises its capabilities so heavily, it's natural to think that the tires should be up to snuff for blizzard or high water.
It would behoove carmakers to better explain what sort of tires consumers are getting as they choose options on a vehicle. I strongly suggest asking your dealer about tire design and capabilities before buying or leasing your vehicles -- and that extends from SUVs to sports cars. Pick the tool that is best for your needs.
All of a vehicle's complicated electronic safety equipment is only as good as the traction you get from the road -- and the tires.
The better news is that otherwise the Sport handles happily, with little body roll, and turns crisply. It hustles through city and winding roads alike, and looks good doing it. The shorter size makes it easier to park and maneuver.
And, with luck, you'll drive right out of an encasement of dirty snow, no shoveling required.
The 2014 Range Rover Sport Supercharged
Engine: Supercharged 5-liter V-8 with 510 horsepower and 461 pound-feet of torque.
Transmission: Eight-speed automatic.
Speed: 0 to 60 mph in 5 seconds.
Gas mileage per gallon: 14 city; 19 highway.
Price as tested: $94,550.
Best features: Sharp handling, all-weather use.
Worst features: Some tires are ill-suited to cold, gas mileage is poor.
(Jason H. Harper writes about autos for Bloomberg News. The opinions expressed are his own.)
To contact the reporter on this story: Jason H. Harper at JasonhHarper.com or follow on Twitter @JasonHarperSpin
To contact the editor responsible for this story: John Lear at jlear@bloomberg.net