PBOC Drains Cash as Overnight Rate Slides to Lowest in 10 Months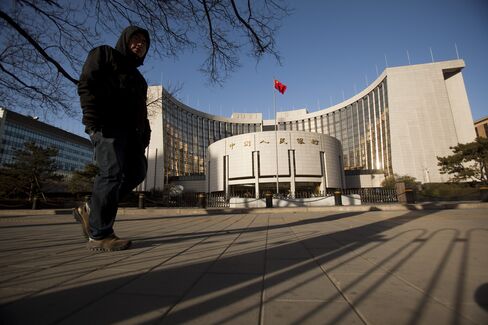 China's central bank drained cash from the financial system for the second time this week as the rate banks charge one another for overnight loans sank to the lowest level in 10 months.
The People's Bank of China said it sold 60 billion yuan ($9.9 billion) of 14-day repurchase contracts at 3.8 percent, after auctioning 48 billion yuan of the agreements at the same rate on Feb. 18. Repos were conducted this week for the first time since June after data indicated aggregate financing, the broadest measure of credit, was a record 2.58 trillion yuan in January. Manufacturing is shrinking at the fastest pace in seven months, a preliminary Purchasing Managers' Index showed today.
"The market liquidity conditions remain quite relaxed," said Zhou Hao, an economist at Australia & New Zealand Banking Group Ltd. in Shanghai. "The PMI came in much worse than expected, pointing to a weak growth profile."
The overnight repurchase rate, a gauge of funding availability in the banking system, fell for an eighth day, sliding 43 basis points, or 0.43 percentage point, to 1.91 percent as of 4:30 p.m. in Shanghai, according to a weighted average compiled by the National Interbank Funding Center. That's the lowest level since March 28. The seven-day repo rate fell seven basis points to 3.68 percent, the lowest close since Nov. 12.
PBOC Target
Policy makers will probably continue to drain funds using money-market operations until the seven-day repo rate returns to a range of 4 percent to 5 percent, Chang Jian, Barclays Plc chief China economist in Hong Kong, wrote in a note yesterday to clients. The cited range is her estimate of the PBOC's "medium-term target," she said.
The preliminary Purchasing Managers' Index was 48.3 for this month, according to a report today from HSBC Holdings Plc and Markit Economics. A reading below 50 indicates contraction and the median estimate in a Bloomberg survey was 49.5.
The cost of one-year interest-rate swaps, the fixed payment for receiving the floating seven-day repo rate, declined eight basis points to 4.77 percent, according to data compiled by Bloomberg.
The yield on the 4.08 percent government bonds due August 2023 was unchanged at 4.56 percent, data from the National Interbank Funding Center showed. The yield fell to 4.49 percent on Feb. 13, the lowest since Dec. 4.
The PBOC auctioned 50 billion yuan of nine-month treasury deposits on behalf of the Ministry of Finance at 6.3 percent today, according to a statement on the central bank's website. That compared with a yield of 4.22 percent when they were last sold in May 2012, and 6.13 percent at an auction of three-month agreements in January.