Oscar's Indie Film Financiers Take the Spotlight
At least five of the nine best picture nominees had nonstudio financing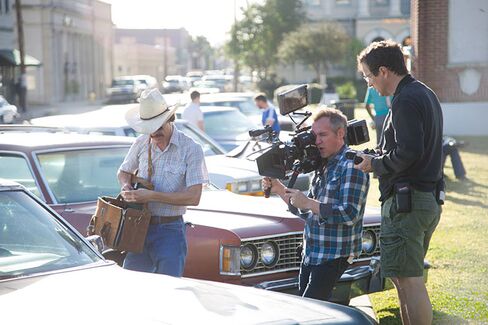 The script for Dallas Buyers Club, one of this year's nominees for the best picture Oscar, languished so long at Universal Pictures that the writers invoked a union rule allowing them to take back the project after seven years. The story, about an oilfield worker with AIDS who smuggles medicines into the country, eventually landed on the nightstand of Texas businessman Joe Newcomb, who was happy to finance just the kind of small-budget, edgy drama that major studios are mostly staying away from. "Hollywood's got blinders on," says Newcomb, a chemical trader from suburban Houston who wired money to the producers and let them put airline tickets and office supplies on his black American Express card. "It needs fresh blood."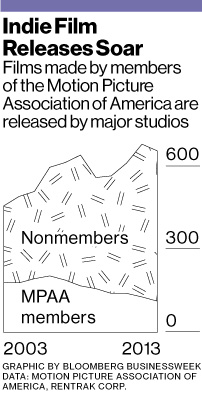 With the big studios producing fewer films and committing their own money to megabudget superhero flicks and other franchises that are often safer bets, a new generation of financiers has moved in to make movies that appeal to older audiences—and win awards. They play the role that studios used to in hiring talent, raising money, and supervising the filming. "These are relatively small companies, and they're making studio-caliber movies," says Micah Green, co-head of film finance and sales at Creative Artists Agency, the talent agency that helped sell or finance four of the best picture nominees, including Dallas Buyers Club.
Traditional moguls they are not. Megan Ellison, the 28-year-old daughter of Oracle co-founder Larry Ellison, financed two of this year's best picture nominees, American Hustle and Her. Bill Pohlad, whose father made a fortune in banking and from owning baseball's Minnesota Twins, backed 12 Years a Slave. Riza Aziz, the stepson of Malaysia's prime minister, Najib Razak, put together the money for The Wolf of Wall Street.
Studios still hold plenty of power. The majors, including Sony's Columbia Pictures, Time Warner's Warner Bros., and Comcast's Universal Pictures, distributed all nine of this year's nominees through their established networks of theater operators in exchange for a cut of the box office. But that's a far cry from the days when studio chiefs such as Louis B. Mayer had a stranglehold over which movies got made, who directed or starred in them, and how they were edited. Some of this year's nominees didn't even get a studio to commit to distributing them until after they were shot.
Warner Bros. started developing The Wolf of Wall Street in 2007. After years of inaction, the book rights reverted to Jordan Belfort, who'd written a memoir about his days as a penny stock promoter. Aziz's Red Granite Pictures cut a deal with Belfort and circled back to Warner Bros. to purchase Terence Winter's script. Viacom's Paramount Pictures later agreed to distribute the picture while it was being filmed. "We see ourselves as complementary to the studios," Aziz says. "We have the ability to pick up dormant, studio-quality projects, get them made, put them through the studio distribution system, and add more product to the marketplace. Everyone wins in this scenario."

Independent productions rely on a combination of investors' money, state tax credits, loans, and advance sales of theatrical and home distribution rights. Dallas Buyers Club, for example, was made for about $5.6 million, including $3 million from the sales of foreign rights, about $1 million in incentives from the state of Louisiana, where it was filmed, and $1.6 million from investors such as Newcomb. Focus Features, the art house division of Universal, ultimately agreed to release Dallas Buyers Club last year after watching a three-minute reel designed to sell the already completed picture to distributors. The film has taken in $30.4 million in theaters worldwide, according to BoxOfficeMojo.com.
Unlike big-budget films where studio money is at stake—think John Carter and its $200 million loss for Walt Disney in 2012—smaller pictures spread the risk around. "Everyone is an equity player together," says Roeg Sutherland, Creative Artists Agency's other head of film finance and sales. "When a film is a success, the filmmaker wins and the financier wins."
Big studios' shift away from backing smaller films has forced agents, who historically represent the actors, directors, and writers in contract negotiations, into acting like studio development executives as well. Sometimes that means reassuring their clients they should get paid little or nothing upfront to work on prestige projects.
Actor Jonah Hill was willing to be paid union scale, $60,000, to co-star in The Wolf of Wall Street so he could work with celebrated director Martin Scorsese. 12 Years a Slave screenwriter John Ridley worked on the project for years without being paid, knowing the film, which details the brutality of slavery, was not an easy one to get made. "This was not Transformers, where you can go to a studio, where they say, 'Great. Let's put some big stars in and go,' " he told the Press Association, the U.K. news service, in January.
Small filmmakers cut costs in other ways. Dallas Buyers Club director Jean-Marc Vallee shot his film in 25 days, largely in daylight to reduce lighting expenses. Scenes meant to be in Tokyo, Amsterdam, and Tel Aviv were generated on a computer by a company called Fake Studio, and scenes set in a Mexican clinic were filmed in New Orleans. Her was shot in a downtown Los Angeles apartment with a crew "the size of a student film," says producer Vincent Landay.
Even on larger films, similar frugality surfaces. When Sony in 2012 told American Hustle's producers it wouldn't continue to finance the picture's roughly $41 million cost on its own, "we decided to go out looking for what we're calling independent money," says producer Charles Roven. Ellison's Annapurna Pictures came in for 50 percent of the costs. Pitching the script at that year's Cannes Film Festival brought in about $30 million in foreign rights sales. By agreeing to shoot the movie in Massachusetts, the producers received around $7 million in tax credits under the state's film promotion program. Still, keeping a lid on costs remained Job One. Everyone worked at a discounted price, Roven says, and the picture's filming schedule was held to 42 days—compared with the more than 120 days of shooting done on each of two earlier movies Roven produced for big studios, The Dark Knight Rises and 2013's Man of Steel. "With American Hustle," he says, "it was a constant reminder that we needed to be incredibly efficient."
Before it's here, it's on the Bloomberg Terminal.
LEARN MORE