Faculties at Elite Business Schools Still Skew Heavily Male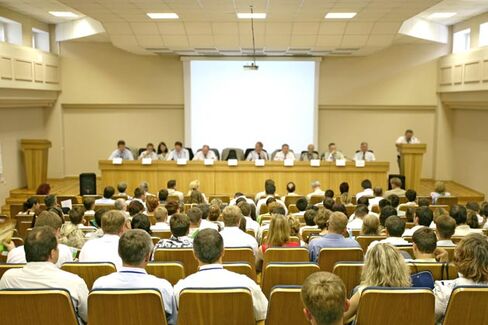 Female MBAs seeking role models at top business schools may have a challenging time finding them among their professors. Only 17.8 percent of the tenured teaching staff at seven of Bloomberg Businessweek's top 10 MBA programs* are women. Of all tenured and tenure-track faculty, 21.4 percent are women.
Some schools in the top 10 have greater representation by female teachers than others. The Ross School of Business at the University of Michigan has the highest proportion of women, at 27 percent, or 40 women, who are tenured or on the road to tenure. Ross has Alison Davis-Blake as its dean, one of two female deans in the top 10 (Kellogg, the other top 10 school with a female dean—Sally Blount—declined to provide data for this story.) Ross, the No. 8 MBA program on Bloomberg Businessweek's 2012 list, also has the highest percentage of tenured women professors, at 22.6 percent, or 21 women.
Three schools, the Wharton School at the University of Pennsylvania, the Johnson Graduate School of Management at Cornell, and the Kellogg School of Management at Northwestern University, did not supply faculty gender breakdowns for this story.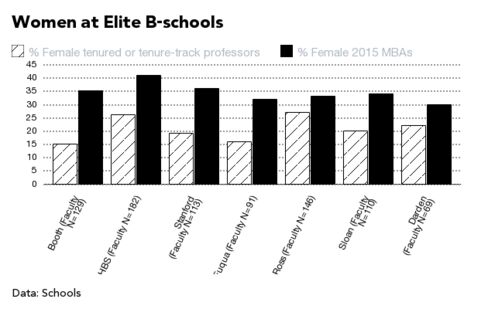 The University of Chicago's Booth School of Business, which came in first in our last two full-time MBA rankings, had the lowest percentage among the seven schools of tenured and tenure-track women professors, at 14.7 percent (19 women). It also had the weakest showing of women who've been granted tenure: Of 70 tenured professors, only five are women, or 7.1 percent.
The school is making an effort to improve its gender ratio. "This is an issue that we take very seriously at Chicago Booth," says Dean Sumil Kumar in an e-mail. "We're headed in the right direction, and the pipeline of tenure-track women is pretty good." Booth's numbers do improve if you look at those in line for tenure—assistant professors and associate professors—of which 23.7 percent are women. Based on that uptick, says Kumar, "the situation is expected to change."
Ross, the school with the highest percentage of women faculty of the seven, has, under Davis-Blake's leadership, set a goal of 40 percent women for new faculty hires. It has achieved that goal for the past two years. Fifty percent of its senior faculty leadership team are women.
But creating total parity across its staff, says Wally Hopp, senior associate dean of faculty and research, is a slow process. "You can move the needle with your hiring slowly, but it takes eight years to get to tenure," he says. "We're not crowing about our numbers. This is a long-term commitment, not something that can be fixed overnight."
It's too early to see the effect of the new hires at Ross on the student population, but in general, gender inequality among the teaching staff at leading MBA programs paints a bleak picture for the degree; applications by women dipped in 2013, according to the Graduate Management Admission Council. The percentage of female students in the class of 2015 at the top schools hovers around 35 percent. For the 2013-14 academic year, the percentage of women applying to nearly all types of MBA programs shrank compared with 2012, with the exception of masters of accounting and masters of IT management programs.
Adding more women to faculty and dean positions may not translate directly to more female applicants. As Businessweek reported last year, however, female faculty and leadership can make programs feel more welcoming to female students and eventually shift the ratio.
Before it's here, it's on the Bloomberg Terminal.
LEARN MORE