Celebrity Adviser Giacchetto Charged With Fraud by U.S.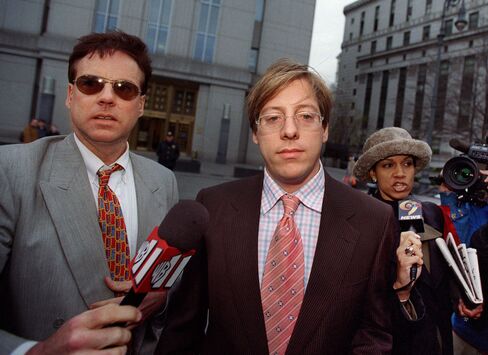 Dana Giacchetto, a former celebrity money manager who was jailed a decade ago for defrauding clients, was arrested again and charged with stealing more than $10,000 through fraudulent credit card purchases.
Giacchetto, who once boasted of clients including Leonardo DiCaprio and Ben Affleck and claimed to manage more than $300 million, now operates a gourmet food company in New York called Taste. He is accused by U.S. prosecutors of using another man's credit card to pay for food and liquor deliveries, airline and moving services and dentistry.
"This is not true," defense lawyer Ronald Fischetti said after a federal magistrate in New York released Giacchetto on a $150,000 bond. "He denies all the charges."
In 2001, Giacchetto was sentenced to 57 months in prison after pleading guilty to stealing $9 million from clients. At his sentencing, Giacchetto, whose roster of 400 clients included Ben Stiller, Tobey Maguire and Cameron Diaz, told a U.S. judge that he "crashed and burned" and "lived in a world of fantasy."
In a criminal complaint unsealed today in New York, U.S. authorities said they were investigating fraudulent charges on the American Express card of a man who used the same delivery service as Giacchetto did.
Small Bills
Giacchetto used the man's credit card to have deliveries made to his New York address, prosecutors said. Separately, Giacchetto used the man's credit card for personal dentistry and other expenses, according to the complaint.
Giacchetto once managed money through his New York-based firm, Cassandra Group. At a guilty plea in 2000, he said he forged signatures on brokerage checks made out to clients and then deposited the money into Cassandra's bank account.
Prosecutors never identified clients he swindled. His lawyer said in court that the rock group Phish was among them.
A week after his 2000 arrest, Giacchetto, free on bail, was apprehended at Newark Liberty International Airport in New Jersey with an altered passport, $4,000 in small bills and 80 first-class airline tickets to cities in Asia and Europe. The U.S. said he was trying to flee. He said he was headed to Rome to marry his girlfriend. A judge jailed him.
The new case is U.S. v. Dana Giacchetto, 13-mag-02876, U.S. District Court, Southern District of New York (Manhattan).