Singapore May Ease Curbs If Prices Drop 10%, CapitaLand Says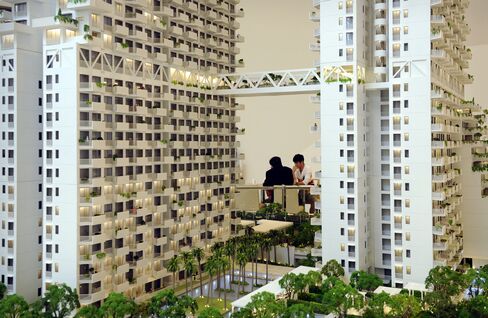 Singapore may start easing some of its property measures if home prices drop as much as 10 percent this year, according to the chief executive officer of the city-state's biggest developer.
The government may remove some curbs that it had said were for the "short term," such as stamp duties or taxes for homebuyers, said Lim Ming Yan, president and CEO at CapitaLand Ltd. in an interview in Singapore yesterday. It may also tweak rules for loan limits, which are very stringent, he said.
"If the market should moderate down by another 5 percent, 10 percent, perhaps they will have to unwind," Lim said, adding that it's his personal view that conditions were not yet in place for the measures to be loosened.
Singapore's fourth-quarter home prices slid 0.9 percent, falling for the first time in almost two years as the government introduced more taxes and restrictions to widen a campaign begun in 2009 to curb speculation in Asia's second-most expensive luxury housing market. The measures came as housing values rose in the past five years to a record amid low interest rates, raising concerns of a property bubble.
After introducing taxes on property sales, the government added them on homebuyers and imposed mortgage limits. In June, the central bank also capped loan payments at 60 percent of salaries. Singapore has the region's priciest luxury homes after Hong Kong and is ranked sixth globally, according to a Knight Frank LLP report released last year.
Slow Start
Singapore's January home sales marked the slowest start to the year since 2009 after falling to a four-year low in 2013, according to government data. Singapore's developers posted the worst performance on the benchmark Straits Times Index last year after recording the biggest gains in 2012.
"The government objective is to have a sustainable and stable residential market," Lim said in a Bloomberg Television interview with Haslinda Amin yesterday. "In the event that there will be some volatility in the market, I would expect certain measures to be adjusted."
CapitaLand said fourth-quarter profit fell 46 percent after it recorded a loss on the sale of a stake in an Australian developer and lower revenue from Singapore home sales. The company sold 109 residential units in the city in the three months ended Dec. 31, a third of the 352 sold in the year-earlier period, according to its earnings statement yesterday.
The shares fell 1.7 percent to S$2.86, their biggest drop since Sept. 30, at the close of trading in Singapore.
Tweaking Measures
CapitaLand isn't the only Singapore property company expecting an easing of housing curbs. Billionaire Kwek Leng Beng, chairman of City Developments Ltd., the country's second-biggest developer, said Feb. 7 the government should consider tweaking measures as the property market starts to cool.
Kwek also said last year that skyrocketing prices and restrictive rules made buying residential land in Singapore "suicidal." Still, that hasn't stopped international developers from rushing in.
Land prices in some parts of the island-state are climbing at three times the pace of apartment costs, with plot values rising by an average 30 percent per year since early 2011, according to property broker Chesterton Singapore Pte, which used government auction data.
"The increase in land prices has had a tremendous impact on developers' profit margins," said Donald Han, managing director of Chesterton's Singapore unit. "Developers that used to enjoy margins in excess of 20 percent will now have to contend with narrower returns."
Longest Stretch
While home prices fell in the fourth quarter, housing values climbed 1.1 percent in 2013, increasing for a fifth year. That's the longest stretch of annual gains since the data was available two decades ago.
For the full year, CapitaLand sold 1,260 homes, almost twice the 681 a year earlier, it said in the statement. Revenue was boosted by developments such as Bedok Residences in an eastern suburb that will also include a retail mall, as well as Urban Resort next to the Orchard Road shopping belt.
"On the sidelines, there is a lot of liquidity just waiting for the opportunities," Lim, 50, said.
Demand for Singapore homes is expected to "further moderate" in 2014 because of the borrowing limit set by the government and concerns that interest rates will rise, the company said in the earnings statement.
Loan Curbs
The government "won't roll back the loan curbs," said Alan Cheong, a Singapore-based director at Savills Plc. "They may reverse some measures this year as market sentiment is very weak," he said, citing examples such as stamp duties and taxes for buyers.
Piyush Gupta, CEO of DBS Group Holdings Ltd., Singapore's biggest lender, said Feb. 14 there will probably be a 10 percent to 15 percent reduction in home prices in the city-state.
CapitaLand's Singapore residential business accounts for 10 percent of its total assets, Lim said. The developer is well positioned to weather a decline in prices as its projects are well-located and reasonably priced, he said.
"A lot will also depend on the environment outside," he said. "If there is another global crisis, the market will come down even more, in which case the government will be in a position to unwind some of the measures."
Before it's here, it's on the Bloomberg Terminal.
LEARN MORE