Russia Cancels Bond Auctions as Ruble Slides, Yields Climb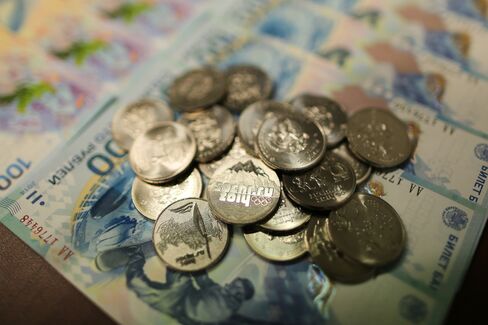 Russia canceled its bond auctions for the third time in less than a month as the ruble's slide to a record low drove up borrowing costs.
The Finance Ministry pulled the sales of 10 billion rubles ($280 million) of January 2028 securities and the same amount of May 2020 notes because "bids didn't adequately reflect the credit quality of the bonds," it said in website statements. The yield on the 2028 debt rose 18 basis points to 8.62 percent by the close in Moscow, the highest on record.
Russia's currency has tumbled about 8 percent against the dollar this year, making it the worst performer after Argentina's peso among 24 developing-nation peers monitored by Bloomberg. The ruble slid 1 percent against Bank Rossii's dual-currency basket to 41.8345, a record low on a closing basis, amid concern the central bank's support for the currency will be reduced by Finance Ministry foreign-currency purchases. The government canceled OFZ sales on Jan. 28 and Feb. 4.
"Yields have risen because of the ruble's depreciation," Dmitry Khlebnikov, head of fixed-income trading at Citigroup Inc.'s unit in Moscow, said by phone after the first auction today was axed. "It would have been negative for the whole market had they sold at today's levels."
The Finance Ministry sold all 20 billion rubles of five-and nine-year ruble securities last week. That followed two back-to-back cancellations as investors fled emerging-market assets on concern that Chinese economic growth is slowing and after the U.S. central bank began tapering.
Currency Support
The ruble tumbled in evening trading yesterday after the Finance Ministry's plan to buy 212.2 billion rubles in foreign currencies for its Reserve Fund fueled speculation the central bank's support for the currency will be reduced.
The ministry will buy foreign currency equivalent to 3.5 billion rubles daily from Feb. 20 through May from the central bank, which will decrease its interventions by the same amount, the ministry said in an e-mailed statement yesterday.
"The central bank will effectively sell $7 billion less in the market," Anton Nikitin, an analyst at VTB Capital said by e-mail.
The auction cancellation was "no surprise given yesterday's ruble performance in the evening and today's price action," he said.