Renzi to Accept Italy Premiership as Backing Comes Together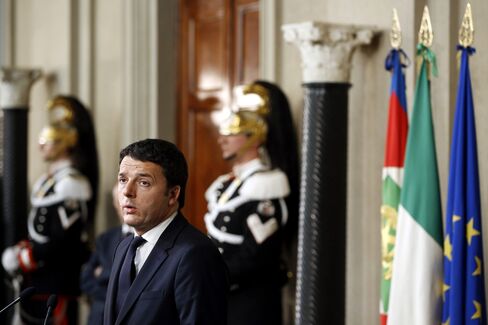 Matteo Renzi, Italy's prime minister-designate, said he has enough backing in parliament to accept the premiership and form a government.
"There clearly are the conditions in place to do an excellent job," Renzi told reporters today after concluding two days of talks with parliamentary leaders. He said he plans to officially accept the mandate from the Italian president on Feb. 22 and present his new government to parliament on Feb. 24.
Renzi, 39, must impose stability on the chronically fractious parliament, which brought the last three Italian governments to early ends. He can rely on his Democratic Party, the biggest group in the legislature, to anchor his coalition. His backing has broadened over the last two days as the leaders of smaller parties expressed their willingness to cooperate.
"We think Renzi as prime minister is positive," Alberto Gallo, head of macro credit research at Royal Bank of Scotland Group Plc, said in a research note. Investors should "stay long Italian senior bank and corporate bonds," he said.
Italian 10-year bond yields rose 1 basis point to 3.57 percent at 3:02 p.m. in Rome after falling yesterday to an eight-year low.
Alfano Endorsement
Renzi picked up the endorsement of Angelino Alfano, who leads a group of 31 senators in the divided upper house, late yesterday. Today, Silvio Berlusconi, the three-time former premier who traditionally opposes the Democratic Party, praised Renzi and said he would cooperate on the new government's proposals for constitutional change to speed the legislative process. For day-to-day matters, Berlusconi said his Forza Italia party would remain in the parliamentary opposition.
Renzi is relying on his popularity with the electorate at large to help coax rival parties into backing his government. His three-year campaign for generational turnover in politics has touched a chord with Italians at large, and its success is starting to turn among even the most established of Rome's power brokers.
"I had the pleasure today of meeting a prime minister-designate who is exactly half my age," said the 77-year-old Berlusconi, who was expelled from the Senate in November because of a tax fraud conviction. "This seems like a good signal for the renewal of the country."
Renzi put himself in a position to claim the premiership by turning the Democratic Party, which he leads as general secretary, against outgoing Premier Enrico Letta. On Feb. 17, President Giorgio Napolitano gave Renzi a mandate to test his support in parliament and form a government.