PBOC Plans to Expand Yuan Band This Year in 'Orderly' Manner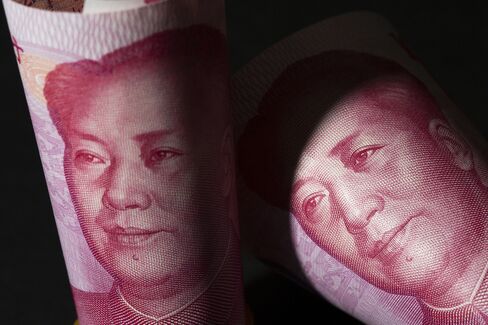 The People's Bank of China plans to expand the yuan's trading band this year in an "orderly" manner as it moves toward a more convertible currency.
The PBOC will also continue to broaden cross-border usage of the yuan, it said in a statement on its website yesterday after a Feb. 17-18 conference. PBOC Governor Zhou Xiaochuan had said in November that the central bank would broaden the band, without giving a timeframe. The spot rate in Shanghai is currently allowed to fluctuate a maximum 1 percent on either side of a daily fixing set by the central bank. The trading band was last widened in April 2012 from 0.5 percent, and before that from 0.3 percent in May 2007.
"Yuan band widening is imperative as the government is opening up its capital markets," said Banny Lam, Hong Kong-based co-head of research at Agricultural Bank of China International Securities Ltd., a unit of the nation's third-largest lender. "The band could be broadened as soon as this quarter to as much as 2 percent."
Acceleration of yuan convertibility and liberalization of interest rates were among the key reform proposals decided on at a meeting of the ruling Communist Party in November. The party then said it aims to achieve these targets by 2020.
The currency traded as much as 0.97 percent stronger than the fixing on Jan. 23, with the premium narrowing to 0.56 percent yesterday. The yuan was at a 0.24 percent discount to the reference rate a day before the last widening announcement on April 14, 2012.
Slowing Appreciation
The Chinese currency, which advanced 2.9 percent last year, will gain 1.6 percent in 2014, according to the median estimate in a Bloomberg News survey of economists. The nation will allow cross-border yuan payments in a free-trade zone in Shanghai, according to an official statement this week. The zone, opened in 2013, was chosen as a test ground for reforms as controls are eased on the currency and on interest rates.
"Reduced yuan appreciation pressure is favorable for band widening as it won't invite speculation on the currency," said ABCI's Lam. "It's inevitable that the PBOC will allow more flexibility in the exchange rate as the nation is experimenting with yuan convertibility in the free-trade zone."
The yuan fell to the lowest level in almost eight weeks yesterday after the central bank cut the currency's reference rate. It dropped 0.15 percent to close at 6.0764 per dollar in Shanghai, according to China Foreign Exchange Trade System prices.
In offshore trading, the currency dropped 0.2 percent to 6.0483 per dollar as of 12:38 p.m. New York time, data compiled by Bloomberg show. One-month implied volatility in the onshore yuan, a measure of expected moves in the exchange rate used to price options, climbed three basis points, or 0.03 percentage point, to 1.08 percent yesterday.
Before it's here, it's on the Bloomberg Terminal.
LEARN MORE