Obama Warns Ukraine Against Military Action on Protesters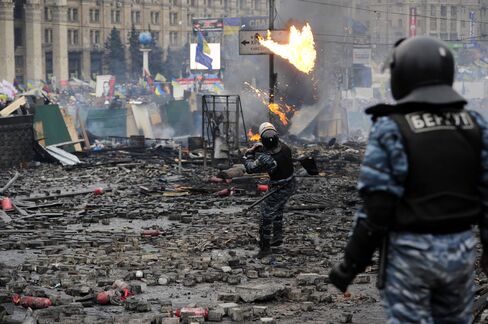 President Barack Obama warned Ukraine's military against intervening to halt anti-government protests as the U.S. and European Union moved toward imposing sanctions on Ukrainian officials.
"We hold the Ukrainian government primarily responsible in making sure it is dealing with peaceful protesters in an appropriate way," Obama told reporters before a meeting with Mexican President Enrique Pena Nieto at a North American leaders summit in Toluca, Mexico. "That includes making sure the Ukrainian military does not step in to resolve issues that could be resolved by civilians."
The U.S. and EU are weighing freezing the assets of Ukraine's most powerful officials and denying them travel visas after a crackdown on pro-democracy demonstrators in Kiev left at least 25 dead and stirred fears of a civil war.
Obama's warning came as Ukrainian President Viktor Yanukovych granted sweeping powers to the army and police and before he declared a temporary truce with opposition leaders. The Russian-backed leader's security service said earlier in the day that it's undertaking a nationwide operation to restore public order, giving the military authority to search, detain and even fire on Ukrainians.
Yanukovych said on his website the government and the opposition will continue talks to stop the bloodshed
Obama said the U.S. would keep engaging all sides in the conflict and is working with the EU on a response. "There will be consequences if people step over the line," he said.
Sanctions Discussed
French President Francois Hollande, at a joint press conference with German Chancellor Angela Merkel in Paris today, called the government crackdown on protesters an act of "violence, brutality and repression."
U.S. Secretary of State John Kerry, speaking to reporters separately in Paris, said the U.S. was discussing "the possibility of sanctions or other steps" with allies "to create the environment for compromise."
He didn't specify what additional measures are being considered.
The EU has had mixed success with sanctions against leaders and top businesspeople in states that it accuses of flouting human rights. Belarus, Ukraine's neighbor, hasn't been tempted toward more democracy by international sanctions against its president, Alexander Lukashenko.
Targeting Money
The blacklisting of Ukraine's ruling elite and the wealthy oligarchs that support it may be more effective because they cultivate Western ties and have put money in European banks, said Tim Ash, chief emerging-market economist at Standard Bank Group Ltd. in London.
"This will impact on their ability to finance their operations, and it will make them that much more dependent on Russian banks," Ash said by e-mail. That "will make them very uncomfortable," he said.
Ben Rhodes, Obama's deputy national security adviser, declined to give a timeline for any U.S. response because the situation in Kiev is still evolving.
"Events like what we saw yesterday are clearly going to impact our decision-making," Rhodes told reporters before Obama's arrival in Mexico.
"On the other hand, if the government takes the appropriate steps of pulling back riot police, of respecting the right of peaceful protest, releasing prisoners and pursuing serious dialogue with the opposition about how to pursue a more unified government and way forward, that would obviously factor into our calculus as well," he said.
U.S. Contact
The U.S. has made contact with Yanukovych, with Vice President Joe Biden speaking by telephone with the Ukrainian leader to urge the government to exercise restraint.
Russia has blamed the U.S. and the EU for the violence. The standoff began on Nov. 21, when Yanukovych pulled out of a free-trade deal with the EU, opting instead for $15 billion of Russian aid and cheaper gas.
The embrace of Moscow brought protesters out onto the streets of the capital Kiev, turning Independence Square into a pro-European campground.
Rhodes said the U.S. has delivered a message to the Russian government that "we are not in some competition for the future of Ukraine."
Before it's here, it's on the Bloomberg Terminal.
LEARN MORE