Won-Yuan Trading Supported in Korea as Export to China Jumps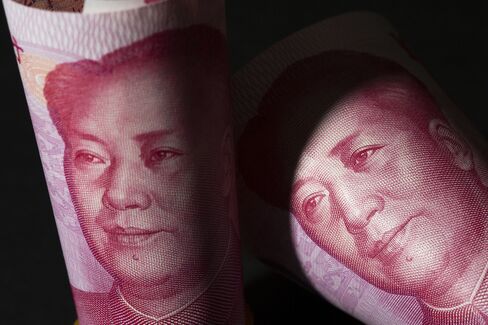 South Korea is moving closer to seeking the first direct trading between the won and the yuan following calls within the ruling Saenuri party to respond to the growing use of the Chinese currency.
The government will support the implementation of direct trading if needed as demand for yuan expands in the financial markets and for trade, Vice Finance Minister Choo Kyung Ho said yesterday in Seoul. Saenuri Party leader Hwang Woo Yea requested a proposal for won-yuan trading be reviewed, according to a Feb. 5 statement on the party's website.
"Our party is studying if we need to set up an exchange for trading the yuan given China's increasing weight in terms of trade and transactions," An Chong Bum, a Saenuri Party lawmaker, said in a Feb. 11 interview at his office. "The idea needs discussion with the government."
Singapore, the U.K. and Australia struck deals with China last year for direct trading links with the yuan, which overtook the euro to become the second-most widely used currency in global trade finance. South Korea counts China as its biggest export market and residents' yuan deposits jumped almost 40-fold in 2013 to the equivalent of $6.67 billion. A won-yen market that opened in October 1996 proved short-lived as low trading volumes led to its closure in February 1997.
Shipments to China climbed 8.6 percent in 2013, widening South Korea's trade surplus with Asia's biggest economy by 17 percent to $62.8 billion, according to a Feb. 1 report by the trade ministry. The proportion of overseas sales settled in the Chinese currency was little changed at about 0.4 percent, central bank data show.
Trade Agreement
The two countries along with Japan are in talks to sign a free trade agreement. Increased use of regional currencies in Asian trade will help reduce exchange-rate risks, Deputy Finance Minister Eun Sung Soo said in a conference yesterday, adding that Korea, China, and Japan need to step up monetary cooperation.
Rising trade between the won and yuan will help South Korea prepare for financial shocks as developed nations scale back monetary stimulus that has pumped money into emerging markets, Chung Mong Joon, a Saenuri Party lawmaker, said in a Feb. 14 speech at the Seoul office of the party's research wing.
"While some cite low yuan transaction volume in Korea as a reason why direct trading is unnecessary, it's actually the other way round -- volume is low because we don't have a market," he said.
Two calls to the People's Bank of China's press office seeking comments today went unanswered. The Chinese currency strengthened 1.4 percent against its Korean counterpart this year to 175.86 won, after a 1.5 percent advance in 2013, according to data compiled by Bloomberg.
Global Yuan
The yuan was the second-most widely used currency in global trade finance last year, after the dollar, according to the Society for Worldwide Interbank Financial Telecommunication. The Chinese currency ranked eighth in worldwide payments in December with a 1.12 percent market share, climbing from 12th in October, according to SWIFT.
Establishing a won-yuan market needs a careful approach after the failure the nation experienced with yen trading, Bank of Korea Governor Kim Choong Soo said at a Feb. 13 press briefing after an interest-rate review.
"Facilitating the use of local currencies for bilateral transactions with China needs some institutional changes in China," Kim said.
South Korean exporters settled 84.6 percent of their payments in dollars in the fourth quarter, a central bank statement showed Jan. 24. The euro's share was 6 percent, the yen's 3.7 percent and the won accounted for 2.3 percent.
"Local exporters aren't active in settling payments in yuan as there are few ways to hedge the currency and as liquidity is low, making it hard to manage financial risks," said An Yu Hua, a Seoul-based fellow researcher at Korea Capital Market Institute. "Still, if stabilized, the won-yuan market can benefit companies as it will allow them to cut conversion costs by bypassing the dollar."