Telefonica Said to Face EU Objections Over Buying E-Plus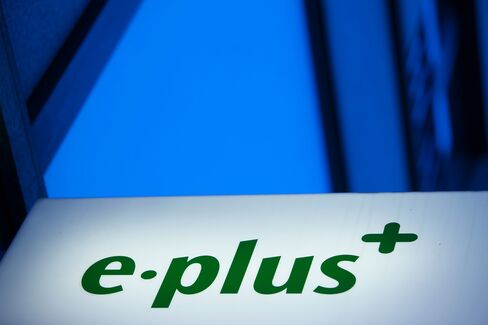 Telefonica SA's German unit is likely to face objections from European Union regulators over its 8.55 billion euro ($11.8 billion) bid for Royal KPN NV's E-Plus, two people familiar with the matter said.
Telefonica's plan to merge the two companies' German units, which would reduce the country's mobile operators from four to three, will soon receive a formal list of the European Commission's concerns over how the deal may harm competition, said the people, who asked not to be identified because the merger approval process isn't public.
The EU opened an in-depth probe into the transaction in December, citing concerns that it may harm retail customers and mobile virtual network operators that buy wholesale services from network owners. It is one of two deals the EU is reviewing that tests regulators' attitude toward consolidation in the industry. Hutchison Whampoa Ltd.'s Three Ireland also got objections this month over its plan to buy Telefonica SA's Irish operations.
"This is a normal part of any review process of more complex deals," Robin Bienenstock, a Sanford C. Bernstein analyst, said in a note today. "We still view the deal between E-Plus and O2D as likely to go ahead with remedies."
KPN shares dropped 0.7 percent to 2.69 euros as of 12:17 p.m. in Amsterdam trading, while Telefonica slipped 0.3 percent to 11.26 euros in Madrid.
The cost of insuring KPN bonds as measured by credit-default swaps rose 8 basis points, making it the worst performer on the iTraxx Europe index. Standard & Poor's said in November it could lower KPN's rating if the E-Plus disposal didn't win regulatory approval.
'Highly Concentrated'
Joaquin Almunia, the EU's antitrust chief, hasn't been swayed by telecommunications firms' calls to ease merger rules, saying national markets are "often highly concentrated with only a limited number of network operators" in each EU nation. Operators can't grow at the expense of "higher prices and less quality services for the users," he said yesterday in Brussels.
Antoine Colombani, a spokesman for the commission in Brussels, declined to comment. Officials at E-Plus, Telefonica and KPN also declined to comment. Reuters reported on plans to send the objections earlier yesterday.
Companies that receive statements of objections in an EU merger review can try to allay antitrust concerns by making concessions. These typically include promises to sell units or change market behavior.
Recipients of EU objections must defend their deal in writing and can seek an oral hearing before regulators make a final decision to block or clear the transaction. The EU currently has a May 14 deadline to rule on the Telefonica Deutschland and E-Plus deal.
Before it's here, it's on the Bloomberg Terminal.
LEARN MORE