Roof Collapse at South Korean Resort Leaves 10 People Dead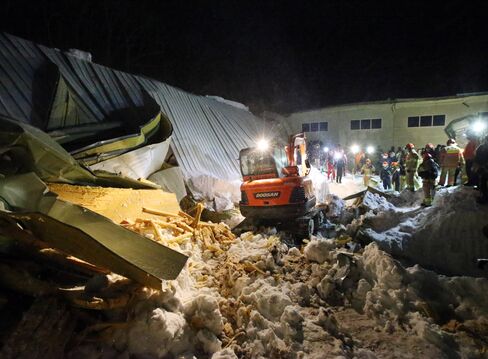 The snow-laden gymnasium roof at a South Korean resort collapsed, killing 10 people and injuring more than 100 at a welcoming party for college freshmen.
The dead included nine students from Busan University of Foreign Studies, school official Ryoo Chang Won said by phone, while 103 people were injured, South Korea's National Emergency Management Agency said on its website. One worker for an event organizing company also died, according to Jung Yoon Han, an official at the Ministry of Security and Public Administration.
The accident late yesterday at Kolon Corp.'s Mauna Ocean Resort in the southeastern city of Gyeongju adds to a history of deadly building collapses during South Korea's rise to become Asia's fourth-largest economy, many blamed on a lack of safety oversight. More than 500 people were killed when a shopping mall collapsed in Seoul in 1995, the deadliest case, according to the National Emergency Management Agency.
"It's another case of insensibility toward safety," Kim Yeon Dong, a professor of architecture at Hanbat National University, said today by phone. "Construction regulations in snowy areas like this should be tougher because builders feel tempted to leave out as many supporting materials as possible to save costs as long as it's not a violation of the law."
Kolon shares fell 2.4 percent at the close in Seoul to the lowest level since Feb. 6, while the benchmark Kospi index was little changed. Kolon has a 50 percent stake in Mauna, with the company's honorary Chairman Lee Dong Chan and Chairman Lee Woong Yeul owning the remainder, according to a Kolon regulatory filing in November.
'Thorough Probe'
President Park Geun Hye called for a "thorough probe into the cause" of the accident at a Cabinet meeting today, according to the website of her office. "I'm so heartbroken that many casualties happened due to the collapse of the gymnasium," she said.
Authorities are investigating the cause of the collapse, the disaster agency said. More than 40 centimeters of snow fell in the city of Gyeongju between Feb. 9 and 15, Cho Kuh Hee, an official at Korea Meteorological Administration, said by phone.
"That would have amounted to more than 10 buses on the top of the gymnasium since the snow contained a lot of water as well," Kim, the Hanbat National University professor, said.
Still Snowing
Television footage on YTN showed snow still falling at the scene as emergency workers pulled bodies from the gymnasium, while others shoveled piles of snow around the crumpled structure.
"We pray for the repose of those who lost their precious lives in this accident and apologize to the bereaved with our heads facing down," Kolon Chairman Lee said at a televised press conference.
The gymnasium wasn't subject to government safety inspections before the accident, so Kolon had conducted its own examinations regularly, spokesman Seol Sung Heon said by phone.
"What would normally be rain at the mid-slope turns into snow at Mauna and stays frozen," Jeong Gap Jo, who runs a condominium below the resort, said by phone. The Mauna resort is 500 meters (1,640 feet) above sea level, according to its website.
Other building safety-related accidents in South Korea include the 1994 collapse of a bridge in Seoul that killed 32 people, and a 1999 fire that killed 19 kindergarten children at a youth camp, according to the disaster agency.
Before it's here, it's on the Bloomberg Terminal.
LEARN MORE