India Fiscal Position Weak as Polls Approach, Moody's Says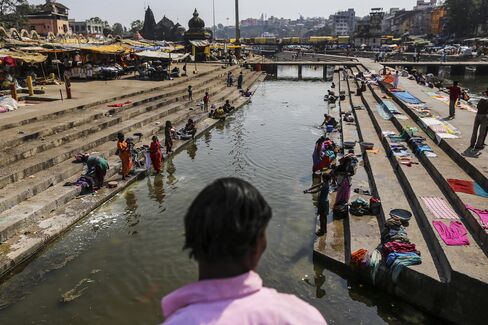 Feb. 18 (Bloomberg) -- India's fiscal position remains weak and a cut in spending to meet the budget gap estimate this year will probably hurt growth, Moody's Investors Service said.
The budget deficit will narrow to the lowest in seven years at 4.1 percent of gross domestic product through March 2015 from an estimated 4.6 percent in the current fiscal year, Finance Minister Palaniappan Chidambaram said in his budget speech yesterday. He also cut taxes on cars, mobile phones and television sets to woo voters ahead of elections due by May.
"While demonstrating a commitment to meeting its deficit targets, the Indian government's spending cuts are also likely to constrain GDP growth in the current year," Atsi Sheth, lead India analyst for sovereign ratings, said in a statement. The government that takes power after elections will determine budget outcomes and long-term fiscal trends, she said.
Prime Minister Manmohan Singh is trying to reverse a growth slowdown that's hurt revenues as Asia's fastest price increases erode support among voters. Moody's has a stable outlook on India's Baa3 sovereign-credit rating, the lowest investment grade, even as Standard & Poor's warned in November India could face a downgrade if the vote fails to produce a government capable of reviving growth.
The rupee weakened 0.7 percent to 62.26 per dollar as of 4:18 p.m. in Mumbai. The S&P BSE Sensex index gained 0.8 percent. The yield on the 10-year government bond due November 2023 dropped to 8.79 percent from 8.81 percent yesterday.
'Suspect' Projections
The government's ability to meet the deficit target for the year starting April 1, 2014 will depend on pace of growth, global commodity prices and the rupee's movements, Moody's said. Dividends from state enterprises and fees from a spectrum auction helped make up a shortfall in tax revenue, it said.
Chidambaram estimated gross borrowing at 5.97 trillion rupees ($96 billion) in the fiscal year starting April 1, lower than the 6.29 trillion rupees for the current fiscal year in the budget presented a year ago. Chidambaram projected a revenue deficit of 3 percent of GDP for the year through March 2015.
Projections for one-time telecom-related revenues are unlikely to be met in the current fiscal year, making the deficit projection of 4.6 percent of GDP "suspect," Kunal Kundu, an analyst at Societe Generale SA in Bangalore, wrote in a research report today. The budget also curtails public investment while barely touching subsidies, he said.
'Altar of Populism'
"India's future growth is being compromised at the altar of populism," Kundu wrote. "Given that physical infrastructure poses the biggest challenge for India's growth momentum and at the same time pushes up inflation, one wonders where the government's priorities lie."
The budget numbers are credible and the fiscal deficit target for the year starting April 1 is achievable, Chidambaram said in an interview with CNBC Awaaz Television broadcast today. The government cannot afford to stop subsidies in a country where millions were still poor, he said.
"You saw the clamor from every section of parliament," Chidambaram said in defending a decision to increase the number of subsidized cooking gas cylinders. "How do you simply brush aside or reject the demand of the people? After all, they are the ones who elect you. No government descends from heaven and says 'I don't care for the wishes of the people.'"
Motorcycles, Microwaves
In a bid to further woo voters and boost consumption, Chidambaram cut excise tax rates on sport-utility vehicles, small cars and motorcycles would be cut until June 30 while urging lawmakers to pass a goods and services tax. He also reduced the excise duty for a range of consumer goods, including washing machines, DVD players and microwave ovens.
While the government has averted the risks of a downgrade for now, the lack of a stable government after the elections may trigger market volatility and prompt credit-rating companies to reassess, Radhika Rao, a Singapore-based economist at DBS Bank Ltd., wrote in a research note.
"As things stand, next year's budget will start at a higher base," she wrote. "Even a conservative increase in expenditure could throw the fiscal math awry and lead to an overshoot in the fiscal goalposts."
Election Uncertainty
No single party or alliance will get a majority to form the government after the elections, according to opinion polls that show the incumbent Congress Party losing power. The main opposition Bharatiya Janata Party will win 202 seats in the 545-member lower house, compared with 89 for Congress, according to a Times Now and C-Voter poll released Feb. 13.
The Congress-led government's second term in office has been marred by graft scandals, sluggish economic growth and Asia's fastest consumer-price inflation, which averaged about 10 percent in the past year. Singh said last month his government could've done a better job at controlling inflation after the Congress Party got trounced in state elections.
A central bank panel last month proposed reducing CPI to 8 percent within one year and 6 percent by 2016, and that the RBI should then adopt a 4 percent target with a band of plus or minus two percentage points. Consumer price gains slowed to 8.79 percent in January from 9.87 percent in December.
Sustainability Questioned
Reserve Bank of India Governor Raghuram Rajan has said that a lower fiscal deficit is crucial to curbing inflation and boosting economic growth. Citing price pressures, the central bank unexpectedly raised the policy rate to 8 percent from 7.75 percent on Jan. 28, the third increase since Rajan took charge in September.
While the government deserves credit for meeting its fiscal deficit target, India will need to implement a goods and services tax and reduce spending on subsidies to meet Chidambaram's goal of reducing the budget gap to 3 percent of GDP by 2017, according to Sajjid Chinoy, JPMorgan Chase & Co.'s India economist.
"Good news in the short run," he said. "But this will not be sustainable for the years to come unless there is a more fundamental fiscal reform."
To contact the reporter on this story: Unni Krishnan in New Delhi at ukrishnan2@bloomberg.net
To contact the editor responsible for this story: Daniel Ten Kate at dtenkate@bloomberg.net