Grace's $21 Tea Comes Extra in Chicago After $205 Tasting Menu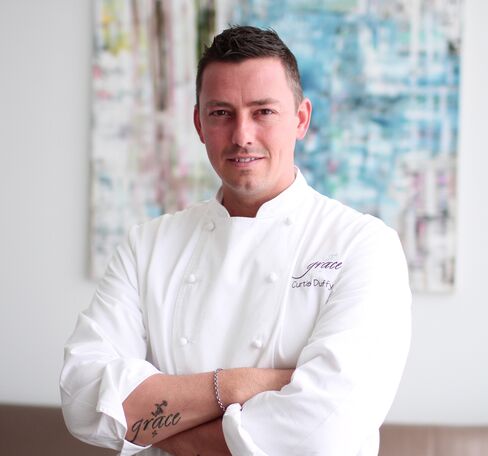 Feb. 18 (Bloomberg) -- Is there no multi-syllabic and preferably German psychological term to describe the angst, then resignation experienced upon realizing that green tea at Grace in Chicago costs $21? Burgers at other fine venues cost less.
It's a scenario that prompts the same blank stares elicited when airport kiosks demand payment to check luggage when you fly coach. "You mean it's not already included in the price?" It is not. Nor is Grace economy class; the two dinner menus, one vegetable-focused, cost $185. So take a few minutes, and maybe half a Xanax, and just deal with that. Then order the $21 pot.
Think of it this way: We've grown accustomed to $20 coffee, Champagne and cocktails. So who's to say that tea, the world's most consumed beverage after water, a drink known for its antioxidant properties and a worldwide symbol of goodwill toward unexpected guests, can't be exorbitantly priced too?
Of course, it doesn't hurt that Grace runs one of the best hot-beverage services of any American restaurant.
The pricey brew is "rarely exported out of Japan," reads the menu. The wait captain, who is wearing a nicer suit than you are, correctly describes the tencha leaves as a precursor to matcha. The taste is of mowed grass and unsweetened bananas. It pairs well with the log course, where diners reach inside a hollowed-out piece of wood to retrieve little chocolate treats.
Transparency Travails
Such are the luxuries (or ignominies) of Grace, an often interesting, usually enjoyable and sometimes weird West Loop eatery that happens to be Chicago's second-most-expensive restaurant. It's brought to us by Curtis Duffy, who was once chef de cuisine at Alinea, Chicago's most expensive restaurant.
When Grace's menu price rises to $205 in March, dinner for two, after wine pairings, tax and tip, will cost $861. If those numbers are unexpected, it's because Grace publishes neither its beverage-pairing prices nor its wine list online.
Tea can easily push things closer to $900. But the good news is, fellow aristocrats, that neither Israeli caviar nor Burgundy truffles command supplements here.
No upcharge for Japanese beef either, which might be the steak dish of the century. Miyazaki meat, cut into little batons, seems to pop in the mouth like rendered cow fat-filled ravioli. The beefiness is clean and strong. And to cut the richness? Duffy adds dill pickles. It's only a few slices of bread short of a Sunday roast beast sandwich. You enjoy this on a padded throne of a chair with arm rests and listen to lounge music playing so quietly that Shazam doesn't work.
Posh Digs
In our era of pared-down (if not necessarily priced-down) luxury, Grace is a 10,000-square-foot outlier, a study in modernized old-school indulgence. There are linens, carpets, a first down's worth of yardage between tables and wine decanters whose sizes seem to lengthen like Pinocchio's nose as the meal goes on. Waiters are so cool you're tempted to ask them to join you for a few beers afterward. Even cooler: Bread is served not all at once but as a parallel three-course tasting of pretzels, croissants and onion-spiked waffles.
Duffy isn't buying into those new standards of lean excess where tabletops are bare, the only seating is at the bar and tastings comprise 20 to 30 hors d'oeuvre-sized bites. Or more precisely, Grace is not Brooklyn Fare or Blanca, where the chef is often your waiter and where dinner can last as long as an installment of "Lord of the Rings." Duffy keeps the course count at around 11, modest by contemporary standards, and the meal's length at about 2.5 hours.
The two-Michelin-starred spot, based on a January visit, has less in common with Alinea than it does with more conservative spots like the late Charlie Trotter's, where Duffy once worked, or Thomas Keller's Per Se in New York.
Hot Rock!
An army of servers glide through the dining room. A captain approaches with a canopy of juniper leaves holding flora, fauna, and a geothermal cooking device.
"Do not touch the hot rock," the waiter warns, an exhortation more common at venues hawking sizzling fajita platters. The rock is used to sear piece of tuna so aggressively that you burn your hand when you pick it up. For that injury you're rewarded with an overcooked, under-salted piece of fish.
Cool your palate with a few sips of satsuma orange juice infused with Jasmine tea. Then enjoy a one-bite amuse of king crab. It's been paired with warm butter that's been magically liquefied into a translucent, gumdrop-sized sphere. The sweetness of the shellfish and milk fat are distinct at first, but when the sphere bursts, everything comes together in gorgeously unctuous bliss. Such a transcendent preparation is a threat not just to your arteries, but to plastic ramekins at fish shacks throughout the world.
Length Issues
Then you encounter ho-hum caviar. Israeli roe, normally outrageously delicious and complex, has a flat flavor and a short finish (like hackleback). The eggs play second fiddle to a chawanmushi that's overwhelmed by the sharpness of yuzu.
And so this is where Grace's relatively short course count -- seven savory plates plus bread -- gets Duffy in trouble. At long-tasting menu restaurants like Atelier Crenn or Atera, the memory of one or two bad bites quickly fades.
But Duffy's so-so caviar dish is just under one-sixth of the savory experience. And that's why my rule is this: the more a restaurant charges (and Grace charges a lot), the more courses you want (within reason) to diversify culinary risk to the consumer, and to encourage risk on the part of the chef.
Banal Bras
How many more bites of Duffy's salad course must I ingest? His plate of architecturally layered vegetables and flowers is a tiresome ode to Michel Bras's famous composition of herbs and leaves. Other chefs (like Saison's Joshua Skenes) have riffed on this more skilfully. Then there's the final savory course, a pile of overcooked sweetbreads, inferior to cheaper versions served throughout Brooklyn and elsewhere.
Duffy is best when he pushes the boundaries of flavor, like with his steak and pickle dish, or with a subversive preparation involving a mashed-potato mound of salt cod paired with cilantro and roasted pineapple batons, a genius touch of fruit that cuts the subtle starchiness of the brandade. And duck three ways -- a soft dumpling, iron-y prosciutto and a heady leg confit -- are unified by the brilliant nuttiness of sunflower seeds.
Desserts are thoughtful, albeit comprising an aggressive 36 percent of the meal (four out of 11 courses). No cheese offering, sadly, but rather a composition of chocolate, hazelnut and mint (meh), liquid nitrogen pear ice cream (perfect), those mignardises inside a log, and, best of all intensely aromatic kokum sorbet with tea gelee. Now you know. Duffy likes tea.
How Much?
So this is when you might order that outstanding $21 tencha, which I suppose is a fair enough price as a quarter-pound of the stuff can fetch $200 retail. Higher rollers can opt for the Emperor's Reserve "Moonlight Snowmist," a $42 white (the Johnnie Walker Blue of tea), while budget types will find a proper Earl Grey for $12. These prices, of course, would be more digestible if published online. Transparency is step No. 1 in getting people to spend more on the things they used to think were cheaper than they could be or should be.
And while I wouldn't necessarily return to Grace on my own dime until the course count rises, I'd certainly return on someone else's as part of a client dinner, as Duffy & co. are doing awesome stuff with unusual flavor combinations, decanter lengths, and dried leaves infused into hot water.
Grace is at 652 W. Randolph Street, Chicago. Information: +1-312-234-9494 or http://www.grace-restaurant.com/.
(Ryan Sutton reviews restaurants for Bloomberg News. The opinions expressed are his own.)
To contact the reporter on this story: Ryan Sutton in New York at rsutton1@bloomberg.net
To contact the editor responsible for this story: Marty Schenker at mschenker@bloomberg.net