Fibria Investment-Grade Aim Threatened by Glut: Corporate Brazil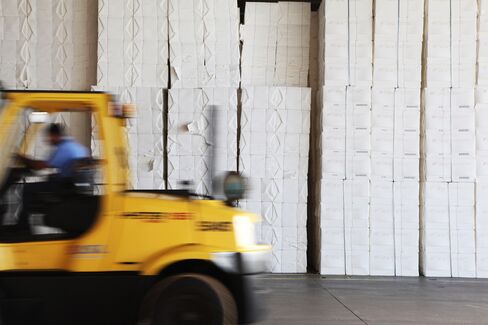 Fibria Celulose SA's goal to regain an investment-grade rating is at risk as the top pulp producer faces increasing competition and declining prices.
Moody's Investors Service and Fitch Ratings say pulp projects coming online this year may drive down prices, posing the biggest hurdle before Sao Paulo-based Fibria can win a higher credit rating. Global output is set to grow more than four times faster than demand in the next two years, Fitch estimates.
"Rating agencies tend to be very conservative," Chief Financial Officer Guilherme Cavalcanti said in a telephone interview. "In a scenario of new capacity and a possible decline in pulp prices, they may want to wait and see."
Five years after Fibria lost its investment-grade rating amid $2.1 billion of currency derivatives losses, the company is focusing on holding down debt while rivals expand. Formed after Votorantim Celulose & Papel bailed out Aracruz Celulose in 2008, Fibria has sold land, forests and a paper mill to buy back bonds.
"Fibria has been efficient in cutting debt in recent years," Fitch analyst Fernanda Rezende said in a phone interview from Rio de Janeiro. "This year, we still see Fibria in the process of reducing leverage, but in a more challenging scenario."
Fibria is more exposed to a pulp price decline than some competitors that also produce paper because almost all its revenue comes from the raw material, said Moody's analyst Barbara Mattos.
'More Exposed'
"Fibria has the benefit of being fully concentrated in the link of the chain where the highest margins are," Mattos said. "But at the same time it's more exposed to price fluctuations."
Benchmark pulp prices have fallen 6.6 percent in the past eight months to $766.73 a metric ton, according to Helsinki-based FOEX Indexes Ltd.'s BHKP index.
Fitch estimates pulp supplies will grow 9 percent in two years at a time demand is set to expand less than 2 percent annually, according to a Dec. 16 report.
Expectations that Fibria, rated the highest junk level by Moody's, Fitch and Standard & Poor's, will win a rating increase this year helped fuel a bond rally after the company reduced debt to 2.3 times earnings before interest, taxes, depreciation and amortization from a ratio of 7.1 in 2009.
Moody's put the company on a positive outlook for a possible rating increase in September, seven months after Fitch. S&P has kept Fibria on a stable outlook since March.
Bond Buyback
Yields on Fibria's $751.2 million of outstanding notes due 2020 have dropped 0.28 percentage point, or 28 basis points, since it announced Jan. 29 that it will buy back $690.2 million of the bonds next month, declining to 5.47 percent yesterday. Similar-maturity debt from Celulosa Arauco & Constitucion SA, the Chilean pulp producer that's rated one level higher than Fibria, is yielding 4.7 percent.
Shares of Fibria rose 1.6 percent to 26.15 reais at 3:05 p.m. in Sao Paulo. They declined 6.9 percent this year through yesterday, compared with a 7.6 percent loss for the benchmark Ibovespa.
Pulp projects coming online in South America this year include Stora Enso Oyj and Arauco's Montes Del Plata venture in Uruguay and a Suzano Papel & Celulose SA plant in northern Brazil, adding a combined 2.8 million metric tons of annual production capacity. Chile's Empresas CMPC SA also plans to complete the expansion of its Guaiba unit in southern Brazil next year, adding 1.3 million tons.
"The market has been pricing in the new capacity," Manoel Neves, an analyst at Vantaa, Finland-based pulp industry research firm Poeyry Oyj, said by phone from Sao Paulo.
Debt Cuts
Still, Fibria's efforts to cut debt may be enough to earn it the investment-grade rating Cavalcanti has sought, said Frederico Tebechrani, the head of corporate research at Banco Pine in Sao Paulo, who has a neutral recommendation on the company's bonds.
"After first-quarter earnings, rating agencies will have enough information to assess the upgrade," Tebechrani said.
Fibria raised 3.6 billion reais ($1.5 billion) in the past two years through the sale of stocks and assets. Net debt fell to 7.38 billion reais last year, from 9.26 billion reais in 2011, according to data compiled by Bloomberg.
The pulp maker sees its average dollar-debt costs falling to 4 percent from 4.6 percent after the bond buyback next month, Cavalcanti said.
Currency Benefit
A weakening of Brazil's real this year, which would boost the value of Fibria's exports in local-currency terms, may help offset a decline in international pulp prices, Cavalcanti said. Exports represent about 90 percent of the company's sales. The price of a ton of pulp would have to drop by $100 before erasing net free cash generation, Cavalcanti said.
"Fibria is very resilient to these fluctuations," Cavalcanti said.