Blackstone Buys Minority Stake in Senator Hedge-Fund Firm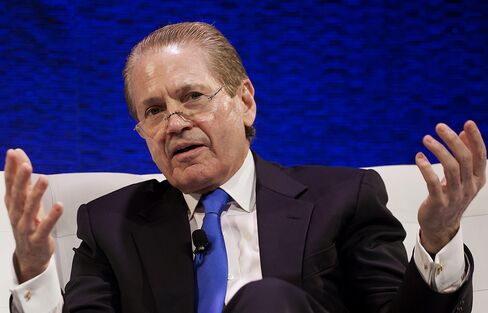 Blackstone Group LP's Tom Hill wants to dominate the $2.6 trillion hedge-fund industry.
The firm, already the largest allocator in hedge funds, is setting its sights on buying stakes in the money managers. Senator Investment Group LP, a $6.7 billion firm, told clients yesterday that Blackstone bought a minority piece of its business, less than a week after Hill, who runs the New York-based firm's $56 billion hedge-fund group, outlined his ambitions for that strategy.
Blackstone, the world's biggest manager of alternative assets, struck the agreement with Senator, its first such investment, as it seeks to raise $3 billion for similar purchases. The firm has gathered $1.4 billion for the venture, Hill, 65, said last week at a conference in Florida. Blackstone has also provided about $2.6 billion in startup capital to new managers, providing them with $100 million to $200 million, according to a report by Credit Suisse Group AG.
"You have an opportunity not only to benefit from their growth but also to look down the road at creating a public vehicle for that," Hill said Feb. 12 at Credit Suisse's financial-services forum in Boca Raton, Florida. "We will, in our mind, dominate that space the way we have dominated the seeding space."
'Substantial Economics'
Senator, based in New York, received seed money from Blackstone when it opened in 2008, giving the private-equity firm rights to a portion of the hedge fund's revenue, according to a letter Senator sent to clients yesterday. Since the start of 2013, the fund had the option to buy back the revenue share at a pre-determined price, which it exercised in full on Feb. 14, it said in the letter, a copy of which was obtained by Bloomberg News.
"As a result of this deal, Senator will recapture substantial economics, allowing us to continue to re-invest in our infrastructure as well as reward and retain our partners and employees," Co-founders Alexander Klabin and Douglas Silverman said in the letter. They didn't disclose terms.
Senator seeks to profit from events such as corporate restructurings, mergers and share sales, a strategy known as event-driven investing. The Senator Global Opportunity fund returned 26 percent last year and 20 percent on average annually since inception, according to a person with knowledge of the returns, who asked not to be identified because the performance figures are private.
Jonathan Gasthalter, a spokesman for Senator at Sard Verbinnen & Co., declined to comment on the transaction, as did Peter Rose, a spokesman for Blackstone.
Increased Ownership
Klabin and Silverman said in the letter that they are not taking money from the firm or funds and have instead increased their ownership of the business.
The pair had worked at hedge-fund firm York Capital Management LP before starting Senator. Klabin worked at York for five years and focused on investments such as private equity and distressed debt. He previously was at Monarch Alternative Capital LP, Quadrangle Group LLC and Goldman Sachs Group Inc.
Silverman spent six years at York, where he was a co-portfolio manager of York Global Value Partners. Prior to that, he worked in the leveraged finance group at Merrill Lynch & Co.
Hill, a former co-chief executive officer of Lehman Brothers Holdings Inc. with Richard Fuld, said last week that Blackstone is seeing opportunities to buy stakes in firms with $3 billion to $4 billion in assets, at valuations of 4.5 times to 5 times cash flow.
Fund Competition
Blackstone, which last year hired Anthony Maniscalco to help purchase positions in hedge funds, competes with firms such as Affiliated Managers Group Inc., sovereign-wealth fund Dubai International Capital LLC and Neuberger Berman Group LLC
Neuberger in June bought a minority stake in New York fund Capstone Investment Advisors LLC. Goldman Sachs in 2007 raised $1 billion to buy minority pieces in hedge-fund firms.
Goldman Sachs's investments in London-based Winton Capital Management LLC and Capula Investment Management LLP paid off, with assets at least tripling since the New York bank made its purchases.
Some of Goldman Sachs's investments through its Petershill fund went awry. Level Global Investors LP closed a year after Petershill's purchase, following a 2010 Federal Bureau of Investigation raid tied to the U.S. government's insider-trading probe. Level Global co-founder Anthony Chiasson was convicted of securities fraud in December 2012.
Shumway Capital Partners LLC, in which Petershill invested in 2010, experienced investor withdrawals after its founder, Chris Shumway, said that year he would step down from his role as chief investment officer.
Blackstone's hedge funds-of-funds group has grown to $56 billion since Hill took over in 2000. That makes the firm "almost three times bigger than the next largest player," Credit Suisse analysts wrote yesterday in a report. The firm manages $266 billion in assets including real estate and private equity.