Biggest Puerto Rico Owners See Rally After New Deal: Muni Credit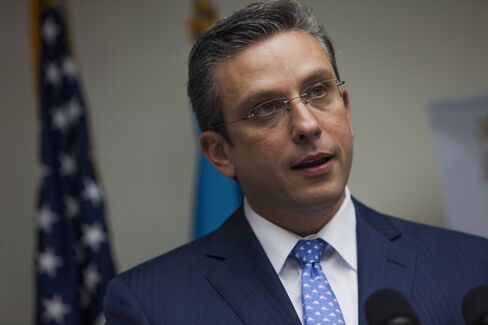 The largest holders of Puerto Rico bonds are betting that a planned debt sale by the commonwealth will fuel a rally in its securities by alleviating doubts the U.S. territory can raise funds in the capital markets.
Puerto Rico officials are set to discuss their financing plan in a three-hour webcast today. The territory is preparing to issue general-obligation bonds in coming weeks, the first such offer since 2012, after the three biggest rating companies cut the island to junk this month in part out of concern it couldn't procure enough money.
AllianceBernstein Holding LP, Vanguard Group Inc. and Lord Abbett & Co., among the 10 biggest holders of commonwealth securities, say Puerto Rico's immediate fiscal future hinges on the borrowing. The funding may extend a 2014 rebound in Puerto Rico securities, after their worst annual loss since at least 1999.
"If you get the financing done, you buy Puerto Rico more time to retire debt and give its economy a chance to stabilize and grow," said Guy Davidson, who manages $30 billion of local bonds as director of munis at AllianceBernstein in New York. It is the fifth-largest holder of Puerto Rico bonds among mutual fund companies, data compiled by Bloomberg show.
"If they continue to keep a discipline on their expenses, suddenly their bonds could rally pretty nicely," he said.
Deficit History
Puerto Rico lost its investment-grade ratings even as lawmakers have reduced pension benefits, raised taxes and trimmed budget gaps.
Governor Alejandro Garcia Padilla, 42, who took office in January 2013, says he plans to release a budget for next fiscal year that doesn't rely on deficit borrowing, ending a practice used in every spending plan since at least 2000.
The $70 billion of debt from the Caribbean island and its agencies is tax-exempt nationwide, helping explain why 70 percent of muni mutual funds own its securities, according to Morningstar Inc.
OppenheimerFunds Inc. owns the most Puerto Rico debt, with about $4.6 billion, followed by Franklin Resources Inc. with $3.4 billion and Nuveen Asset Management LLC with about $1 billion.
Bank of New York Mellon Corp., AllianceBernstein, Vanguard, Legg Mason Inc., Goldman Sachs Group Inc., Lord Abbett and Wells Fargo & Co. round out the top 10.
Sale Discussion
The general-obligation deal to be discussed on the webcast starting at 2 p.m. New York time will take place by mid-March, Government Development Bank Chairman David Chafey said in an interview in San Juan last week. The sale, through Barclays Plc, Morgan Stanley and RBC Capital Markets, will refinance debt and raise cash. Officials plan to borrow $2 billion through bonds, according to Puerto Rico General Assembly Representative Rafael Hernandez.
The commonwealth's debt has traded at yields consistent with speculative-grade bonds since at least September. That has lured buyers such as hedge funds, which are asking that the island raise enough money to meet its needs for two years, two people with knowledge of the preliminary talks said last week.
Tax-free general obligations maturing in July 2041 traded today with an average yield of 8.09 percent, down from 8.1 percent at the end of last week and the lowest since November, Bloomberg data show. The bonds yielded about 5.1 percent a year ago.
Puerto Rico bonds lost about 20 percent last year, eight times the drop of the entire $3.7 trillion municipal market, Standard & Poor's data show. The securities have climbed 2 percent in 2014, while the broader market has gained 2.4 percent.
OppenheimerFunds Ownings
Now that Puerto Rico has speculative grades from S&P, Moody's Investors Service and Fitch Ratings, some investment-grade funds may not be able to add bonds from the island of 3.6 million people.
OppenheimerFunds said in a statement last week that speculative-grade holdings exceed limits outlined in some prospectuses after Puerto Rico was cut to junk.
Kaitlyn Downing, a company spokeswoman, said no portfolio managers wanted to comment. She noted that the holdings include tobacco bonds from the island, which are backed by national cigarette shipments.
OppenheimerFunds said last week that while there's "room for improvement" in Puerto Rico, it "is moving in the right direction," and "securities held by our funds have provided high value to our shareholders relative to the risk."
Some of the other money managers say they haven't ruled out purchasing the new securities.
Fund Room
"If they get a deal done and it buys them some time, we have room to add" the bonds, said Lyle Fitterer, head of tax-exempt fixed income in Menomonee Falls, Wisconsin, at Wells Capital Management. The company oversees $31 billion in munis.
"We could buy it, and it wouldn't be something that would put us over our limit, not only in terms of Puerto Rico exposure, but also our high-yield exposure," he said. The company added Puerto Rico bonds with short maturities and insurance as the selloff intensified in September, Fitterer said.
Nuveen's open-end and closed-end funds remain below their speculative-grade prospectus limits after the Puerto Rico rating cuts, said Shawn O'Leary, a senior research analyst for the company in Chicago.
Similarly, Lord Abbett is "nowhere near any of our constraints regarding how much we can hold," said Dan Solender, the company's director of munis in Jersey City, New Jersey.
Franklin, Vanguard
Franklin's Puerto Rico debt should be put in the context of its $69 billion in total munis, said Stacey Johnston Coleman, a spokeswoman for the San Mateo, California-based money manager.
The company has "been encouraged by the numerous actions the current administration has taken so far to attempt to reduce the structural deficits and put Puerto Rico on a better fiscal path," Rafael Costas, co-director of Franklin's muni department, said in a statement.
A bond sale would "certainly give them near-term relief," said Chris Alwine, head of munis at Valley Forge, Pennsylvania-based Vanguard, which oversees $130 billion in local debt. The company has "a large underweight" on the island, meaning it holds less of the securities than the amount in its benchmark, he said.
Susan Rivers, a spokeswoman at BNY Mellon, said no one was available to comment. Andrea Raphael, a spokeswoman for Goldman Sachs, declined to comment. Mary Athridge, a spokeswoman for Legg Mason, declined to comment beyond saying that almost 90 percent of the company's Puerto Rico holdings are in investment-grade sales-tax bonds, known as Cofinas.
Alix Anfang, a GDB spokeswoman, said the bank had no comment on the bondholders' perspectives.
Holdings Breakdown
Below is a table of the companies with the biggest holdings of Puerto Rico bonds.
The figures are based on the most recent company filings to Bloomberg, and exclude derivatives and debt that's pre-refunded or escrowed to maturity. Values for securities were calculated as position multiplied by market price. Pricing figures are from either Municipal Securities Rulemaking Board trade data or Bloomberg Valuation data, and if neither are available, par or accreted value.
================================================================
Rank                           Debt Holder    (Millions)
================================================================
1                    OPPENHEIMERFUNDS INC.        $4,592
2                  FRANKLIN RESOURCES INC.        $3,373
3              NUVEEN ASSET MANAGEMENT LLC        $1,050
4            BANK OF NEW YORK MELLON CORP.          $707
5             ALLIANCEBERNSTEIN HOLDING LP          $618
6                      VANGUARD GROUP INC.          $419
7                          LEGG MASON INC.          $362
8                 GOLDMAN SACHS GROUP INC.          $351
9                        LORD ABBETT & CO.          $334
10                       WELLS FARGO & CO.          $334
================================================================
SOURCE: Bloomberg
Before it's here, it's on the Bloomberg Terminal.
LEARN MORE