Australia Pushes Infrastructure as G-20 Growth Driver: Economy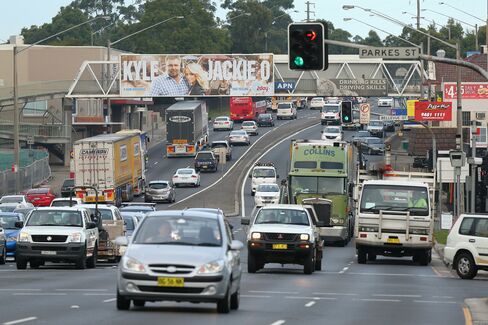 Australia's bid to sell state-owned infrastructure to help fund new projects will form a centerpiece of its Group of 20 agenda as the nation bets its plan to spur jobs is as relevant in Moscow, Mumbai and Michigan as it is in Melbourne.
Australia is aiming to coordinate strategies for debt-laden nations across the world with aging roads and bridges to invest in new projects, according to the host nation's agenda outlined ahead of this weekend's finance ministers and central bankers meeting in Sydney.
Domestically, Australian Treasurer Joe Hockey is working on a sales program to channel money into new projects and buoy business investment that's shown a tepid response to record-low interest rates. With tensions between developing markets and the U.S. over the Federal Reserve's reduction of its unprecedented monetary stimulus threatening to loom over the gathering, his infrastructure plan may be something most nations can agree on.
"All countries need to increase their potential growth rates," said Mike Callaghan, head of the G-20 Studies Centre at the Lowy Institute in Sydney. "Countries like Australia, the U.S. and U.K. need to improve their infrastructure as part of their individual growth strategies."
Just keeping pace with projected global gross domestic product growth will require $57 trillion in infrastructure investment through 2030, according to estimates released in January 2013 by consultancy firm McKinsey & Co. That's nearly 60 percent more than the $36 trillion spent over the prior 18 years, it said.
Infrastructure Focus
"We've got to focus on infrastructure," Hockey said in a Feb. 13 interview in Canberra. Australia will use its influence to encourage member nations to look at "how we can better facilitate private investment in infrastructure, both in the developing world and the developed world."
Australia faces an infrastructure funding gap of about A$300 billion ($271 billion), according to a June government report. Capital is needed for projects to help prepare for an expected 50 percent surge in population by 2050 and rising demand from Asia for the nation's exports, according to the government's Infrastructure Australia unit.
For emerging markets, higher interest rates in response to the Fed's tapering of bond purchases will complicate access to funding for large-scale investment, World Bank President Jim Yong Kim said Nov. 12. Brazil, Russia, India, China and South Africa see an infrastructure deficit of about $4.5 trillion over the next five years, Kim said.
Growth Target
Hockey told Australian Broadcasting Corp. radio today that it's "hugely important" finance ministers aim to grow the world economy by more than the current International Monetary Fund forecast of 3.7 percent.
"If we have a growth aspiration which is higher than that and we lay down a pathway for individual countries to get there, then we're going to get the jobs and get global trade going at the level that we need to help increase prosperity and ultimately help us to pay down our deficits and our debts," he said, adding any target was a matter for discussion.
In Berlin overnight, a government official told a briefing that Germany is very skeptical of proposals for setting GDP and investment targets.
Emergency Steps
Some developing markets including Turkey and South Africa have been forced into emergency steps as investors sold off currencies, stocks and bonds after the Fed's decision to scale back asset purchases.
U.S. Treasury Secretary Jacob J. Lew said risks including volatility in emerging markets and China's economic agenda are clouding the global outlook, requiring nations to focus on boosting growth and job creation.
"We are monitoring these developments closely," Lew said in a letter yesterday to his G-20 colleagues.
Policy makers including India central bank Governor Raghuram Rajan have warned of a breakdown in global coordination due to the tapering. Fed officials in December announced a $10 billion reduction in monthly asset purchases, and repeated the move last month with a cut of the same size to $65 billion.
"As the hosting country, Australia will have a big say in setting the agenda of the talks, and I don't think Australia will like to see a lot of argument about the Fed's policy," said Cao Yongfu, who studies the global economy at the Chinese Academy of Social Sciences in Beijing, a research agency that advises the Chinese government.
Medibank Private
Hockey has said there's potentially A$130 billion of privatizable assets in Australia. He's already ordered a study on the sale of Medibank Private Ltd., the nation's biggest health insurer.
In New South Wales, Australia's most populous state, the government is conducting its fourth privatization of the past two years by selling the Port of Newcastle, the world's biggest export harbor for coal used in power stations. The northern state of Queensland has appointed investment banks to conduct scoping studies on four groups of assets, including Gladstone and Townsville ports.
Governments around the world have already sold some assets to plug holes in their budgets. Last year, the U.K. sold a majority of its interest in state postal service Royal Mail Plc through an initial public offering, raising more than 1.7 billion pounds ($2.8 billion). New Zealand's government has also raised billions of dollars through selling stakes in power generators and Air New Zealand Ltd.
"Privatizing assets is a core component of how governments raise funds to invest in new infrastructure," said Julian Vella, head of infrastructure at KPMG in Melbourne. "But there is still sensitivity around selling government assets, so linking that money to specific new projects is a way to help address those concerns."