Yen Slides as Bank of Japan Boosts Lending; Forint Declines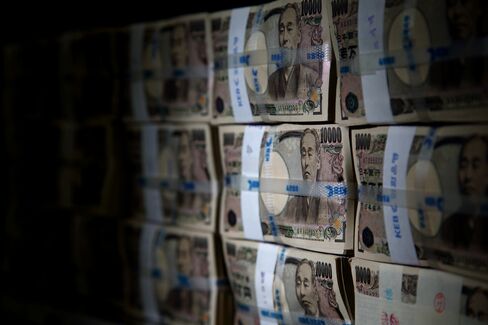 The yen slid to the weakest this month against the dollar and the euro after the Bank of Japan boosted its lending programs and said it will maintain monetary easing to stamp out deflation.
The dollar erased gains against a basket of peers after a gauge of manufacturing growth slowed more than forecast. Hungary's forint declined versus most of its main counterparts as the central bank dropped the two-week deposit rate to a record low. The Thai baht fell with most emerging-market currencies as police clashed with protesters in Bangkok. Investors outside the U.S. increased holdings of Treasuries the most since 2011.
The dollar-yen pair has "already seen a significant pullback," Vassili Serebriakov, a foreign-exchange strategist at BNP Paribas SA, said by phone from New York. "Most market participants are still of the view that it's moving higher over time. It's a question of which levels are they comfortable getting back into the trade."
The yen fell 0.4 percent to 102.36 per dollar at 5 p.m. in New York after depreciating to 102.74, the weakest level since Jan. 31. Japan's currency slid 0.8 percent to 140.83 per euro and reached 141.03, lowest since Jan. 29. The dollar fell 0.4 percent to $1.3759 per euro and touched $1.377, weakest since Jan. 2.
The Bloomberg Dollar Spot Index, which tracks the U.S. currency against 10 of its major counterparts, was little changed at 1,017.34.
Forint, Krona
Hungary's forint declined versus euro and dollar as the Magyar Nemzeti Bank unexpectedly lowered the two-week deposit rate by 15 basis points, or 0.15 percentage point. The decision was forecast by just three of 23 economists in a Bloomberg survey.
The forint depreciated 0.3 percent to 225.59 per dollar after falling 0.6 percent.
Turkey's currency fell as its central bank left its three main interest rates unchanged today following an emergency rate increase last month. The bank's "tight monetary-policy stance" will be retained until there is a significant improvement in the inflation outlook, according to a statement announcing the decision.
"The Turkish lira is softer as Turkey's central bank kept rates steady," Eric Viloria, a currency strategist at Wells Fargo & Co. in New York, wrote in an e-mail.
The lira traded 0.2 percent weaker at 2.1801 against dollar.
Thai Protests
The baht slumped the most in more than six weeks as police moved to clear anti-government demonstrators from a protest camp in Bangkok. Resulting clashes killed two people and wounded at least 58, security and emergency officials said.
The Thai currency slid 0.8 percent to 32.492 per dollar. The Indonesian rupiah weakened 0.5 percent to 11,848 per dollar.
Japan's gross domestic product grew at an annualized 1 percent in the fourth quarter of 2013, down from 1.1 percent in the previous three months, the Cabinet office said yesterday, missing analysts' forecasts and boosting speculation for more central bank easing.
"There's scope for dollar-yen to head higher on any dovish news from the Bank of Japan," said Michael Sneyd, a currency strategist at BNP Paribas SA in London. "Long dollar-yen is one trade we like," he said, referring to a bet that the U.S. currency will appreciate.
Yen Forecasts
The yen will weaken to 110 per dollar by year-end, according to the median estimate in a Bloomberg survey of economists. BNP expect a drop to 118, the sixth most bearish forecast for the currency, the data show.
The yen slumped 5.9 percent in the past six months, the biggest decline after Canada's dollar among 10 developed-nation currencies tracked by Bloomberg Correlation-Weighted Indexes. The dollar fell 0.8 percent, while the euro gained 2.8 percent.
The dollar slipped after the Federal Reserve Bank of New York's Empire State manufacturing index fell to 4.48 in February from 12.51 the month before. A Bloomberg survey forecast a reading of 8.5.
The New York manufacturing report was "on the weaker side of expectations -- weather issues that have caused data to be volatile over the past couple clearly persisted in February," BNP's Serebriakov said. "Numbers will still be difficult to interpret."
'Stronger Dollar'
The dollar rose against most major counterparts before the Federal Reserve releases minutes of its January policy meeting tomorrow.
The Fed announced in December it would start paring stimulus by cutting its monthly bond purchases by $10 billion per month, and policy makers decided on another reduction of the same size last month, to $65 billion.
"You're likely to see easier monetary policy out of the European Central Bank and the Bank of Japan at a time when the marginal change at the Fed is actually toward less accommodation," Russ Koesterich, global chief investment strategist at New York-based BlackRock Inc., which manages $4.3 trillion, said from Sydney. "That should support a stronger dollar versus the euro and the yen."
The stake in Treasuries held by investors outside the U.S. grew 1.4 percent or by $78 billion in December, the biggest monthly increase since November 2011, pushing foreign holdings of the debt to a record $5.79 trillion, according to Treasury data. Overseas investors held 48.8 percent of the $11.87 trillion in publicly tradable U.S. government debt outstanding at the end of 2013.
China, the largest foreign lender to the U.S., reduced its position in Treasuries by $47.8 billion or 3.6 percent to $1.27 trillion, the largest decline since December 2011.