South Korean Lawmaker Found Guilty of Attempted Rebellion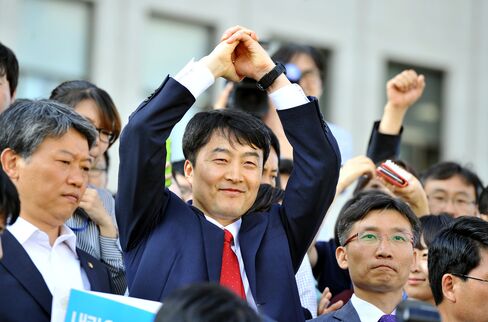 A South Korean lawmaker was sentenced to 12 years in prison for attempting to overthrow the government in the event of war with North Korea.
The ruling by a panel of judges, South Korea's first in a rebellion case since 1980, is a boost to efforts by President Park Geun Hye's government to ban Lee Seok Ki's United Progressive Party from parliament and comes months before the country's provincial elections in June. The UPP holds six parliamentary seats.
Lee led members of his party in May in planning to steal firearms and destroy infrastructure if war broke out with North Korea, and he has praised the regime in Pyongyang in a violation of the National Security Law, the Suwon District Court said in an e-mailed statement, citing its ruling today.
"The plans, albeit not carried out in specifics, were highly dangerous, considering the various circumstances revealed through the investigation of evidence," the court said in an e-mailed summary of the ruling.
Lee denied the charge in the past. It wasn't immediately known whether he would appeal the ruling. Calls to his office and his party went unanswered. The UPP condemned the ruling on Twitter, calling for the ouster of President Park.
Following Lee's arrest in September, Park's Cabinet passed a motion asking the Constitutional Court to disband the UPP, saying its ideals match those of North Korean socialism and threaten South Korea's liberal democracy. The motion is still under review by the Constitutional Court.
North and South Korea remain divided by a heavily armed border after the 1950-53 Korean War ended in a truce.