Italy Has a Bold New Leader. Can He Deliver?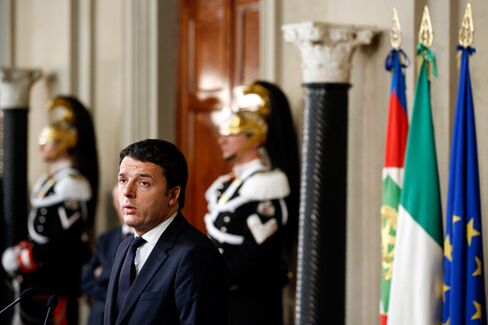 Matteo Renzi has taken Italy by storm. The 39-year-old mayor of Florence got the go-ahead today to become the youngest prime minister in Italy's postwar history after engineering the ouster of incumbent Enrico Letta.
Within hours, Renzi had laid out an ambitious list of reforms that he plans to enact during his first 100 days in office. The list includes an overhaul of the electoral system, job-market reforms to spur hiring, streamlining of the bureaucracy, and tax cuts for business. Investors reacted with delight: Yields on Italy's 10-year bonds dropped to the lowest level in eight years.
Can Renzi pull it off? He built a nationwide following by telling voters he wants to clear away entrenched interests and kick-start growth in a country that is now, by many measures, the weakest of Europe's major economies. Yet his agenda will have to be voted in by a parliament that has consistently failed to enact such changes. "He's unquestionably smart, he's very ambitious," says Marco Elser, a Rome-based partner in investment bank AdviCorp. "But he's going to be surprised at how his ambition and intelligence are going to fare in this den of lions."
The Democratic Party Renzi now heads is "deeply divided," says Wolfango Piccoli, managing director of Teneo Intelligence in London. To pass reforms, Renzi will have to work with the party's coalition partners, whose appetite for reforms "is even more of a question mark," Piccoli says. The bottom line: "Incrementalism is set to prevail."
Ironically, investors' enthusiasm for Renzi could actually work against him because lower borrowing costs will reduce pressure on Rome to enact reforms. What's more, he faces tight budgetary constraints that will limit his ability to use government spending to stimulate growth. All this, and Renzi has no experience in national politics, having served only as mayor of a city famed for historical and artistic treasures but hardly a major economic force.
The young politician became prime minister-designate today when President Giorgio Napolitano gave him a mandate to form a government. Technically, Renzi can't become prime minister unless he can pull together majorities in both houses of parliament. This seems likely because his Democratic Party is the legislature's biggest group and leaders of some smaller parties say they're open to backing him.
While promising today to apply his "energy, enthusiasm, and commitment" to the job, Renzi also sought to temper expectations for rapid change. "We will take the time that's needed," he said, "knowing that out there, there's a sense of urgency."
Before it's here, it's on the Bloomberg Terminal.
LEARN MORE