Ethiopian Air Co-Pilot Hijacks Own Plane Seeking Asylum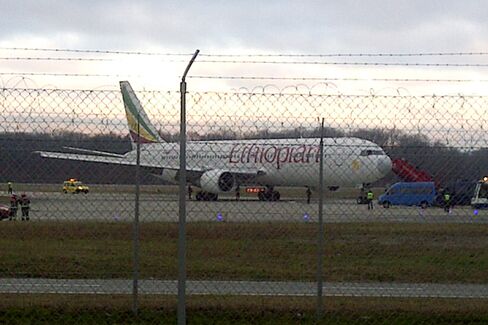 Feb. 17 (Bloomberg) -- An Ethiopian Airlines Enterprise aircraft flying to Rome was hijacked by the co-pilot and made a forced landing in Geneva, where police arrested the man before freeing all passengers and remaining crew.
The Boeing Co. 767 wide-body jet carrying 202 passengers touched down shortly after 6 a.m. at Geneva's Cointrin airport, which was temporarily closed. The unarmed co-pilot had taken charge of the cockpit while the captain was in the bathroom, and the Ethiopian native sought asylum in Switzerland.
"His act was motivated by the fact that he says he felt threatened in Ethiopia and wanted to ask for asylum in Switzerland," said Eric Grandjean, a spokesman for the Geneva police. "The 202 passengers and crew members at no point had been threatened or put in danger."
Flight ET-702 from Addis Ababa landed two hours after air traffic control were told by the cockpit that the aircraft sought to land in the Swiss city to refuel. The co-pilot, born in 1983, had locked himself in the cockpit after taking over, and left the aircraft through a window via a rope stored in the cockpit before turning himself in to police, authorities said.
Hijacking Signal
Hijackings involving pilots or co-pilots are extremely rare, said Paul Hayes, head of safety at London-based aviation consultant Ascend. In one instance in 1998, an Air China Ltd. pilot diverted his Boeing 737 to Taiwan. Swiss authorities said they will press charges against the Ethiopian co-pilot, who may face as much as 20 years in jail.
Ethiopian Air is Africa's second-largest carrier and has embarked on a modernization under Chief Executive Officer Tewolde GebreMariam, including the purchase of Boeing 787 Dreamliners and the order of 14 A350s, as well as a more extensive network that stretches as far as China.
Ethiopian Communications Minister Redwan Hussein identified the hijacker as Hailemedehin Abera Tagegn. The 31-year-old pilot has been with Ethiopian Airlines for the past five years, Redwan told reporters today in Addis Ababa.
The Sudanese civil aviation authorities informed Egypt's air control center that the Boeing 767 was heading from Addis to Rome. On its way through the Egyptian airspace the Ethiopian carrier flashed a hijacking code, Ehab Mohi, chairman of the Egyptian airports authority, said in an e-mailed statement.
Audio Message
The Swiss aviation office has set up a crisis-management group, said spokesman Urs Holderegger. Two Eurofighter aircraft of Italian origin escorted the aircraft to the airport. Swiss fighter jets weren't deployed as the incident occurred outside normal office hours, the Swiss Air Force said.
Passengers, who were searched twice before leaving the aircraft as part of a routine safety measure, will be flown to their intended destinations, the airline said. Many were unaware that the flight destination had changed, Swiss authorities said. The flight distance between Geneva and Rome is less than two hours. The hijacker said he acted alone.
The hijacker, in a purported audio recording of his conversation with air traffic control posted online that could not immediately be verified, said he was seeking assurances asylum would be granted.
Airport screens in Geneva were calling most flights canceled, and the airport resumed service at about 8:45 a.m. local time. Passengers already there were lining up to get information, while some staff members were checking in luggage. Operations have since returned to normal, the airport said.
The incident follows a hijacking attempt last week on a Turkish Pegasus Airlines flight, whereby a man had sought to divert the aircraft to Sochi, the Russian venue of the Winter Olympics. The airliner landed at its planned destination at Istanbul's Sabiha Gokcen airport, where the man was detained and all passengers and crew freed.
To contact the reporters on this story: Albertina Torsoli in Geneva at atorsoli@bloomberg.net; Thomas Mulier in Geneva at tmulier@bloomberg.net
To contact the editor responsible for this story: Phil Serafino at pserafino@bloomberg.net