China Orders Crackdown on Prostitution After Raids in Dongguan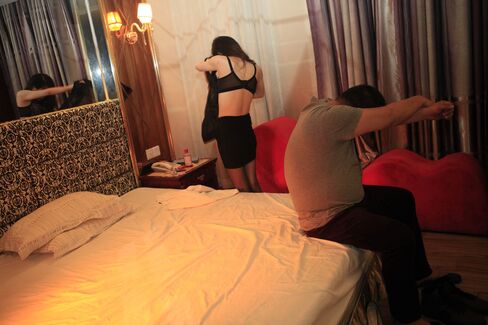 China's security ministry told police across the country to "firmly crack down" on prostitution, gambling and illegal drugs after state media exposed widespread prostitution in the southern manufacturing city of Dongguan.
The Ministry of Public Security convened a meeting after the reports of the sex trade thriving in Dongguan and sent a team to Guangdong province, a notice on the ministry's website said yesterday. Security organs in every region should draw a lesson from the case and clean-up the crimes to improve people's sense of safety and level of satisfaction, it said.
City police in Dongguan took away 162 people for investigation after a report by state-owned broadcaster CCTV exposed prostitution at hotels, saunas and massage parlors in the city, the government said Feb. 10. A crackdown on prostitution in China could wipe out 100 billion yuan ($16.5 billion) of related economic activity, an analyst at Minsheng Securities said this month.
Dongguan's police chief and vice mayor has also been removed from his position, CCTV said on its official microblog Feb. 14.
Guangdong's leader, Hu Chunhua, is known as "little Hu," and tipped by some analysts to win a top position in the country's next political transition in 2022. He was appointed party secretary of the province in 2012.
In January, provincial paramilitary forces and police in the province busted a village that manufactured crystal meth. Helicopters and speed boats accompanied the law enforcement officers as they carried out 109 drug raids, arresting 182 people and seizing three tons of the narcotic, the official Xinhua News Agency reported Jan. 2.