Carney Proving Favored Banker in Sterling's Revival: Currencies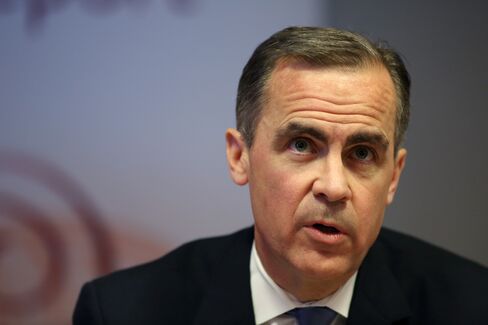 Bank of England Governor Mark Carney is proving adept at winning the confidence of currency traders.
Since he took over as the U.K.'s top central banker in July, the pound has appreciated 8 percent against a basket of nine developed-market peers tracked by Bloomberg. When Carney headed the Bank of Canada from February 2008 to last June, that nation's currency held its value even during the worst crisis to grip the global financial system since the Great Depression.
Britain's economy is improving so fast that futures prices show traders are bringing forward bets on when the central bank will raise interest rates, even as Carney tries to damp speculation of higher borrowing costs. The pound's performance marks a reversal from when Mervyn King ran the BOE in the decade before Carney's arrival, a period when sterling depreciated about 24 percent.
"The U.K. has done surprisingly well in terms of economic performance and we're bullish on the pound," Derek Halpenny, the European head of global markets research at Bank of Tokyo-Mitsubishi UFJ Ltd. in London, said in a Feb. 13 phone interview. "The U.K. will be the first country in the developed market to raise rates."
Fastest Growth
The BOE predicts gross domestic product will expand 3.4 percent this year, which would make the U.K. the fastest-growing economy in the developed world, based on analyst estimates compiled by Bloomberg. At 7.1 percent, the jobless rate is approaching the 7 percent threshold that policy makers have said would be the point at which they'd consider raising the official bank rate from 0.5 percent.
While Carney said last week that the BOE recast its so-called forward guidance and would use a variety of metrics to determine monetary policy, not just unemployment, traders still placed record bets on a rate increase. Higher borrowing costs tend to boost a currency because they attract international investment.
"The new form of forward guidance was weaker than we'd anticipated, thereby providing less of a constraint to further sterling strength," Mark Astley, the director of foreign-exchange strategy at Credit Suisse Group AG in London, said in a phone interview on Feb. 14. "The U.K. is shifting to a high-confidence, high-growth dynamic."
Short Sterling
The total traded volume in short-sterling futures climbed to a record 2.01 million contracts on Feb. 12, according to IntercontinentalExchange Group Inc. Implied yields on the March 2015 contract surged 13 basis points, or 0.13 percentage point, that day to 1 percent, the biggest jump since June. The BOE's first rate increase will probably come in the first quarter of 2015, according to a Bloomberg survey of 25 economists, which gives the most recent forecasts the heaviest weighting.
"We see an argument for stronger growth and potential for the bank moving rates higher at the beginning of next year," Roger Hallam, the London-based chief investment officer for currencies at JPMorgan Asset Management, which has $1.6 trillion in assets, said in an interview.
The pound climbed to as high as $1.6823 today, the strongest level since November 2009, after appreciating 2.1 percent last week. It touched a one-year high of 81.58 pence per euro, adding to last week's 1.6 percent advance, the biggest since April.
'Limited and Gradual'
Interest-rate increases will be "limited and gradual" as "there are some very big forces that will persist," including weakness in the euro-area economy, Carney said yesterday on the BBC's "The Andrew Marr Show."
"What we've had is a consumer-led recovery," Carney said. "What we haven't seen yet is business investment pick up. We haven't seen net exports pick up."
Sterling's rally has left it stronger than the $1.60 median year-end estimate of about 50 economists and strategists surveyed by Bloomberg. Credit Suisse sees it trading little changed in the next three months at $1.66, having previously predicted a drop to $1.61. The Swiss lender expects sterling to climb to 79 pence per euro, which would be the strongest level since September 2012.
Morgan Stanley recommended investors buy the pound against the euro because the European Central Bank is considering more stimulus measures. The Frankfurt-based ECB's main refinancing rate is 0.25 percent, and policy makers are mulling a negative deposit rate "very seriously," Executive Board member Benoit Coeure was reported by Reuters as saying Feb. 12.
Policy Divergence
"The BOE's policy seems less dovish compared to the ECB, where central bankers continue to highlight room for the use of non-standard measures," Morgan Stanley analysts including Evan Brown in New York and Meena Bassily in London, wrote in a Feb. 13 note to clients. The firm recommended investors set up trades that would profit from the pound's gain versus the euro.
Carney is benefiting from policies put in place by King, whose second term was marked by efforts to revive an economy that contracted for five consecutive quarters through June 2009.
Britain's unemployment rate was the lowest in almost five years in the three months through November, and down from a peak of 8.4 percent in November 2011. By the time Carney took over, the tally had slipped to 7.8 percent, and it fell further as the economy expanded 0.7 percent in the fourth quarter, capping the best year since 2007.
'King's Efforts'
"Thanks to King's best efforts to stimulate the economy, Carney is now reaping that benefit," Valentin Marinov, the London-based head of European Group-of-10 currency strategy at Citigroup Inc., said in a Feb. 14 phone interview. "For the pound, it all boils down to the growth outlook, which for the U.K. has improved markedly."
Citigroup, the biggest currency trader after Deutsche Bank AG, predicts sterling will climb to $1.70 by the end of March, making it the most bullish of the firms surveyed by Bloomberg, followed by Royal Bank of Scotland Group Plc, which sees it rising to $1.69.
Carney, a former Goldman Sachs Group Inc. banker, shielded Canada's economy by quickly cutting the main interest rate to 0.25 percent after his appointment in 2008, accompanying that with a pledge to keep borrowing costs unchanged for a year. This also bequeathed to his successor, Stephen Poloz, an economy with record household debt, while near historic-low mortgage rates sparked a 26 percent increase in house prices during Carney's last four years in office.
Canadian Dollar
The Canadian dollar has fallen about 7 percent against its major peers since Carney left, according to Bloomberg Correlation-Weighted Currency Indexes, amid bets that Poloz will ease monetary policy. In October, he dropped language from a policy statement that higher interest rates would become appropriate. Canada's currency tumbled to a 4 1/2-year low of C$1.1224 per U.S. dollar on Jan. 31.
In the U.K., the pound's rally has also been marked by a recovery in the housing market, with Nationwide Building Society saying Jan. 29 that prices rose for 13 consecutive months to the highest in almost six years. Demand has also been fueled by the government's Help to Buy incentive program, which guarantees loans to those who can only afford a small down payment. BOE Markets Director Paul Fisher said last month that "sharply rising" house prices are a potential source of instability that officials shouldn't risk fueling.
The potential for a housing bubble is doing little to discourage foreign-exchange traders from buying sterling, and they reduced bearish bets on Britain's currency last week by the most since October.
The premium traders pay for three-month options to sell sterling against the greenback versus those allowing for purchases declined 20 basis points last week, the most since the period ending Oct. 18, to 0.27 percentage point, 25-delta risk reversals show. It was at 0.29 today, compared with an average of 0.94 percentage point over the past 12 months.
"Carney is a lucky guy," said Richard Franulovich, the chief currency strategist for the northern hemisphere at Westpac Banking Corp, who sees sterling gaining to 78 pence per euro by year-end. "The recovery momentum in the U.K. still has further to run. Against this backdrop, I expect sterling to keep rallying."