Ukraine Opposition to March on Parliament After Merkel Talks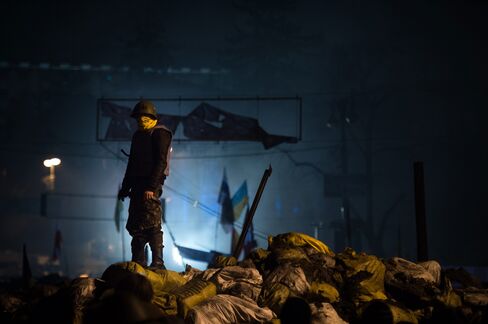 Ukrainian opposition groups plan to march on parliament to push lawmakers to curb President Viktor Yanukovych's powers, risking renewed conflict with police even as they offer some concessions to end three months of deadlock.
Arseniy Yatsenyuk, a lawmaker and former central banker, told the tens of thousands of people gathered in Kiev's Independence Square yesterday that the march will take place after he and fellow opposition leader Vitali Klitschko return from talks today with German Chancellor Angela Merkel in Berlin. Earlier in the day, they agreed to cede control of five government buildings, including Kiev's City Hall, prompting prosecutors to drop charges against hundreds of demonstrators.
"Let's form columns here at 8 a.m. on Tuesday and march to parliament," another lawmaker, Oleh Tyahnybok, who heads the nationalist Svoboda party, yelled from the stage in the Ukrainian capital. "We need you to press them."
The 1 kilometer (0.6 mile) route runs through a 50-meter buffer zone created after protesters barricaded themselves inside a wider swathe of central Kiev to decry Yanukovych's rejection in November of a free trade deal with the European Union in exchange for $15 billion of loans and cheaper gas from Russia. The conflict turned bloody on Jan. 22, when three activists were killed. Candle-lit memorials mark the shootings.
Merkel Talks
"We saw the first steps toward each other, but there's no guarantee that tensions won't rise anew," Volodymyr Fesenko, head of the Penta Political Analysis Center in Kiev, said by phone. "The march on parliament threatens to escalate the conflict because the police will be there, too."
Yatsenyuk, 39, said he'll press Merkel for financial aid from the EU to avert the country's "bankruptcy," as well as for visa-free travel and a path to membership in the 28-nation bloc. The meeting is scheduled for 4:30 p.m. in Berlin, followed by a briefing to reporters at 6:15 p.m.
The conflict has hurt Ukraine's bonds and helped push its foreign-exchange reserves to a seven-year low. The yield on the nation's dollar debt due in June fell 238 basis points to 20.61 percent after rising 620 basis points last week to an all-time high, according to data compiled by Bloomberg. The hryvnia weakened 0.8 percent to 8.855 per dollar at 2 p.m. local time, extending this year's loss to 7 percent.
"We need help, we do not need words," Yatsenyuk told the crowd. "We needs acts from our European partners. We will see what political and economic package will be offered."
'Seize, Arm'
Yanukovych broke two weeks of silence late on Feb. 14 to insist his opponents curb their demands, including his ouster.
"The calls to struggle without compromise, seize, arm -- are dangerous," Yanukovych, 63, said in an interview broadcast on state television.
The Russia-backed leader, whose victory in rigged elections triggered the 2004 Orange Revolution, won a five-year term in February 2010. That October, he won a Constitutional Court challenge to Orange Revolution changes that strengthened the premiership and weakened the presidency. In 2011, former Prime Minister Yulia Tymoshenko, his opponent in the 2010 vote, was convicted and sentenced to seven years in prison for abuse of power -- a case the EU has called politically motivated.
Now, in addition to Yanukovych's removal, his opponents are seeking to free Tymoshenko and to restore the 2004 version of the constitution to give more power to the 450-seat parliament. The president's Party of Regions and its allies, the Communists, hold a majority of 237 seats. Opposition parties have 167 seats, with the rest belonging to independents.
No Premier
Yanukovych, who's been without a permanent prime minister since Mykola Azarov resigned on Jan. 28, will submit his candidate for the post this week, Speaker Volodymyr Rybak told reporters today, after meeting with the president. Yatsenyuk rejected Yanukovych's offer to become premier on Jan. 25.
Yesterday's rally, like previous ones, included calls by religious leaders for both sides to avoid violence. Scores of volunteers spent the day cleaning up what still looks like a cross between a refugee camp and a war zone, minus the weaponry.
They used bulldozers to clear Hrushevskogo Street of burned-out vehicles and dismantled some barriers to allow enough space for cars to enter one at a time. They also reconfigured their defense lines and replaced stacks of now-melting ice with sandbags.
"We have reformatted Independence Square," said Stepan Kubiv, the lawmaker in charge of protecting the camp. "Now thousands of us will launch a peaceful offensive on parliament to help lawmakers acknowledge their responsibilities."
City Hall
The transfer of City Hall, about 100 meters down the street at the edge of the encampment, proceeded without a clash, though not without dissent.
Acting Mayor Volodymyr Makeyenko, appointed by Yanukovych, had to pass through a narrow opening in a makeshift blockade manned by uniform protesters to enter the building yesterday for the first time since Dec. 1. The building is now guarded by a handful of policemen, the only law-enforcement personnel stationed within the opposition's compound.
"Kiev citizens and Ukrainians as a whole will give their assessment of what happened here," Makeyenko said in an interview inside the entrance today, gesturing at the debris and destruction left behind. The hallways were littered with broken furniture, paper and gas masks. Coils of barbed wire clung to the ceiling. "It's too early to estimate the extent of the damage," Makeyenko said.
Land Cruisers
About 400 to 500 protesters and clerks were in City Hall at any given time during the occupation, according to Oleksiy Gladchenko, chief engineer at the company that maintains the building and its communication system. Repairs will take at least two months, Gladchenko said in an interview.
Directly in front of City Hall, several well-dressed middle-aged men in suits stood next to three black and shiny Toyota Land Cruisers, surveying the inside of the makeshift compound. When a reporter approached to ask their identities and purpose, they waved him away, got in their vehicles and sped away through the new gate in the barricade down the street.
"I don't know who these guys were," said Oleksandr, a 22-year-old university student who's been helping man the barricades since Dec. 2. "Since we let the authorities retake City Hall, we're no longer allowed to prevent officials from entering the barricaded section of the street," Oleksandr said, declining to give his last name for fear of reprisal.
'We'll Act'
Oleksandr said he's unhappy with the deal his leaders made to surrender buildings in exchange for freeing detained activists and dropping charges against them.
"They seized our people like hostages, so we returned City Hall and they let them go," Oleksandr said. "They'll take new ones and then what are we supposed to surrender -- Independence Square?"
Oleksandr's not the only unhappy camper.
Serhiy, a 23-year-old from the Lviv region bordering Poland, said he and his comrades are tired of the opposition's demands not being met.
"We're waiting for tomorrow," Serhiy said, wearing camouflage and a bulletproof vest adorned with a paper "self defense" badge.
"If politicians don't make a decision tomorrow, we the people will," Serhiy said. "We've had enough. We're fighters. We haven't come here to listen to talks. If we decide to act, we'll act."
Before it's here, it's on the Bloomberg Terminal.
LEARN MORE