Weekend Storm to Pile Additional Snow Across U.S. Northeast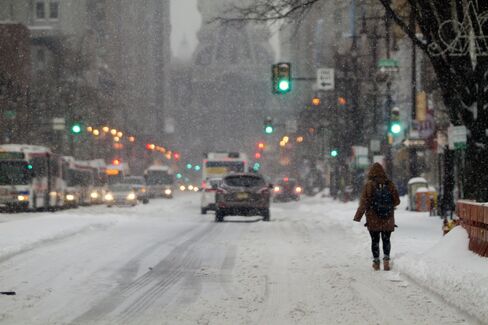 A winter storm sweeping across the U.S. will pick up strength in the Atlantic and dump snow tomorrow on New York, Boston and the Northeast.
Boston will probably get 6 to 10 inches (15 to 25 centimeters) of snow, while as many as 3 inches are forecast in New York City and fewer than 3 in Philadelphia, on top of snow and ice left from a storm earlier this week, the National Weather Service said.
"We may have to revise that upward," said Michael Silva, an agency meteorologist in Upton, New York. "In New York, the snow should start early Saturday morning with the heaviest moving in by the afternoon."
The storm comes on the heels of a system that roared out of the South, killing at least 25 people, according to the Associated Press. More than 14,600 flights were scrubbed this week, said FlightAware, a Houston-based tracking service.
As of 2:30 p.m. Eastern time, 347,539 utility customers were without power from Texas to Massachusetts, the Energy Department reported. States with fewer than 1,000 blackouts weren't included in the count. The department said service might not be restored until Feb. 17 in some parts of Georgia, North Carolina and South Carolina.
The latest system will leave 3 to 6 inches of snow across Kentucky and West Virginia before reaching Philadelphia overnight, said Tom Kines, a meteorologist with AccuWeather Inc. in State College, Pennsylvania.
There may be some snow overnight in Washington and Baltimore, although rain is more likely there, Kines said.
Southerly Track
When the storm moves into the Atlantic, it will intensify and then track farther south than many forecasters originally predicted, a path that will give the system more strength, Kines said.
"Every storm has done better than we thought, better than advertised, this winter," Kines said. "A few days ago, we thought it would be a non-event."
Snow will start to fall in Boston by midafternoon and continue until about midnight, said Bill Simpson, a weather service meteorologist in Taunton, Massachusetts. The most accumulation will probably be in the southeastern part of the state and on Cape Cod, he said.
"It looks like a plowable event," Simpson said.
Winter storm alerts were issued for eastern Massachusetts and Rhode Island and driving may be hazardous tomorrow throughout the region, the weather service said.
Wind-Driven Snow
As the snow arrives, the wind along the Massachusetts coast will build, Kines said.
"While it may not officially be classified as a blizzard, I'm sure it's probably going to look like it," Kines said.
Warmer weather is behind the storm, he said.
Temperatures may rise 8 degrees Fahrenheit (4 Celsius) above normal in the eastern U.S. and Canada from Feb. 19 to 23, said Matt Rogers, president of Commodity Weather Group LLC in Bethesda, Maryland.
Higher temperatures with rain increase the threat of flooding if snow melts rapidly.
Before it's here, it's on the Bloomberg Terminal.
LEARN MORE