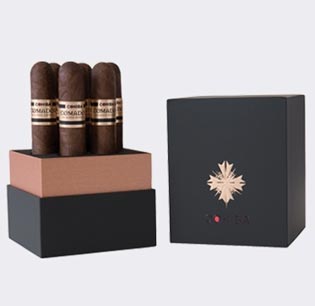 Having recently celebrated his 44th birthday, Jay-Z is easing into a second career as a freelance tastemaker. He advised the owners of the New Jersey Nets on the design of the luxury suites at Barclays Center in Brooklyn. He developed Gold Jay Z, a men's fragrance, with a company called Parlux, which has done a women's scent with Paris Hilton. And just before Christmas, the aging rapper unveiled the Comador, a cigar that he crafted with Virginia-based General Cigar.
Jay-Z's prolific brand extending raises an interesting question: What exactly does the ex-crack dealer turned rhyme-slinger bring to the table when he collaborates with his corporate partners? To put it more bluntly, what are those people paying him to do?
Dan Carr, chief executive officer of General Cigar, can't say enough about his partner's abilities. "I mean, he's a really smart guy," says Carr. "He's a great guy. He's visionary. He truly is an artist. It's kind of obvious, but he's a tastemaker. And at the same time he's a connoisseur of stuff."
Carr says General Cigar spent two years with the rapper concocting the Comador. "This wasn't one of those things where we said, 'Hey, look, let's put a cigar out in 10 days,'" he explains.
How does Jay-Z's multifaceted connoisseurship translate into a flavorful smoke? Carr says this is a "great question." It's also one he struggles to answer. "First off, he's not a guy who's going to sit there and say, 'This thing has hints of cocoa or black truffles,'" Carr says. "Jay is way above that."
Instead, Carr and the rapper sat around and smoked a lot of cigars trying to figure out where to go with the Comador. The result, Carr says, is "very flavorful, complex but refined. It's not going to knock you back."
However, after two years of smoking and talking and smoking and talking some more, Carr can't say specifically what Jay-Z's contribution was to the tobacco product. "He's just pretty much, 'This is what I love and I don't really care what everyone else is thinking,'" Carr says.
Carr has an easier time explaining Jay-Z's contribution to the look of the Comador. "He designed the logo," Carr says. "The name Comador was his as well. His fingerprints are all over this stuff." Of course, you don't smoke a cigar logo.
The Comador, which comes in a pack of seven that retails for $210, is reminiscent of Jay-Z's other product development deals. His partners talk about his passion and his attention to detail. But there's something underwhelming when it's time to describe his insights. The rapper told the designers of the luxury suites at Barclays Center that they couldn't stock the skyboxes with plastic forks or even stainless steel. He told them they needed to fill the silverware drawers with forks that had "substance."
Diana Espino recently told the Wall Street Journal's Ralph Gardner that Jay-Z was heavily involved in the creation of his signature fragrance. But she didn't provide Gardner with much more. "We selected notes and he selected notes," she said. "From those notes, the fragrance was selected. He'd wear them for a week or so and get back to us with feedback."
Then again, Jay-Z may need his corporate collaborators more than they need him. The music industry is shrinking. Increasingly, big acts are doing endorsements not just for the financial reward, but to keep themselves in the public eye. The money may be negligible. "I mean, he's not going to retire off this, OK?" says Carr.
Before it's here, it's on the Bloomberg Terminal.
LEARN MORE