Italian Economy Registers First Quarterly Growth Since 2011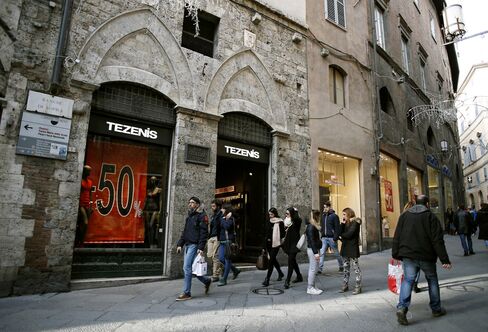 Feb. 14 (Bloomberg) -- Italy's economy expanded in the three months through December, marking the first quarterly gain in more than two years as the country began to recover from its longest recession on record.
Gross domestic product in the fourth quarter increased 0.1 percent from the previous quarter when it was unchanged, the national statistics institute Istat said in a preliminary report in Rome today. The growth matched the median forecast in a Bloomberg News survey of 22 economists. From a year earlier, output shrank 0.8 percent.
"It's relatively good news as finally hard data confirmed the picture described by sentiment" in Italian business and consumer confidence surveys of recent months, Annalisa Piazza, senior fixed-income strategist at Newedge Group in London, said in an e-mail. "The growth is expected to have been mainly driven from exports" as domestic demand remains weak, she said.
The government of Prime Minister Enrico Letta, who said he will resign today, has predicted economic growth of 1 percent this year.
France, Germany
Earlier today in Paris, the national statistics office INSEE said the French economy grew 0.3 percent in the fourth-quarter, while the German Statistics Office said Europe's largest economy expanded 0.4 percent in the same period. The euro area showed a 0.3 percent growth for the end of last year, the European Union's statistics office in Luxembourg said today. That beat the median forecast of 0.2 percent in a Bloomberg News survey of 41 economists.
European Central Bank President Mario Draghi will be watching the numbers for indications of European growth. Draghi signaled on Feb. 6 officials will wait until next month before deciding whether to cut interest rates further as money markets stabilize and the economy shows some signs of recovery.
Milan's FTSE MIB Index rose 1 percent to 20,312.02 at 11:10 a.m. The yield on Italian 10-year bonds was little changed at 3.7 percent.
Italy, the euro region's third-biggest economy, will record a "moderate" recovery this year after the more than two-year contraction, its longest slump since World War II, the country's central bank said in a report last month. The economic pick-up will be driven by foreign demand and an increase of investments as consumption remains weak amid rising unemployment, the central bank also said.
Unexpected Fall
An unexpected fall of industrial production in December prompted concerns about the recovery's sustainability in months ahead. The fourth quarter marked the first quarterly growth since the second quarter of 2011.
"There are doubts about an actual exit from the recession and that our economy might go into a spin of stop-and-go's," Italy's main retailers lobby Confcommercio said in a Feb. 10 statement. "That would prevent it from heading toward a path of consistent and lasting improvements that can lead to higher employment."
The economy shrank 1.9 percent in 2013, Istat said today. The Bank of Italy forecast the economy will grow about 0.75 percent this year, Governor Ignazio Visco said in a speech last week. The central bank said on Jan. 17 it expects joblessness, currently at 12.7 percent, to keep growing this year and next.
The government could start reducing in 2014 a public debt of 2.07 trillion euros ($2.83 trillion) or about 130 percent of GDP through the sale of stakes in companies such the country's postal service and civil air-traffic manager Enav SpA. Italy could raise as much as 9 billion euros from a first round of privatizations, Finance Minister Fabrizio Saccomanni told lawmakers on Feb. 12.
To contact the reporters on this story: Lorenzo Totaro in Rome at ltotaro@bloomberg.net; Chiara Vasarri in Rome at cvasarri@bloomberg.net
To contact the editor responsible for this story: Craig Stirling at cstirling1@bloomberg.net