How Much Will a Speed-Skating Flap Slow Down Under Armour?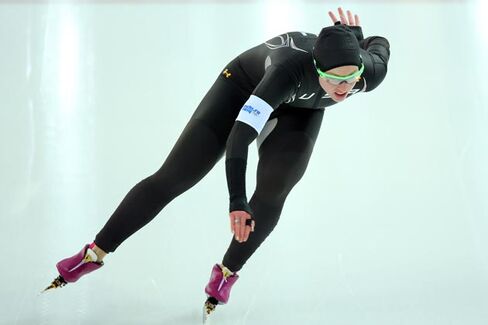 On a scale of wardrobe malfunctions, slow speed-skating suits are nowhere near transparent yoga pants. Still, Under Armour is doing some damage control over its skintight garments in Sochi.
The suits appear to be relatively slow—with an air vent in the back that acts more like a drag-racing parachute than a second-saving vapor vent. (U.S. athletes have been slow to criticize Under Armour, but the Dutch coaches have not.)
Team Under Armour is on the ground in Russia, scrambling to tweak the suits and sew patches over the criticized air vents, hoping that will fix the problem. This afternoon, U.S. Speedskating began seeking approval for its athletes to don older Under Armour suits that they wore in World Cup races this season.
Meanwhile, Chief Executive Officer Kevin Plank called the whole kerfuffle "a bit of a head-scratcher" on Bloomberg TV this morning. "Everyone is looking at it saying, 'What adjustments can be made,'" he said. "It's all very fair and this is our business."
Another sort of wardrobe malfunction would undoubtedly have been much more harmful to the burgeoning Maryland apparel company—say, a shoddy line of running shoes. Still, the speed-skating controversy threatens to put a bit of a kink in two of Under Armour's growth strategies: cold-weather clothes and international expansion.
At the moment, the company is about one-tenth the size of Nike by sales. To close that gap, it needs to grow both the breadth of its offerings and the number of countries in which it operates. Good old American football, where it first built its brand, is not enough to help Under Armour achieve its goals. Hence, its sponsorship of Tottenham Hotspur, a storied English soccer club, and its presence on the ice in Sochi.
Last year, 6 percent of the Baltimore-based company's sales were outside North America, while two out of every three Nike dollars came from abroad. For foreign fans who haven't heard of Under Armour before, the Olympic debut was inauspicious to say the least. Even if the clothes work fine, nobody likes a loser.
The ice-rink drama could also slow some promising momentum in cold-weather gear. Under Armour just released a line of lightweight winter wear dubbed ColdGear Infrared. The new apparel, along with more fleeces and products under the Storm and HeatGear lines, helped Under Armour post a 35 percent increase in sales in the last quarter, the company said.
Plank is urging athletes and investors not to rush to judgment. There are a lot of speed-skating events left and the bobsledders and skeleton competitors wearing Under Armour garments appear to be garnering better results.
"I think everyone should take a deep breath," he said. "I don't see a real parallel between what's happening right now in Sochi and what's happening with Under Armour internationally."
Perhaps, but Plank will be cheering harder than most when America's super-skater Shani Davis skates the 1,500-meter race tomorrow.
(Updated at 3 p.m. with information about the U.S. seeking approval to use older suits.)
Before it's here, it's on the Bloomberg Terminal.
LEARN MORE