Russian Skater Plushenko Withdraws, U.S. Sweeps Slopestyle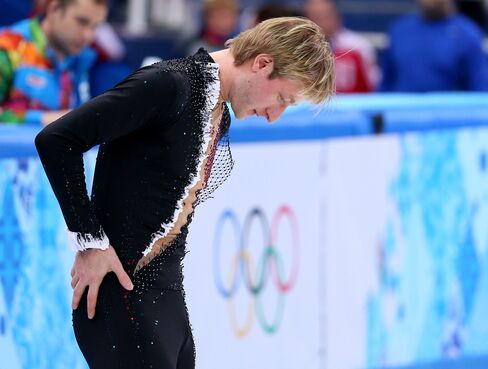 Russian figure skater Evgeni Plushenko withdrew with back pain to deprive the host nation of one of its most anticipated moments at the Sochi Olympics as Joss Christensen led a U.S. sweep of men's ski slopestyle.
Norway continues to lead the medal standings with 13 overall, followed by the Netherlands and the U.S. with 12 apiece and Russia with 11. Germany has seven gold medals, three more than any other nation.
Six more medal events are scheduled for today, including the men's free skating and the men's super combined Alpine event featuring defending champion Bode Miller and 2006 winner Ted Ligety, both Americans.
Kjetil Jansrud of Norway had the fastest time on the downhill portion of the super combined this morning. The slalom portion of the event is scheduled to start at 3:30 p.m. Sochi time.
Jansrud had a time of 1 minute, 53.24 seconds on the 3.2-kilometer (2-mile) course. Ondrej Bank of the Czech Republic was second fastest in 1:53.38 and downhill champion Matthias Mayer of Austria was third in 1:53.61.
Miller, 36, who is seeking to become the oldest Alpine skiing medalist in Olympic history, completed the downhill run in 1:54.67. Ligety was almost two seconds behind the leader with a time of 1:55.17.
Plushenko, 31, was considered a potential medalist in the men's free skating after winning the long program in the team event five days ago to lead Russia to the gold medal. He won gold in the men's event in 2006 and silver in 2002 and 2010.
"I need a big rest now, and to have some treatment," Plushenko told reporters last night at the Iceberg arena after pulling out during warmups for the short program. "Then I need to start my rehabilitation. I have already had four pills today."
France's Martin Fourcade won his second gold of the games, taking the men's 20-kilometer individual biathlon by 12.2 seconds. China got its first two gold medals, winning the women's 500-meter race on the short track and the women's 1000-meter speed skating event. Germany won the inaugural luge team relay.
Slopestyle Sweep
Christensen, 22, won even before taking his second run, scoring 95.8 points on his first attempt. Gus Kenworthy, also 22, was second with a 93.6 on his last try, while 19-year-old Nicholas Goepper took third with 92.4 from his first run.
"I am so stoked about an American 1-2-3, Nick is always the guy to kind of beat in a contest, he is so consistent and so incredible, and Joss is really killing it right now," Kenworthy told reporters. "He is one of my best friends and I am stoked."
The sweep temporarily tied the U.S. with Norway, although the Norwegians went back into the lead when Therese Johaug took bronze in the women's 10-kilometer classic cross-country ski race. The Dutch tied the Americans with 12 medals as Ireen Wust and Margot Boer took silver and bronze in the women's 1000-meter speedskating.
Third Sweep
It's only the third time in Winter Olympic history that Americans have won all three medals in one event. Men's figure skaters Hayes Alan Jenkins, Ronald Robertson and David Jenkins did so at the 1956 Cortina Games, and snowboarders Ross Powers, Daniel Kass and Jarret Thomas swept the men's halfpipe at the 2002 Salt Lake City Games.
Still, it's not even the first sweep at these games. The Dutch men have won eight of the nine medals of the three speedskating finals they've participated in so far, sweeping twice.
Poland's Justyna Kowalczyk won the women's cross-country race, giving her a Polish-record fifth medal in a Winter Games. Sweden's Charlotte Kalla was second. Kowalczyk surpassed ski jumper Adam Malysz as the Pole with the most winter medals. No other Polish athlete has won more than one.
Hockey Games
In ice hockey, the U.S., Canadian and Russian men's teams won preliminary round games.
Paul Stastny, a Colorado Avalanche player, scored twice in the Americans' 7-1 defeat of Slovakia, for whom his father, Peter, played in the 1994 Games. The Russians beat Slovenia 5-2 as they try to meet home crowd expectations of a gold medal. Canada defeated Norway 3-1.
In the men's figure skating, Yuzuru Hanyu of Japan had the top score of 101.45 in the short program, followed by Patrick Chan of Canada at 97.52.
Fourcade, who won the men's 12.5 kilometer pursuit four days ago, finished in 49 minutes 31.7 seconds, a 12.2 second advantage over Germany's Erik Lesser. Russia's Evgeniy Garanichev finished third.
China's Li Jianrou won the women's 500-meter short-track speedskating race by avoiding a crash. The 27-year-old sped away and finished in 45.263 seconds. Britain's Elise Christie and Italy's Arianna Fontana fell in a turn, also causing the fourth skater, Seung-Hi Park of Korea, to tumble. Fontana recovered to finish second in 51.25 seconds and Park was third in 54.207 seconds. Christie was penalized for the crash.
Women's Speedskating
In the women's 1000-meter speedskating final, China's Zhang Hong won in 1 minute 14.02 seconds, pushing the Dutch pair of Wust and Boer into second and third. Wust took the gold this week in the 3000 meters and Boer was third in the 500 meter event.
Germany won the luge team relay event for its seventh gold medal of the Sochi Games. Russia took silver and Latvia claimed bronze in the three-sled event.
Olympic officials said that a man working on the bobsled track suffered two compound leg fractures after being hit by a piece of equipment on the course after a warning signal to clear the track. The International Olympic Committee is working with local organizers and the sport's federation to investigate the accident, the IOC said.