Greece May Finally Sell Some Olympic Venues
The country aims to raise €11 billion through asset sales by 2016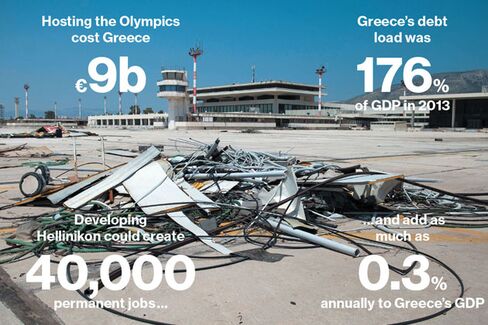 It's been nearly a decade since crowds swarmed across the site of Athens's old Hellinikon airport, which was transformed into a venue for the 2004 Olympics. Today stray dogs wander among the decaying stadiums and buildings as a skeleton crew of security guards keeps watch. At 6.2 million square meters (1,532 acres), about three times the size of Monaco, the property is one of the largest unused tracts of urban real estate in Europe. Next to the Olympic facilities—among them baseball and softball fields and a canoeing center—sit several old aircraft hangars and terminals and a functioning marina. There are even some actual ancient ruins.
As Greece seeks more debt relief from its European Union partners, the government plans next month to select a developer to rebuild Hellinikon. But the property's decade of decay says a lot about the country's problematic asset sales program. Under the terms of Greece's bailout agreement with the EU, proceeds will go to pay down the debt. A recession has wiped out a fifth of Greece's economy, and left one in four adults jobless.
Prime Minister Antonis Samaras has committed to raising €11 billion ($15 billion) before 2016 by offloading everything from ports to highways. (The figure has been revised down from €50 billion by 2015—the amount agreed to under the country's first bailout four years ago.) Since 2010, deals worth €4 billion have closed, and the government has collected €2.6 billion, says Andreas Taprantzis, executive director of the Hellenic Republic Asset Development Fund, an independent agency overseeing Greece's privatization efforts. The biggest sale to date was a stake in the lottery company Opap for €712 million last August.
The sales, including attempts to privatize Hellinikon, have been delayed by political opposition, legal challenges, and investor doubts over Greece's euro zone status. "We are not very friendly to investors," says Spyros Capralos, the chief executive officer of Star Bulk Carriers shipping and a former head of the Athens Stock Exchange.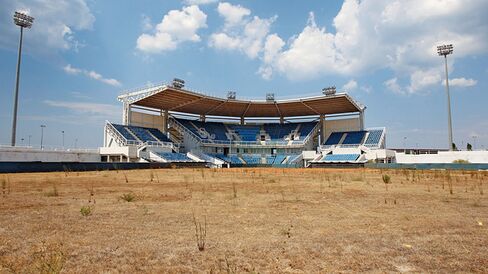 The government hopes the sale of Hellinikon is likelier now that Greece's economy is more stable—it's expected to grow 0.6 percent this year, piquing the interest of investors. "Getting Hellinikon off the ground would boost investor confidence by creating jobs and signaling the government's resolve to move ahead with big-ticket privatizations," says Miranda Xafa, a former board member for Greece at the International Monetary Fund.
Samaras hopes to sell a majority stake in Hellinikon SA, the operating company established in 2011 to privatize and then develop the property into a mix of retail, entertainment, and residential projects. The contract is expected to go to one of three bidders: Elbit Cochin Island, an Israeli investor and developer; Athens-based Lamda Development; and London developer London & Regional Properties.
The transaction is likely to be one of Greece's biggest asset sales this year, though the privatization agency hasn't said how much the property might go for. The development, the fund estimates, will create more than 40,000 permanent jobs once completed. It could also bring in more than €5 billion in investments over the next decade, Taprantzis says, and add 0.3 percent annually to the country's gross domestic product. "Even if the state has to sell at a lower price than what they had in mind," Capralos says, "at least you get the economic stimulus from an investment."
"Hellinikon could be the project that shows that Greece is open again for business," says Wolfango Piccoli, an analyst in London at Teneo Intelligence, which advises investors on political risk. Still, he says, "the fact remains that Greece's underlying economic and structural problems persist."
Hosting the Olympics cost Greece almost €9 billion. In 2010 the EU and the IMF demanded wage and pension cuts to rein in a deficit that had spiraled to 15.6 percent of GDP, five times the EU limit, sparking a crisis. As the country continues to struggle from the effects of the subsequent recession, many Greeks are critical of the government's failure to capitalize on the success of the games. "Not having a solid plan for post-Olympic use was terrible," says Stratos Safioleas, a media consultant for cities bidding for the Olympics. "Missing one opportunity after the other, until today, to capitalize on the Olympic legacy is criminal."
Greece's government says it will report a budget surplus before interest payments a year ahead of schedule, beating a timetable set by the EU and the IMF and meeting a key requirement for debt relief. European policymakers will consider an extension on the deadline for paying back debts, hoping to ease a debt load that reached 176 percent of GDP in 2013. But Greece continues to drag its feet on structural reforms, including reducing the number of civil servants, making public administration more efficient, and opening up the labor market.
"Greece still has risks associated with tax, labor laws, operation and corruption, and running these assets, not to speak of the more general political risks," says Andreas Koutras, an adviser at SteppenWolf Capital and director of ITC Markets. When the risks are taken into account, he says, "Greek assets become a lot less attractive."
Before it's here, it's on the Bloomberg Terminal.
LEARN MORE