Cruise Ships, Meatballs, and President Obama: An Interview With Marcus Samuelsson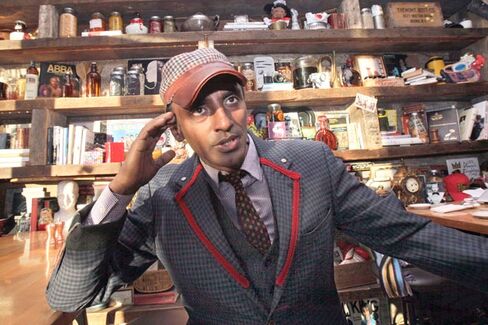 Marcus Samuelsson is a one-man melting pot. The Ethiopian-born, Swedish-raised American chef weaves culinary cultures together like the best, most delicious version of the American dream. Samuelsson has worked at gourmet French restaurants and served dinner to President Obama. He's won Top Chef Masters and is currently a judge on ABC's The Taste. But in New York he's best known for running Red Rooster, the Harlem restaurant he opened in 2010 as part of his personal quest to get Lower Manhattanites to venture above 96th Street. Bloomberg Businessweek talked to Samuelsson about his career, his cooking, and the death of the three-martini lunch.
You were born in Ethiopia; your mother died when you were very little, and you and your sister were adopted by a Swedish couple when you were three. Do you remember Ethiopia at all?
I don't have memories of Ethiopia as a child. I didn't learn about Ethiopian culture until after I moved to New York and started meeting people from the Ethiopian community. That sparked my interest in the culture, and when I was about 28, I started on the journey to learn more about who I was as a person. Now, as an adult, I've gone back to Ethiopia several times.
Do you have family in Ethiopia?
I have sisters and brothers, and my mother's dad is there. They bring me a lot of joy. As an adopted person, once you find out about that "other" side of yourself, it's almost like you find out who you really are.
What was your childhood like?
Sweden is cold. Its winters are cold and long. I had great schooling, and my parents were always in front of me, or next to me, or behind me, making sure I had whatever I needed. Sometimes we'd take trips to our summerhouse, which is where my two sisters and I learned about fishing and seafood. My grandmother would cook for us on a weekly basis. That's how I got into food—cooking with her. The first thing I learned to make were Swedish meatballs. They're very child-friendly. You don't have to butcher anything, you just roll the ground meat.
When did you start cooking—if not professionally, then at least outside your home?
Most of my education has been around food. When I was 15, I went to [Ester Mosesson] a vocational school—culinary—in Götenburg. Then I got a scholarship to go to Switzerland and apprentice at Victoria-Jungfrau, which was a great starting point for a young person. I worked in all aspects of the kitchen there.
Switzerland was also a great place for me. But it was hard, too. I was working next to guys with names like Johann and Anders. I was the guy from Sweden, and I was African. I was different. After that, I went to Georges Blanc in France, where everyone was named Jacques. I was different there too.
How did you come to be at George Blanc?
It had been my dream to work in France at a three-Michelin-starred restaurant. I applied to a lot of positions at a lot of restaurants, and finally I got the job. It was this very old-school European environment where the chef was screaming in your ear. Every week, people got fired because they were one minute late or they had dirt on their shoes. I was the youngest person there, and I didn't understand the language. It made me super nervous. I threw up every day before work. That's just what I did to cope. Once I did that, I knew I'd be fine. It's not like how people work now. People would punch you.
They'd punch you?
Sure. People would fight every day. But it taught me discipline and gave me a work ethic. When you leave there, you know you can go places. You've proven to yourself that you can work through anything.
Do you think it was worth it?
It was for me at the time. But it's not for everyone. And I also learned how I don't want to manage people today.
How so?
There were two things I never saw in the kitchen in France: people of color and women. I'm very conscious of those two things now. When I cooked at the White House, for example, half my team was women.
I heard you also worked on a cruise ship.
Oh yes. It was called the Seaborne Pride cruise ship. I did it for a year [before] Georges Blanc. It was my nomadic year. You have those when you're young, you know? You have to gather enough real world knowledge to know that you can move onto the next step in life. And when you're from a middle-class family and you're not a trust fund baby, you have to figure out how to get around the world without going broke. This took me all over the world, and even though I worked every day—there are no days off if you're working a cruise—I saw parts of the world I wouldn't have seen otherwise, from Singapore to Brazil. When you're a chef, you have to create your own grad school, get your own type of Ph.D. That was mine.
You came to the U.S. in 1991 to work at Aquavit. What did you think of New York when you got here?
I loved it. When you're an Ethiopian-born Swedish chef, you've got to have an audience that's very open to trying new things. In New York, for the first time I didn't feel that there was a glass ceiling for things I could accomplish. I loved the diversity and creativity people showed in their food. David Burke, Wolfgang Puck, Charlie Trotter had created this movement of young chefs that I wanted to be a part of. In France, there is very little wiggle room when it comes to tradition. Here, it's like, "Oh yeah, let's try that. That's interesting." But even so, there were a lot of things back then that we didn't have now.
Like what?
Well, we didn't have great breads the way we have now. We've come so far with food today. That wasn't the case in 1991.
Why is that? Why do you think this "foodie" culture has evolved the way it has?
I think the Internet has a lot to do with it, honestly. People are curious about what other people are eating. Women are earning more money, leading more at work, and when they become the consumer they're going to ask for other things. It used to be that your main customer was a 55-year-old businessman named Phil who'd come in and have two martinis at lunch and ask for the same entrée every time. Phil still exists, and he is still a very important customer. But he's not the only one. When you have a diverse customer base, a younger customer base, interesting things start to happen. You have the freedom to change people's palates.
Was there a moment when you first noticed this change?
Yes, in 2002. It was just after 9/11, when the economy and city were trying to find themselves again. The Internet wasn't a new thing anymore; people were expressing themselves on blogs and other platforms. They'd talk about what food they did and didn't like. Suddenly, food became about discovery. Everyone became a critic—for good or bad, that's the way it is now.
If everyone's a critic now, do you think that has lessened the importance placed on big reviews at such places as the New York Times?
Well, the restaurant reviewer is the one experience you want to be a perfect as possible, that hasn't changed. But if you cook really hard, and you're committed to improving your restaurant day in and day out, one bad review won't—well, let's put it this way: The Times didn't give Gramercy Tavern a good review initially, but it's consistently good and is now one of the most iconic restaurants in the city. Sometimes reviewers want to write you down because someone else wrote you up. A review is still very, very important, but there are other ways to reach people now.
You cooked the first state dinner President Obama gave at the White House.
I did. I cooked in the White House kitchen! It was an amazing experience. I was inspired by Michelle Obama's vegetable garden, so I made the menu mainly vegetarian. Not 100 percent, but mainly. The big day, I was so nervous. I remember calling my mom and being really nervous about serving the president, and she said, 'Oh god, don't ruin the family name!' Great, thanks mom.
In 2010, you opened Red Rooster in Harlem. At the time, I lived a few blocks away from there, and I was so excited to have a good restaurant in the neighborhood. Why'd you pick Harlem?
Living in Harlem I had this feeling like, why can't people go to Harlem? Why should all the dining amenities be south of 96th Street? I wanted to change the footprint of dining in New York. I was really inspired by what happened in Brooklyn with places like Roberta's or Marlow & Sons. They were started by Brooklynites. I thought I'd do the same thing.
You've been on a lot of TV shows now, but you started, I think, with Top Chef Masters. What made you agree to do it?
A lot of cooking is doing things you've done before. That can be creatively prohibitive. I liked not knowing what was going to be required of me. Top Chef gives you all these challenges and obstacles you'd never encounter in the regular world. Like, I had to cook all the food for a wedding of 50 people with no notice. That would never happen. It was both mentally and physically challenging, which I like.
What do you cook for yourself when you're at home?
Basic things, mostly. A good pasta is never wrong. I like to do it with Jamaican sausage and rigatoni. Maybe a curry sauce. It's not rooted out of a regional place but more out of what I can get from the market and what I have in the fridge.
Before it's here, it's on the Bloomberg Terminal.
LEARN MORE