Buenos Aires Exposed as Debt Balloons on Peso Devaluation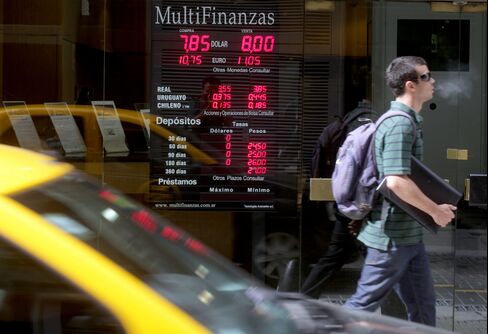 The city of Buenos Aires, which had been rated more solvent than the federal government since September, is being exposed by the peso's devaluation because almost all its debt is denominated in dollars.
The Argentine capital has 98 percent of its debt in dollars or dollar-linked securities, versus 57 percent for Cordoba, the province with the second-most highest proportion of dollar debt, according to Moody's Investors Service. Yields on the city's 2015 notes soared to a high of 18.2 percent last month after the peso plunged 15 percent in the week ended Jan. 24. That pushed the city's borrowing costs relative to Chubut, the province with the least foreign-currency debt, to the highest since June 2012.
Local governments increased their reliance on dollar-linked bonds, which pay investors in pesos at the official rate, after funding costs abroad jumped as President Cristina Fernandez de Kirchner nationalized YPF SA in 2012 and tightened currency controls. Buenos Aires, which has $760 million of dollar-linked notes, was cut by Standard & Poor's to CCC+, or seven levels into junk, on Feb. 10. The city's obligations rose 53 percent because of the devaluation, according to Standard & Poor's.
"The city's main negative characteristic is having an elevated percentage of foreign-currency debt that exposes it to fluctuations in the exchange rate," Delfina Cavanagh, an analyst at S&P, said in a telephone interview from Buenos Aires. "Its FX exposure made its debt stock almost double after the devaluation so we see it as an important risk."
Total Debt
The $260 million of dollar-linked bonds that the city sold on Dec. 20 and Jan. 28 would increase its debt to 15 billion pesos ($1.9 billion) from 9.8 billion pesos as of Sept. 30, Cavanagh said.
Hernan Stella, spokesman for Buenos Aires city Finance Minister Nestor Grindetti, didn't respond to three telephone messages requesting comment on how the devaluation affects the city's debt-payment capacity.
The city, run by opposition leader Mauricio Macri since 2007, has obtained greater independence in its finances by relying less on central government funds than other provinces and has maintained a fiscal surplus, according to Cavanagh.
Better financial results have helped the country's capital pay lower borrowing costs than Argentina's two biggest provinces, Buenos Aires and Cordoba. Its 2015 bonds also yield less than similar-maturity bonds sold by the government.
Significant Increase
The city's yields are higher than those on bonds sold by Chubut, Neuquen and Mendoza, which receive dollar revenue from oil exports.
Fernandez let the peso fall 19 percent in January, the biggest drop among 24 emerging-market currencies tracked by Bloomberg, in an attempt to boost the economy after keeping the peso artificially strong with capital controls and central bank intervention in the spot market.
"The peso's steep fall increases the city's debt significantly," said Soledad Perez Duhalde, an analyst at Buenos Aires-based research company abeceb.com. "They'll probably have to seek additional financing, but it'll be complicated because investors don't want peso debt, and I don't think they'll want to take a chance with dollar debt again right now."
'Completely Manageable'
The devaluation of the peso was credit negative for all 24 provinces as debt-service costs rose to 10 percent of total revenue from seven percent last year, with half of outstanding debt in dollars or dollar-linked notes, according to a Feb. 3 report by Moody's.
Even after the city's debt increased with devaluation, bond payments rose to 500 million pesos this year, or only one percent of its income, according to Buenos Aires-based research company Economia & Regiones SA analyst Veronica Sosa.
"Bond payments are such a small part of its budget that it doesn't deteriorate its credit quality," she said in a telephone interview. "These are completely manageable numbers."
The devaluation improved Argentina's competitiveness and didn't hurt Buenos Aires province's debt levels, Governor Daniel Scioli said yesterday in an interview in New York.
"We won't be able to notice a strong impact from the devaluation this month or next but instead over the course of year as the situation stabilizes," he said. "What it will do is incentivize exporters to bring dollars into the country."
Rising Yield
The last time Buenos Aires city sold bonds abroad was February 2012, when yields were as low as 8.86 percent. Since then, its borrowing costs surged 3.63 percentage points to 12.49 percent. The extra yield investors demand to own Argentine debt instead of U.S. Treasuries fell 15 basis points to 959 basis points at 1:19 p.m. in Buenos Aires.
With higher borrowing costs abroad, the city relied on the local market for financing, issuing mostly notes denominated in dollars that pay in pesos at the current official exchange rate. Investor demand for the securities has surged as protection against the devaluation of the currency.
While local issuers also have the option to sell peso bonds, benchmark rates at around an annual 30 percent and lack of demand for peso assets, means the city will have to keep selling dollar-linked bonds if it needs financing, Cavanagh said.
"I don't see a change in the financing strategy because there's no interest for peso debt and the rates are extremely high," she said. "It's unlikely that global markets will open for Argentina, so there aren't many more option besides dollar-linked."
Before it's here, it's on the Bloomberg Terminal.
LEARN MORE