As Admissions Offices Adopt E-Mail, False Acceptance Letters Rise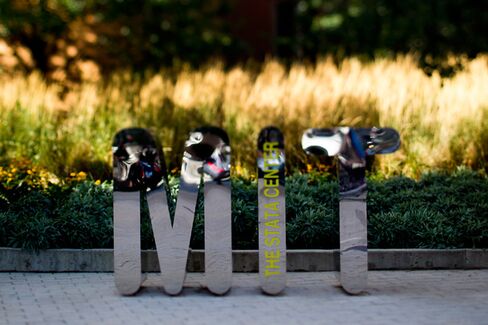 The false acceptance letter troll has struck again. MIT sent out an e-mail last week telling prospective undergraduates they'd been admitted to the university, only to send a second e-mail shortly after saying the first letter was a mistake.
The mix-up happened because MIT combined an e-mail list for applicants who gained early admission and a larger pool of students slated to receive an electronic mailing about financial aid. As a result, an e-mail footer that was supposed to deliver the message, "You are receiving this e-mail because you applied to MIT, and we sometimes have to tell you things about stuff," instead read, "You are on this list because you are admitted to MIT."
MIT admissions counselor Chris Peterson apologized for the mistake in a blog post, noting that he had once been the on the sour end of an admissions department fumble, when his first-choice school identified him as "Christine" on a rejection letter.
I have never forgotten that. I was rejected from seven of those ten schools, but that letter hurt the most, not only because it was my first choice, but because the mistaken identity added insult to injury. It made me feel like they didn't even care.
Almost ten years later I know better. I know that the admissions officers at this school care. I know how complex a communications project at this scale can be. It's so easy to make a simple mistake. And yet it still hurts when I think about it. And it crushes – crushes – me to think that I might have unintentionally inflicted something similar on some of you.
Beyond Peterson's apology, there's not much more that MIT can do. The school accepted about 8 percent of the nearly 19,000 students who applied to join the 2013 freshman class, and isn't about to admit students on a technical error.
Briefly elated applicants are now left to wait anxiously: they can expect decisions in March, according to Peterson.
Admissions departments have flubbed acceptance letters before: Fordham University, Vassar College, and UCLA have made similar bobblesin recent years, according to USAToday. So have Penn State University and the University of Delaware.
The increase in false acceptance letters corresponds to the wider use of e-mail for communications between colleges and universities and their prospective students, according to Bloomberg News. That may make some people long for the days when a prospective student knew whether she'd gained admission by the heft of the envelope a college sent her.
Before it's here, it's on the Bloomberg Terminal.
LEARN MORE