Toyota to Recall 1.9 Million Priuses to Update Software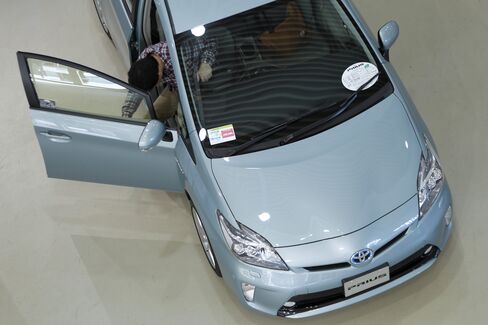 Toyota Motor Corp., the world's largest automaker, will recall more than half of the Prius vehicles it's ever sold to update software.
The recall involves about 1.9 million vehicles globally produced since March 2009, spokesman Brian Lyons said. As of last year, global deliveries of the Prius line of vehicles exceeded 3.6 million units since its release in 1997, according to the Toyota City, Japan-based carmaker.
While the maker of the Camry is headed for record profit this fiscal year, driven by the weaker yen, the company continues to face recalls. Toyota recalled more vehicles than any automaker in the U.S. each of the last two years, according to the National Highway Traffic Safety Administration.
It took President Akio Toyoda years to restore the company's reputation for quality after Toyota recalled more than 10 million vehicles for problems related to unintended acceleration in 2009 and 2010.
The 56-year-old grandson of Toyota's founder is trying to avoid a repeat of over-expansion. In 2010, during the firestorm caused by millions of vehicles recalled for unintended acceleration issues, Toyoda said the company had been growing too quickly. He hasn't announced any new car plants since January 2012.
Record Profit
Toyota forecast this month that profit for the year ending March 31 will surge to a record 1.9 trillion yen ($18.5 billion).
The company has set a target of selling an unprecedented 10.32 million vehicles in 2014 after leading General Motors Co. and Volkswagen AG in global auto deliveries for a second straight year in 2013.
Worldwide deliveries for Toyota, including subsidiaries Hino Motors Ltd. and Daihatsu Motor Co., rose 2.4 percent to 9.98 million units last year. Volkswagen and its MAN SE and Scania AB heavy-truck units followed with 9.73 million sales, the Wolfsburg, Germany-based carmaker said last month. GM was third in the industry with 9.71 million.
Toyota isn't alone in emphasizing quality. U.S. automakers including Detroit-based GM are cracking Japanese brands' dominance in fielding cars with leading quality and reliability, Consumer Reports said last year. While models from Toyota and Honda Motor Co. held the top three spots in the magazine's annual auto-reliability survey released in October, GM's GMC and Buick posted gains and Volkswagen's Audi luxury brand made the top five.
Before it's here, it's on the Bloomberg Terminal.
LEARN MORE