Telstra Boosts Dividend for First Time Since '05 as Profits Rise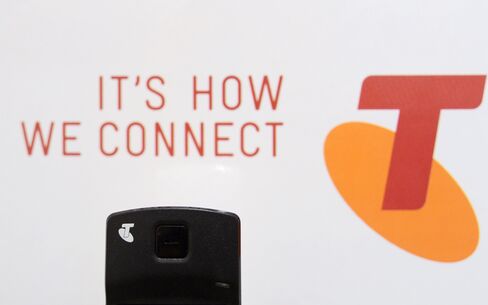 Feb. 13 (Bloomberg) -- Telstra Corp., Australia's largest phone company, increased its dividend for the first time in nine years as it boosted its share of the domestic mobile market and awaited funds from the sale of a Hong Kong unit.
Net income rose 9.2 percent to A$1.7 billion ($1.5 billion) in the six months ended December from A$1.56 billion a year earlier, the Melbourne-based company said in a statement today, missing the A$1.8 billion median of six analyst estimates surveyed by Bloomberg News. The interim dividend was lifted to 14.5 Australian cents from 14 cents, a level it had maintained since increasing from 13 cents in February 2005.
Telstra is quitting slower growing businesses and focusing on Australian wireless, where it committed to capital spending of A$2.4 billion over two years, as it prepares to hand parts of its fixed-line unit to a government-run broadband network. Since December, the company has agreed to sell control of its directories unit and exit its Hong Kong mobile operations.
"Telstra is taking share in most of its markets," Theo Maas, a partner at Arnhem Investment Management Pty in Sydney, said by phone ahead of today's result. "Their competitors have dropped the ball."
Shares of Telstra rose 0.9 percent to A$5.155 at 10:28 a.m. in Sydney.
Broadband Network
Telstra is counting on growing a dominant position in mobile as it prepares to hand over its copper lines to government-backed NBN Co., which is building a national fiber broadband network.
The transition will deliver Telstra payments and benefits worth about A$11 billion in 2011 dollars, and transform the company from the country's biggest seller of wholesale phone and data services to its largest consumer.
It's also due to receive cash from selling control of Hong Kong phone operator CSL Ltd. and directories business Sensis. A unit of billionaire Richard Li's PCCW Ltd. will pay about A$2 billion for Telstra's 76 percent stake in CSL, the company said Dec. 20. Platinum Equity LLC will buy 70 percent of Sensis for A$454 million, Telstra said Jan. 13.
The transactions will raise free cash to as much as A$7.5 billion during the full year ending June, James Freeman, an analyst at Deutsche Bank AG in Sydney, wrote in a note to clients Jan. 14.
First-half revenue rose 3.6 percent to A$12.63 billion, while earnings before interest, tax, depreciation and amortization increased 7 percent to A$5.29 billion, Telstra said.
Mobile Sales
Domestic mobile-phone customer numbers increased by 739,000 in the six months through December, Telstra said. Sales in the division rose 6.4 percent to A$4.86 billion.
The company maintained its forecast that free cash flow in the year ended June will be A$4.6 billion to A$5.1 billion. Revenue and Ebitda will increase at low single-digit rates across the full year and capital spending will be around 15 percent of sales, the company reiterated.
Fixed-line sales dropped 1.5 percent to A$3.63 billion, while revenue at the Data and IP unit, which provides Internet services, sank 2.9 percent to A$1.5 billion.
Telstra's digital media division, which includes Sensis and a 50 percent stake in pay-TV provider Foxtel, saw revenue fall 1.6 percent to A$492 million, the company said. Telstra booked a A$221 million loss on the Sensis sale during the half.
Founded as part of Australia's state-owned postal services, Telstra had a legal monopoly on phone services until 1991 and was majority owned by the government until 2006.
To contact the reporter on this story: David Fickling in Sydney at dfickling@bloomberg.net
To contact the editor responsible for this story: Michael Tighe at mtighe4@bloomberg.net