Sid Caesar, King of Comedy From TV's Golden Era, Dies at 91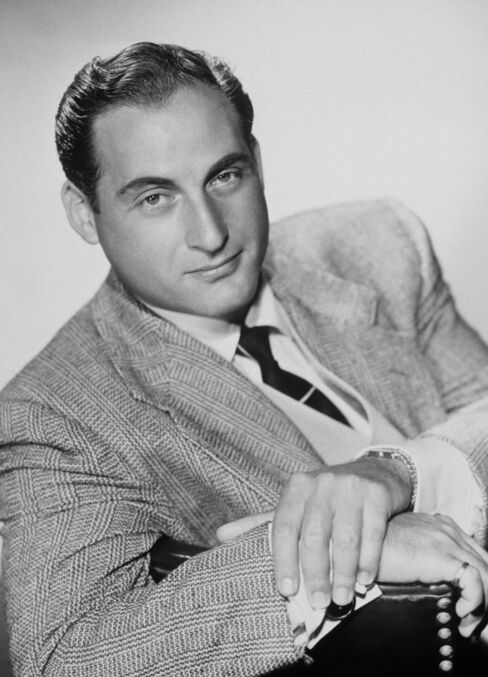 Feb. 12 (Bloomberg) -- Sid Caesar, the rubber-faced comic whose madcap sketches on live broadcasts in the 1950s became television classics, has died. He was 91.
He died today, according to the Associated Press, citing Eddy Friedfeld, a family spokesman.
Aided and abetted by an ensemble cast headed by comedienne Imogene Coca, Caesar was hailed as the King of Comedy, figuring in almost every skit in hour-long or 90-minute programs during TV seasons that commonly ran for 39 weeks.
As the star of "Your Show of Shows" and "Caesar's Hour," Caesar hired, inspired and goaded a legendary group of young writers. Neil Simon, Mel Brooks, Carl Reiner, Woody Allen and Larry Gelbart were among them, and all went on to greater fame later in television, movies and the stage.
"Your Show of Shows" debuted in 1950 and by 1954 Caesar was earning a then-astronomical $25,000 a week. Three years later, he was making more than $100,000 when NBC dropped "Caesar's Hour" as its ratings fell.
Time magazine, praising Caesar's comic artistry, said that the "end of Caesar's reign also closes a TV era in which the comedian was king."
Before Caesar's decade-long run, neither he nor anyone else fully appreciated the effort needed to deliver 90 minutes of fresh material every week.
"Television chewed up Sid, one of the greatest artists I've ever known," Brooks commented later. "It would have turned Chaplin into sausage."
Early Fadeout
Caesar's career didn't screech to an immediate halt when NBC pulled the plug. In 1962, he starred on Broadway in Neil Simon's "Little Me" and was nominated for a Tony Award.
Caesar returned to television with "The Sid Caesar Show" in 1963. Once again, ratings proved a disappointment, and the program was soon canceled -- this time by ABC.
In his 1982 autobiography, "Where Have I Been?," Caesar said he drank heavily in those pressure-packed years and became dependent on drugs. He'd spent most of two decades in a fog of alcohol and drugs, he confessed, though he snared occasional bit parts in movies and television.
After kicking drugs and, with exercise and diet, regaining his health, Caesar began performing again. Sometimes he reunited with Coca, reviving their sketches of domestic life as the married Hickenloopers from "Your Show of Shows."
Caesar never recaptured the brilliance of his early comic career. His time had passed, his writers had moved on and, as one noted, Caesar always was more an actor than a natural comedian.
Perfecting Gibberish
"Without a character to hide behind, Sid was lost," Gelbart wrote in "Laughing Matters," his 1998 autobiography. "Sid simply did not know how to play Sid."
Isaac Sidney Caesar was born on Sept. 8, 1922, to East European immigrants in Yonkers, New York, where his father ran a luncheonette. As a schoolboy, he helped clear tables and began to mimic patrons he heard talking Russian, Polish, Italian and French, among other languages.
Customers were amused by Caesar's gibberish, which he later turned into foreign-language double-talk in his TV skits satirizing art films. In real life, Caesar spoke only English.
In his youth, Caesar didn't harbor dreams of becoming an actor or comedian. Instead, after graduating from Yonkers High School, he studied the saxophone and clarinet at the acclaimed Juilliard School of Music in Manhattan.
Jazz Musician
Caesar was a strongly built teenager who looked older when he played with bands, including those of Benny Goodman, Shep Fields and Claude Thornhill. He later played with Goodman on a TV show, recalling how the famous leader's cold stare could wither slack performers.
After World War II service in the U.S. Coast Guard, he was cast with other veterans in "Tars and Spars," a musical show and later a film that introduced his comic talents.
Max Liebman, the show's civilian director and a longtime producer of theater revues, became a mentor to Caesar. He let Caesar develop some comic routines in nightclubs and resorts, then in 1949 put him in a TV variety program, "The Admiral Broadway Revue."
The show, which also featured Coca, who died in 2001, became a big hit. Admiral, the sponsor, was flooded with more orders for television sets than it could produce. So the appliance maker dropped the show -- a twist on success that Brooks himself might have concocted as a comedy plot.
Witty Skits
Caesar soon came back on the air with "Your Show of Shows." It was an even funnier, smarter and more original program that's still remembered for its wacky skits and witty send-ups of foreign movies and American TV shows.
"Caesar's physicality calls to mind no other comedians," Time wrote years later. "Sid dominates, he broods, he hulks. A large man, not really handsome but imposing, with huge hands and barely controllable strength, he intimidates the small screen, fills all its space, sucks out its energy."
The show's best sketches flowed from the fierce competition of its well-paid writers. Their manic labors inspired Simon's play, "Laughter on the 23rd Floor," starring Nathan Lane as TV comedian Max Prince. The movie "My Favorite Year" (1982), with Peter O'Toole and Mark Linn-Baker, also was based on Caesar's show.
In Simon's play, Max Prince angrily punches his fist through a wall in the writers' room. In reality, Gelbart related, Caesar once pulled a wash basin from a wall.
The writers still considered working for him a privilege.
"Everything, every subject, was fair game," Gelbart wrote. "Nothing was too hip for the room. He had total control but we had total freedom. We were satirizing Japanese movies before anyone ever saw them."
Masterful Improvisation
The stress Caesar induced was soothed, a bit, by the top money he paid. Just as important, Simon said, "Sid was going to make your stuff 10 times funnier than what we wrote."
Given lines by masters of comedy, Caesar improvised with aplomb when routines stumbled during live broadcasts, as in a wild takeoff of TV's "This Is Your Life."
Nanette Fabray, who succeeded Coca on the show, said her legs became black and blue from Caesar's kicks when she didn't react quickly enough to his ad libs on live broadcasts.
The frenetic pace and pressures of producing the show every week inevitably took their toll.
"Nearly everyone on our staff at 'Your Show of Shows' was in analysis," Caesar wrote. His own after-show therapy often entailed large infusions of drugs and scotch, he confessed.
Caesar's autobiography also included frank criticism from his family of the abusive behavior and explosive temper he displayed in his drinking days.
Caesar married his wife, Florence, in 1943, and they had three children, son Richard and daughters Michele and Karen.
To contact the reporter on this story: Charles W. Stevens in New York at cstevens@bloomberg.net
To contact the editor responsible for this story: Charles W. Stevens at cstevens@bloomberg.net