Letta Resists Pressure to Quit Premiership After Meeting Renzi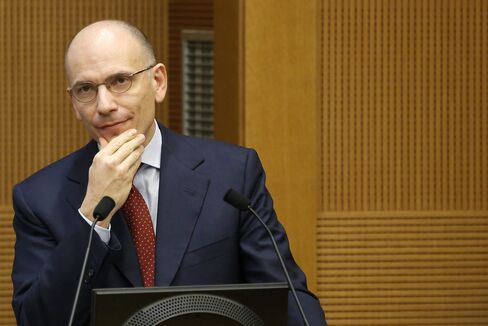 Italian Prime Minister Enrico Letta signaled he will resist pressure from allies to resign, proposing instead to bring his fraying coalition back together with a new policy agenda.
The announcement of a new program, to be presented at 6 p.m. in Rome, was made by Letta's office after the 47-year-old premier met Matteo Renzi, his party's chief. Letta and Renzi, 39, have been locked in a power struggle that prompted calls for Letta to step aside and allow the party chief to take over.
"Enrico Letta will present 'Commitment Italy,' a proposed coalition pact for the parties that support the government," Letta's office said in an e-mailed statement today after their meeting. Renzi said he would make his comments tomorrow.
Since being named general secretary of the Democratic Party, or PD, in December, Renzi has built consensus in Parliament toward efforts to spur job creation and rewrite the electoral law, while leaving the day-to-day operation of government to Letta, who is also a member of the PD.
Calls to replace Letta with Renzi intensified yesterday, with lawmaker Andrea Romano, head of a junior coalition party, saying he hoped the premier was ready to step down. An eventual resignation wouldn't necessarily lead to snap elections as Renzi may have enough parliamentary backing to form a new government, la Repubblica reported today.
Renzi may be unwilling to take over without snap elections to confirm his popular mandate, according to analysts including Alberto Gallo, head of macro credit research at Royal Bank of Scotland Plc, and Wolfango Piccoli, managing director with Teneo Intelligence in London. A fresh vote would also allow Renzi to replace lawmakers chosen by his predecessor at the PD, with people loyal to him.
'Mixed Feelings'
"Renzi appears to have mixed feelings about taking over the premiership without any electoral mandate," Piccoli said in a research report. "However, he may still be forced to do so if Letta fails to secure support from the PD. Worryingly for Renzi, the first to support him to become PM are his main opponents within his own party."
Renzi, also mayor of Florence, has said he is willing to support Letta as long as the government is productive. He plans to address the issue tomorrow at an event for the PD's leadership.
"I'm reading lots of speculation about the government," Renzi tweeted. "I'll say what I have to tomorrow at 3 p.m. at the PD meeting, in a webstream."
The yield on Italian 10-year-bonds rose 4 basis points to 3.73 percent at 4:30 p.m. in Rome. Political instability, which caused yields to rise in 2011 and 2012 under Letta's predecessors, Mario Monti and Silvio Berlusconi, hasn't prompted speculation in recent months thanks to signs of economic recovery and promises by the European Central Bank to protect the euro.
Renzi's Selection
Renzi been tabbed by polls since 2012 as one of Italy's most popular politicians. He won leadership of the PD by tallying more than 1.5 million votes, or 68 percent of the total, in a three-person ballot. Since then, Renzi has said he wanted to focus on broad changes to the political system, while leaving the administration of government to Letta.
"Renzi's involvement is positive," Gallo of RBS said today in a research report. Renzi "is considered an advocate of change and reforms, against Italy's old-school political caste," he said.
Renzi's attempt to rewrite Italy's election rules made progress last month when he broke across coalition lines to secure support from Berlusconi, a three-time former prime minister who now leads an opposition party in parliament. The current election law has fragmented representation in parliament and made it harder for a single group to secure a reliable majority. Letta was named prime minister in April of last year, after national elections failed to produce a clear winner.